"Our $400 million CapEx for the current fiscal year is a peak CapEx and we will be thinking in terms of decreasing that CapEx spend significantly going forward."
Michael Kors Ltd. CEO John Idol
There was a lot to like in Michael Kors Holdings Ltd.'s (NYSE:KORS) results for the third quarter of its fiscal year (3QQF16), but the above statement should be paramount to investors. Many of the issues plaguing KORS can be at least partially attributed to excessive capital spending. To be clear, appropriate capital expenditures are critical to preserving and growing a business' free cash flow. The problem is when management spends too much on capital projects because they overestimate demand for the company's products or the cost savings of a project.
The chart below demonstrates KORS' aggressive capital spending has not improved KORS' financial results. The sharp drop in sales growth and decline in operating margin suggests KORS began experiencing diminishing returns from its capital investments in fiscal 2014. Returning the majority of funds spent in fiscal 2015 and 2016 to shareholders would have been a better use of the money.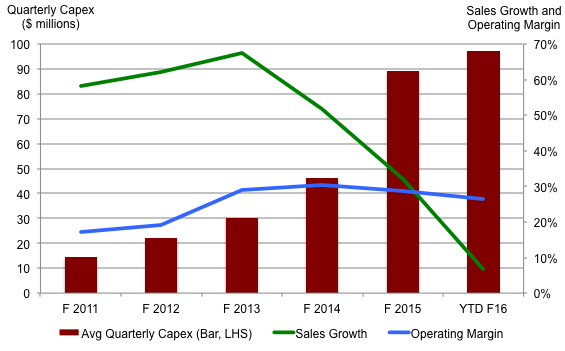 Source: SEC.gov
In fairness to management, they have already been returning funds shareholders through share buybacks including $200 million in 3QF16. During the call with investors, KORS CEO John Idol said the firm has $580 million remaining under its current authorization. Combining this potential is with improving operating results is what makes KORS a compelling investment.
Exceeding Expectations
KORS easily jumped over the very low bar that analysts and investors set for the company's 3QF16 results. For example, Merrill Lynch was pleasantly surprised with a 0.9% decrease in same store sales because Merrill Lynch was anticipating a 6% drop. Management was also able to deflect a lot of the blame for seemingly weak numbers on to the U.S. dollar. The table below shows that growth and profitability were fairly strong on a constant currency basis.
| | | |
| --- | --- | --- |
| | Reported | Constant Currency |
| Total Sales Growth | 6.3% | 9.9% |
| Same Store Sales | -0.9% | 2.0% |
| Change in Gross Margin | -1.4% | -0.5% |
Source: SEC.gov
KORS' same stores sales trend has been a roller coaster. Investors are hoping the mild decline in 3QF16 is the start of an ascent up another hill. Obviously, KORS is extremely unlikely to report the type of same store sales growth that occurred during its hyper growth period. However, the earnings call provided two pieces of evidence to support improvement in fiscal year 2017.
While mall traffic is down, KORS' conversion rate is strong.
CEO Idol alluded to fresh styles for spring. In previous calls, he has been candid that the KORS did not have anything to new and exciting to offer in a challenging market.
KORS' gross margin remains under pressure. The firm has reported decreases in gross margin relative to the prior year for five consecutive quarters. The press released offered some hope that gross margin would improve because the majority of the margin compress stemmed from unfavorable currency movements. However, management's comments during the conference call offset some of this optimism. Retail gross margin was particularly weak in 3QF16. It plunged 310 basis points which management attributed to additional markdowns. That suggests the business still faces some challenges. Perhaps, fresh product will eliminate the need for markdowns.
The trend in KORS' operating expenses is almost identical to the trend in its gross margin. The ratio of sales, general and administrative expenses (SG&A) to revenue has increased for eight consecutive quarters when compared to the same period in the prior year. This unfavorable trend reflects a combination of increased promotional activity and spending to expand KORS' store footprint and brand awareness. Unfortunately, management's guidance included a 230 basis point increase in the SG&A ratio. Ouch!
KORS Operating Margin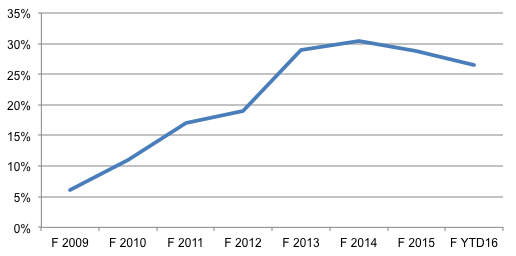 Source: SEC.gov
Compelling Valuation
The valuation is the most attractive element of an investment in KORS. The company's growth story has ended. It is facing downward pressure on profitability from both micro and macro forces. According to Yahoo Finance, KORs trades at 11x forward earnings even after its spike following 3FQ16 results. This multiple compares very favorably to KATE (21x) and COH (17x). It is still cheaper than RL (12x)
KORS' free cash flow supports a higher valuation. The table below shows KORS has been generating solid free cash flow growth despite the challenges to its operating results and its aggressive spending. Free cash flow for fiscal year 2016 should be at least $600 million because KORS reported free cash flow of $665 million for the first nine months of F 2016.
| | | | | | | | |
| --- | --- | --- | --- | --- | --- | --- | --- |
| ($ millions) | F 2009 | F 2010 | F 2011 | F 2012 | F 2013 | F 2014 | F 2015 |
| Operating Cash Flow | 29 | 29 | 110 | 115 | 356 | 632 | 858 |
| Investing Cash Flow | (38) | (32) | (58) | (88) | (139) | (216) | (388) |
| Free Cash Flow | (9) | (4) | 52 | 27 | 217 | 416 | 470 |
Source: SEC.gov
The table below presents a conservative free cash flow based valuation that indicates a share price of $60.
Free cash flow for fiscal year 2017 is based on 7% annual growth rate from fiscal year 2015. This amount is $200 million less than free cash flow in the past 12 months. Admittedly, the current fiscal year a some significant reduction in working capital that is likely to be partially reversed.
Assumed beta is greater than beta produced by regressing monthly returns for KORS against S&P 500.
Assume higher risk free rate to reflect likelihood that Federal Reserve will increase interest rates.
KORS return on equity in the past 12 months was 37%. However, it is trending down; therefore, a long-term assumption of 25% is reasonably conservative.
Reinvestment rate reflects management's plans to cut capital expenditures. Also, depreciation will increase over time due to accounting rules for depreciating assets.
| | | |
| --- | --- | --- |
| | Assumption | Current |
| Free Cash Flow F 2017 | 538 | 738 |
| Beta | 1.2 | 1.1 |
| Market Risk Premium | 6.1% | |
| Risk Free Rate | 2.5% | 2.0% |
| Cost of Capital | 9.8% | |
| Return on Invested Capital | 25% | 38% |
| Reinvestment Rate | 20% | 27% |
| Growth Rate | 5.0% | |
| Value | 11,164 | |
| Shares | 185 | |
| Price | 60 | 52 |
Notes:
Cost of Capital = rRisk Free Rate + BetaKORS * rMarket Risk Premium
Growth Rate = Return on Invested Capital * Reinvestment Rate
Value = (Free Cash Flow for F 2017) / (Cost of Capital - Growth Rate)
Price = Value / Shares
Conclusion
KORS' low valuation makes it worthwhile for investors to bear the micro and macro risks confronting the luxury retailer. Recent results offered some cause for optimism. The decline in same store sales was much less than anticipated and less than the deterioration experienced in the prior quarter. Importantly, management has signaled it will focus on returning cash to shareholders instead of building out the firm's store footprint, brand and corporate operations.
KORS should be viewed as a high risk investment. Same store sales have been declining for quite some time. Wall Street believes management made a serious mistake by significantly expanding the number of stores KORS operates. The entire retail sector is facing a myriad of challenges from a shift in consumer tastes away from apparel, a macroeconomic slowdown outside the U.S. and a strong dollar that negatively impacts profits earned outside the U.S.
Disclosure: I am/we are long KORS.
I wrote this article myself, and it expresses my own opinions. I am not receiving compensation for it (other than from Seeking Alpha). I have no business relationship with any company whose stock is mentioned in this article.