In late 2015 Wal-Mart(NYSE:WMT) shares were first body slammed and then held in a choke hold by the company's announcement at an investor day that their profit forecast for the next 2 or 3 fiscal years featured negative to flat earnings per share.
While the investment community proceeded to lose their minds and proclaim the death of retail, savvier investors took the time to understand what is at the core of that forecast.
Wal-Mart is not suffering from an accounting scandal, nor are low gas price failing to help the companies core customers. Rather, the forecast is of the company's own making. The reason for the forecast is that the company is spending more money, not that they are making less money.
This strategy is embraced by investors of some companies and not by others. Amazon(NASDAQ:AMZN) can spend like a drunken sailor in a French port in the heat of August yet when Wal-Mart decides to move a billion from the bottom line to invest in technology and improving employee wages, it is not blessed in the same way.
Valuation
Let's take a look at Wal-Mart's current valuation and see if it is a good time to buy or if this increased company spending is the first step toward a slow Sears like decline.
As of submission, Wal-Mart is trading at 14.22 times earnings TTM and 16.1 times next year's earnings. It is important to note that the fiscal 2017 earnings have been readjusted so this P/E ratio no longer reflects unrealistic expectations.
Price to sales is a paltry 0.44, price to book 2.70, and the dividend yield is just a hair shy of 3%.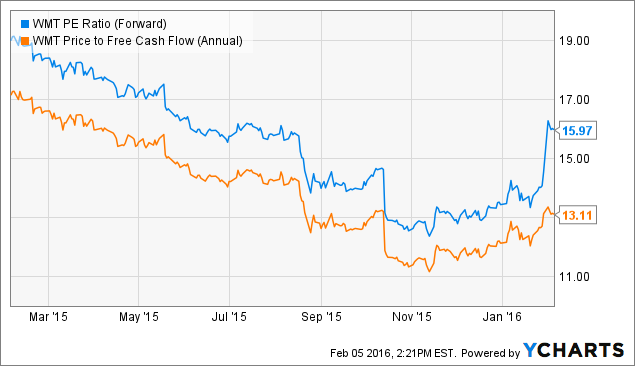 WMT PE Ratio (Forward) data by YCharts
These metrics indicate that looking backwards, the company appears relatively cheap compared to the broader market but looking forward at earnings that are decreasing, the stock appears fairly valued.
So why would you want to buy a retailer in this digital age that has a negative EPS growth and is closing stores, even if these were mostly their micro format stores and not the bread and butter Neighborhood Grocery or Supercenters?
The reason is because you do not care where a company was; you can where it is going. Wal-Mart is getting out in front of the wage increase pressures, although they were by no means the first to do so. One could argue wages were flat for too long and this was a deferred expense that had to be realized at some point.
The biggest catalyst for Wal-Mart is that most of the money they are investing is to retool and dramatically improve their e-commerce capabilities. And they are not just changing the font on the website or making it load a millisecond faster. No, those billions of dollars have to be going somewhere.
The most important metric going forward for Wal-Mart stockholders will be the increase and pace of increases in digital sales. Much like Netflix(NASDAQ:NFLX) subscriber adds are the most important metric for the company, digital sales now take precedence. With all that money being spent, Wal-Mart's shareholders expect to see the payoff and this metric is where it will be found.
Wal-Mart generates over 12 billion in digital sales and the most recent numbers have that mark growing at 17% annualized but has slowed recently which helped prompt the huge investment the company is making.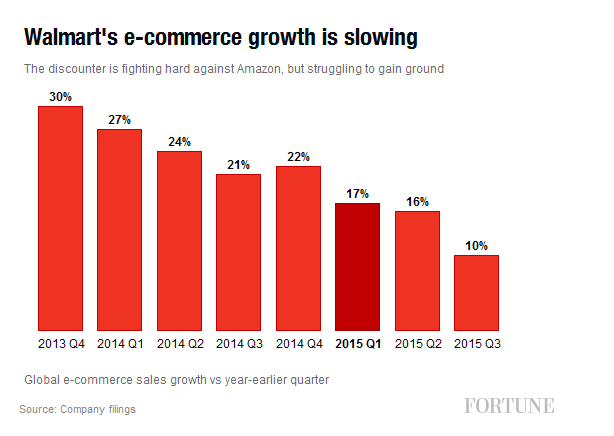 A recession helmet for your portfolio
The second part to my thesis is that if the world enters a recession amidst the Wal-Mart turnaround, the investor who waits patiently will outperform.
This is based off Wal-Mart's performance in the last recession and the general theory that when times are tough consumers look to save money any way they can and that is where Wal-Mart has and still excels.
From 2007 to 2008, Wal-Mart's EPS increase from 3.16 to 3.42, an 8.23% increase. From 2008 to 2009, Wal-Mart's EPS increased from 3.42 to 3.66, a 7.0% increase.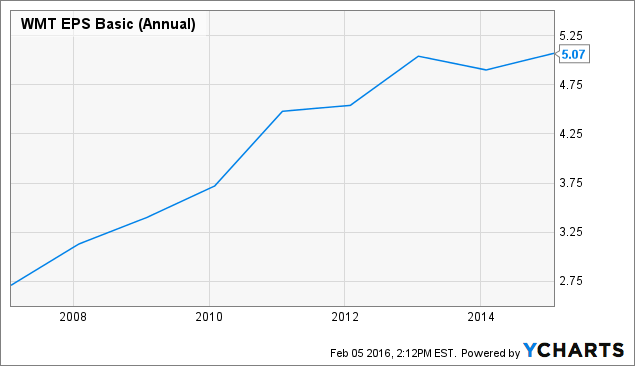 WMT EPS Basic (Annual) data by YCharts
Additionally, in 2008 while the S&P500 fell 37.0%, Wal-Mart's stock actually rose 21.6%. It was one of the few stocks in the entire market that did so.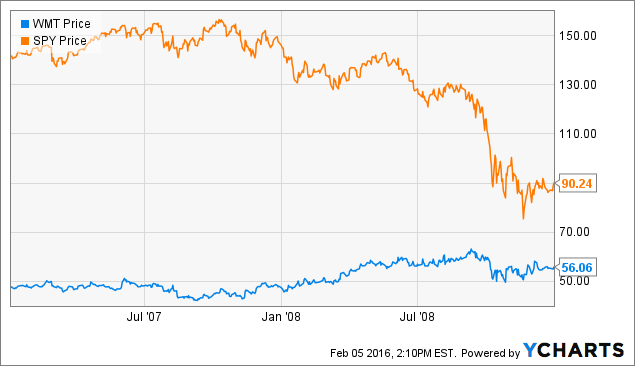 Wal-Mart's earnings will certainly remain under pressure from the above mention spending increases, but the macro environment does little to worry investors in Wal-Mart as their earnings can hold up amazingly well and might actually increase if we are headed into a weaker economic environment as so many are predicting.
What could go wrong?
The most likely bear scenario I see is that Wal-Mart is simply dead money for the next few years. A turnaround or revitalization of a business is never a guarantee and Wal-Mart could be wasting billions of dollars only to still lose market share to the already entrenched Amazon while their bread and butter business gets nibbled at by more nimble competitors such as Costco(NASDAQ:COST) and Family Dollar.
Why should Wal-Mart remain the number two online retailer when they have little expertise in that field?
The worst case scenario is that these investments do not pay off and this article marks the beginning of a slow decline. 11,500 retail stores in 28 countries do not disappear overnight, but how many years will it take for the dividend to bail you out? At a 3% yield, it would take 33 years.
When is the right time to buy the biggest retailer on the planet?
While no one knows the perfect time to buy any stock or company, certainly looking back to 1999-2000 when Wal-Mart was trading at a heart wrenching 50+ times earnings, that was not the time. Most investors know that paying a high price can provide dismal returns for years and decades. But is now the right time?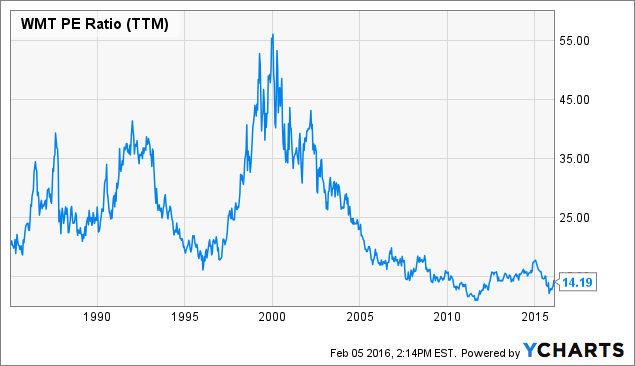 WMT PE Ratio (NYSE:TTM) data by YCharts
The answer lies into whether you can stomach the inaction or declining price that might result from a negative to flat EPS trajectory for the next few years. The company wants investors to hold on and wait and is rewarding them with a generous 10 billion per year buy back and a 3% yield.
I believe Wal-Mart is an underdog in this current market and provides a safe place to stash some capital while you wait for news about accelerating e-commerce sales and are protected against a recession in a way that only overvalued consumer staples like Clorox or Colgate Palmolive can provide.
Disclosure: I am/we are long WMT.
I wrote this article myself, and it expresses my own opinions. I am not receiving compensation for it (other than from Seeking Alpha). I have no business relationship with any company whose stock is mentioned in this article.