As I have adequate exposure to the upstream and midstream for crude, I have been on the hunt for a solid refiner (verify they are downstream). With Phillips 66 (NYSE:PSX) being accumulated by none other than Warren Buffet, I'm wondering where's the love for North America's largest refiner Valero (NYSE:VLO)? The problem I have with this company is that despite highly favorable business conditions over the last year resulting in an impressive bottom line, that the company has topped out and unless a few unique conditions occur, the stock will likely be headed lower through 2016.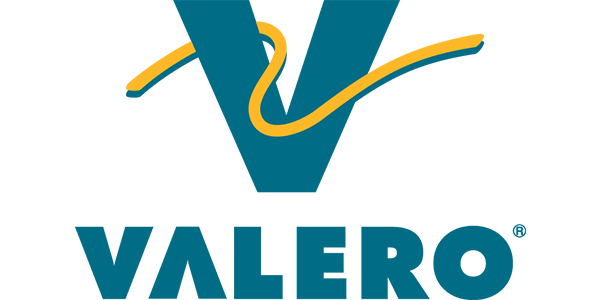 Spreads Dictating Future Returns
Continuing to follow the various oil spreads is going to be your best bet to playing the refineries in the short-term. While particular refineries like Valero will present themselves as more attractive ST and even LT options, it's nonetheless useful to view these spreads for entry/exit considerations. Additionally, it is useful to try and project them over a multi-year basis to see where refining stocks could be headed.
Using the Gulf crack spread as a primary indicator of how profitable Valero can be, especially in the short-term, is useful for predicting its equity's future movements. As we're all familiar with the Gulf crack spread basically being Valero's gross profit margin, there are certain drivers of this spread that we need to watch out for. First, if the price of oil increases more than the prices of the products that Valero produces (i.e. gasoline, heating oil, diesel, etc.) or if the price of these products falls further than oil does on any given day. When we start to see these large percentage changes around the various oil spots at these historically low-levels, we start seeing a lot of volatility in the Gulf crack spread. Both of those scenarios would constitute a decline in the Gulf crack spread, and subsequently, Valero's profit margin. The products that can be produced from crude oil.
Below is the Gulf crack spread versus Valero's equity: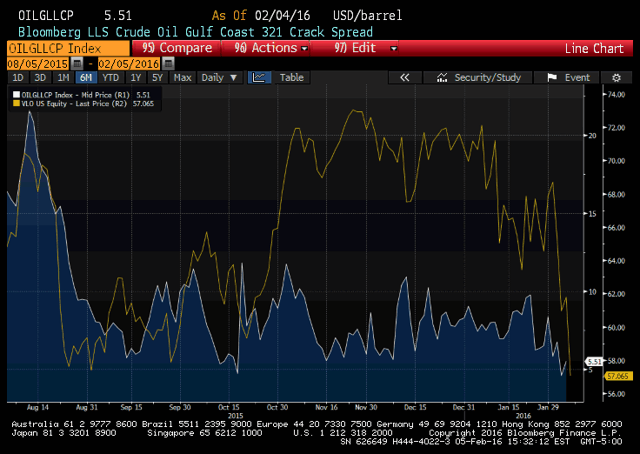 Click to enlarge
Source: Bloomberg
This is where I begin to derive my primary thesis for Valero. Since we're at historical lows for oil, measured by any of the various spots, we're seeing a record EPS level for the company. We're also seeing falling revenues. So, if the crack reverses, we should largely see a decrease an EPS and an increase in revenue. So, is the stock cheap right now by P/E standards? Sure, but it's supposed to be. That's largely a surface figure that you should ignore when considering a trade on VLO.
As we saw a restoration of the Brent/WTI divergence this week, the export price advantage has returned to Valero. It had been heavily mitigated in December and most of January. This spread is largely influenced by the same drivers that influence normal spot prices for Brent and WTI, but the determinant of a premium is much more complex to predict. This spread, in essence, can provide the incremental export advantage to Valero that it needs to see a reduction in the loss on the top line. Below you can see the Brent/WTI spread versus Valero: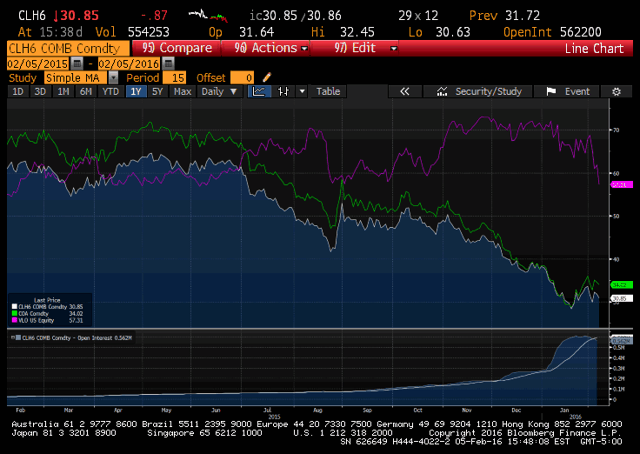 Click to enlarge
Source: Bloomberg
Despite the spreads being drivers of refineries' stocks, we have to remember that in January we saw a lot of generalized selling. So, even though oil fell we should've seen a pop in VLO, but didn't get it. Everyone was selling everything and that fear spread over into VLO, case and point. Additionally, I saw equities that had nothing to do with the energy space crumble.
A February Trade
Valero has fallen 19.02% YTD. What's rather interesting is that on the back of a Q4 earnings report, the company fell nearly $6/share even on strong full year EPS. That started an initial descent and now the company is 22.6% off of its November high of $73.88. While you can play the swings and vol in the Gulf crack spread and make a decent return, that strategy is largely intensive and I realize that many investors want to be removed as much as possible from the process. I'd advise to think about the 3-5 year view on this stock, more than anything. Below is the YTD view of Valero: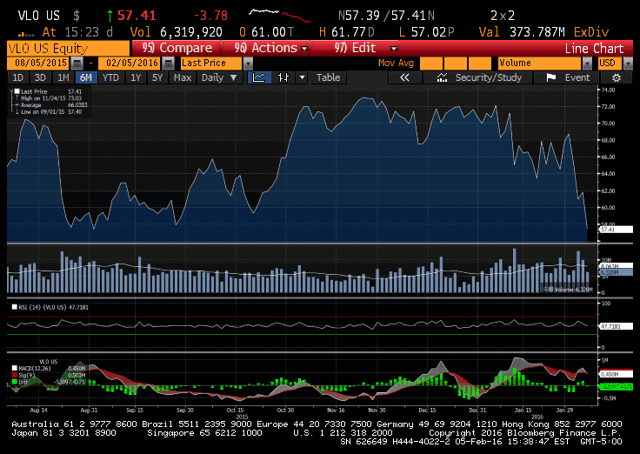 Click to enlarge
Source: Bloomberg
Think back, too, to how Valero has performed historically. Although the crack spread has seen a strong reduction since 2011, Valero's price has skyrocketed. Back in 2011, Valero spent a majority of the year trading above $20/share, and now it's fluctuating around the $60 level. A strong increase in crude price, as well as natural gas prices, would dictate the opposite trend. Again, this takes time - we'd have to see production come offline from Iran and OPEC, as well as from domestic producers - and I likely don't think we'll see a major shift out of the $30/barrel level this year (certainly nowhere near a reversal of the 2015 trend). But, in future years, this is a bet I'm willing to take.
As current income in the energy grows to be more scarce, especially on the back of a Conoco Phillips dividend cut earlier yesterday, you have to look at Valero is a real anomaly. The company hiked its dividend 20% for a current yield of 4.19%, but if you consider the scenario that the low-priced environment for upstream, midstream, and integrated companies has put pressure on dividends above the S&P 500, it's not a stretch to think that Valero will cut back on its dividend if the Gulf crack spread reverses. They'll be pressured for cash flows, margins will shrink, and the dividend is an easy source of cash outflow to cut back on. So, even though the dividend remains a headwind right now, it potentially won't be in future quarters. Plus, the annualized cost of borrowing is considerably low for Valero right now.
That's why I think it's rather interesting right now that we see the projections for 2016 showing a decrease in EPS, because the only way that would realistically happen in a meaningful way is if the crack spread starts to reverse out of its current level.
Conclusion
Go long Valero? When you start to factor in the cyclicality of the industry, the sharp reality is that while the WTI/Brent spread may be favorable for the NTM or even longer to provide VLO the export advantage, oil prices and natural gas prices over time will increase. It could take a significant amount of time, and understandably so, but it seems like unless oil can really push to significant new lows, that refiners have a risk/reward scenario that is the near opposite of upstream and midstream players. I will continue to evaluate Valero as a potential short opportunity and will post a StockTalk if I decide to make that trade.
Disclosure: I/we have no positions in any stocks mentioned, but may initiate a short position in VLO over the next 72 hours.
I wrote this article myself, and it expresses my own opinions. I am not receiving compensation for it (other than from Seeking Alpha). I have no business relationship with any company whose stock is mentioned in this article.