Philip Morris (NYSE:PM) reported horrible revenues (missing by $100 million) for the fourth quarter and the company went up in smoke. Shares were down over 2.5% in premarket trading on Thursday on the news. The hyperbole is unreal. It would be more accurate to say Philip Morris was down in premarket trading and the panic selling was creating a short term opportunity for shareholders to get in at a lower price. There was precisely nothing that concerns me as a shareholder.
Putting the Loss In Perspective
If we extend our trading window from the minutes of pre-market action to include a whole 48 hours, the results are substantially different. I put together a quick chart comparing PM with several other viable investments. For international comparison I'm using:
Schwab International Equity ETF (NYSEARCA:SCHF)
Schwab Emerging Markets ETF (NYSEARCA:SCHE)
Vanguard FTSE Emerging Markets ETF (NYSEARCA:VWO)
Vanguard Total International Stock ETF (NASDAQ:VXUS)
For domestic investments, I'll just use the SPDR S&P 500 Trust ETF (NYSEARCA:SPY).
Over the last 48 hours shares of most major equity indexes have taken a hit. Since PM is an international company I wanted to focus on comparing results against funds that track international companies. However, I'm also comparing to domestic equity since some investors may simply be choosing among large companies.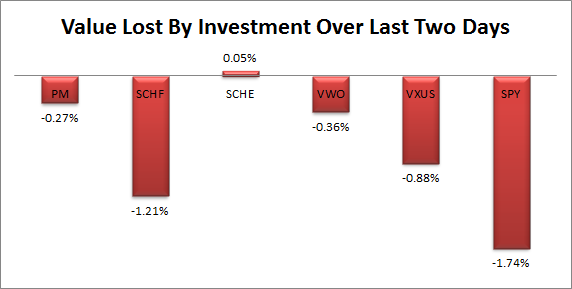 Shares of SCHE were the only investment in the group that was up, and it was the only one that outperformed PM. By any reasonable measure, Philip Morris missing on revenues and providing lower guidance for 2016 still outperformed. Shares selling off before the market opened just demonstrated the "news traders" losing out to the "buy and hold" crowd. With international central banks moving rates lower (and occasionally further into negative territory) the story of "lower for longer" is reinforced. PM is one of the few companies to combine high yields with sustainable earnings.
It's too bad shares didn't drop farther for longer to provide a better opportunity to grow my position. It looks like there were plenty of other investors standing by hoping for the same opportunity.
Currency
The major issue facing Philip Morris is that currency impacts keep hitting earnings due to the strengthening of the USD (United States Dollar). The strong dollar results in earnings looking much weaker, but investors hoping for a great opportunity to buy a high yielding dividend stalwart will have to keep waiting. Adjusted diluted EPS (which excludes currency translation) was up 12%. In the local currencies, Philip Morris was able to increase prices by 4%. Projected diluted EPS for next year is a range of $4.25 to $4.35. That's lower than the current year of $4.42, but it includes about $.60 of impacts from negative currency headwinds. Basically, Philip Morris is saying that if the dollar stabilized they would be expecting earnings to grow by about 10%. Keep in mind that the strengthening of the dollar is not a trend that can be relied upon. The strong dollar is in part a function of central banking policies.
Take a look at the strength in the USD: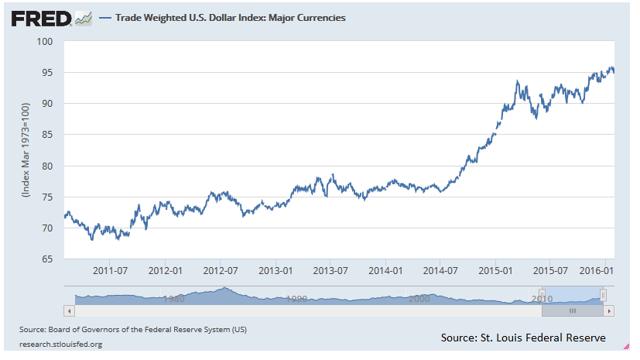 Click to enlarge
The strength of the dollar has been growing, but this is not an indefinitely sustainable trend. If you're tempted to assume that the chart always moves in one direction, try looking at 40 years instead of 5: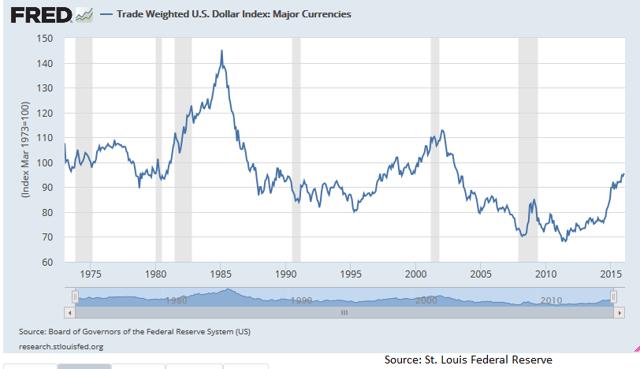 Click to enlarge
None of us know where the dollar will end the year, but I'm fairly confident that double digit growth in constant currencies is a very positive sign. If the dollar had been weakening, rather than strengthening, the earnings growth would have looked amazing.
The Future
True value investors should remember the words of Benjamin Graham. The future is not an unknowable event that should provide vindication for the analyst's thesis. The unknown aspects of the future are something the thesis must endure, not a source of vindication. When Mr. Graham talks about finding a margin of safety, he wanted investments designed to withstand negative potential impacts in the future. He wanted a thesis that withstands the future, not one that depends upon a favorable future.
When Philip Morris is projecting only a slight decline in GAAP diluted EPS while incorporating a $.60 negative impact from currency headwinds, they are already assuming that the international environment will be working against them.
Raising Prices Again
In January Philip Morris brought another increase in prices. Philip Morris has a solid position in this regard because of increases in excise taxes. These taxes are hitting all the tobacco sellers and some of the low cost brands are moving their prices up substantially. The increase in competitor prices is giving Philip Morris a stronger competitive position as a premium brand.
Free Cash Flow
Despite substantial projected currency headwinds, Philip Morris is projecting free cash flow for 2016 to be in line with 2015. That's pretty good when 2015 saw free cash flows of $6.9 billion.
Predicting a Dividend Increase
I'm predicting Philip Morris to announce another dividend increase in 2016. They last increased in September of 2015 and that brought them to 8 consecutive years of increases. Absent the dollar becoming substantially weaker, I would expect the dividend increase to be fairly small. However, the stock already offers a fairly solid yield (over 4.5%) so even small growth is enough to be very impressive. If the dollar weakens, PM might look to repurchase some shares rather than create a larger dividend increase.
Recap
Earnings of $4.42 under GAAP were down from $4.76 last year. The currency impact was $1.20. Absent the currency impact, earnings would have been $5.62. That would have easily covered the annualized dividend of $4.08 per share. Even after the currency impact, the company still covered the dividend. The company's biggest headwind has been the impact of a strong dollar. Despite that, they have navigated increasing taxes while raising prices and improving their competitive position because competitors needed to raise prices further.
Disclosure: I am/we are long PM, SCHF.
I wrote this article myself, and it expresses my own opinions. I am not receiving compensation for it (other than from Seeking Alpha). I have no business relationship with any company whose stock is mentioned in this article.
Additional disclosure: Information in this article represents the opinion of the analyst. All statements are represented as opinions, rather than facts, and should not be construed as advice to buy or sell a security. Ratings of "outperform" and "underperform" reflect the analyst's estimation of a divergence between the market value for a security and the price that would be appropriate given the potential for risks and returns relative to other securities. The analyst does not know your particular objectives for returns or constraints upon investing. All investors are encouraged to do their own research before making any investment decision. Information is regularly obtained from Yahoo Finance, Google Finance, and SEC Database. If Yahoo, Google, or the SEC database contained faulty or old information it could be incorporated into my analysis.