The Coca-Cola Company (NYSE:KO) owns not only its namesake Coca-Cola brand, one of the world's most recognizable brands, but also a stable of other global brands like Sprite, Dasani, burn and Honest tea. The company is therefore diversified through a lot of different brands within a lot of different niches within the non-alcoholic beverage segment.
The company keeps growing and expanding throughout the world. Earlier in February, it bought a 40% stake in a Nigerian juice company. It does not seem like this company's management is resting on its laurels.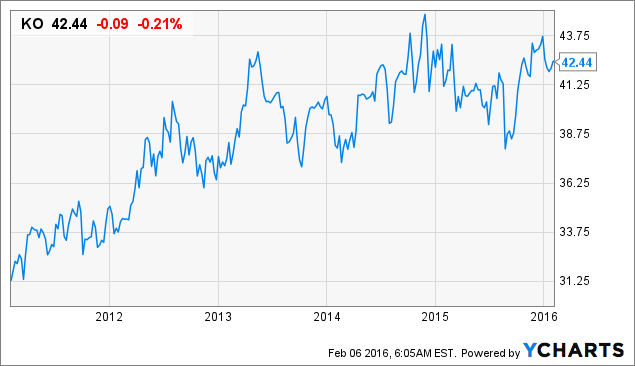 Shareholders have experienced a fairly good run-up in the stock price over the last five years, though the trend has been more flat since 2013 with the stock varying between $36 and $44.
In addition to stock price appreciation, investors have enjoyed a steady dividend yield of approximately 3% each year. Even so, total returns have not been stellar over the last couple of years.
Historical Dividend Growth
There is not much to put the finger on when it comes to this company's historical dividend growth track record. It has paid a dividend ever since it was publicly listed back in 1920. Not many other companies can compete with that kind of track record.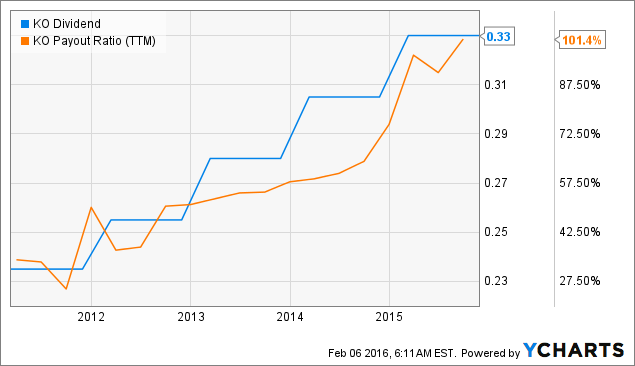 KO Dividend data by YCharts
In my opinion, there is one positive thing and one negative thing in the chart above. The positive thing is the steady increase in the dividend. On a split-adjusted basis, the quarterly dividend has grown from $0.235 per share in 2011 to the current level of $0.33. That's a total growth of 40% or an annual growth rate of 8.9%. I bet few dividend growth investors would complain about that.
The thing that worries me is the steadily increasing payout-ratio. Only a couple of years ago it was at a reasonable level in the 50-60% range. The latest figure sits at above 100%. Sure, the company experiences currency issues, as evidenced in its latest quarterly report, an issue that over time is likely to mean-revert. Still, should the U.S. dollar continue to strengthen, the company will have real issues with continuing its annual dividend increases.
In its report, the company said that in addition to currencies, it has incurred costs related to refranchising and some costs related to its productivity program. These costs should be one-off items, thus the payout ratio should be brought down below the 100% mark pretty soon.
February Dividend Hike
This coming week the company will announce its earnings for the last quarter of 2015. In conjunction with that, it is likely to announce a dividend increase, like it does every February.
It will be exciting to see whether the company will keep up its growth rate in the dividend, even in the face of short-term earnings issues. Usually EPS-growth can be used as a guide but in this instance it is a little bit more complicated, as the payout ratio is so high. We therefore have to look at softer issues as well, judging historical trends and expected EPS growth in order to see if the Board is likely to see through short-term set backs in setting the dividend.
The current quarterly dividend of $0.33 translates into an annual dividend of $1.32. According to Morningstar, the trailing twelve months EPS is at $1.56. As such the payout ratio is a bit lower than the data from ycharts and the Board has some room to increase the dividend. Given the 52 year history of dividend growth of this company, I think we can comfortably say that the low estimate will be a token increase in the dividend, as the Board would not like to go down in history as the Board which stopped this impressive track record.
The average analyst is expecting earnings for 2016 to come in at $2.03 per share. If EPS were to come in at that level, the payout ratio would be 65%, thereby giving the Board quite a lot of room to hike the dividend. The Board has been quite consistently increasing the dividend by 6-8% historically. Last year, with a fairly similar situation at the company, I was right at the money with my prediction of a 6-8% dividend increase. This year, I still believe that the Board will see through some of the short-term issues and stick to its long term trend. However, it will probably come in at the lower end of its usual range so as not to stretch the payout ratio too far.
My prediction for the coming dividend increase is for a hike of 6-7% for a new quarterly dividend of $0.35-$0.355.
Risk Factors
A major risk factor currently for Coca-Cola is a strengthening of the U.S. dollar. A stronger U.S. dollar makes earnings in foreign currencies lower when translated back to dollars. A constant risk for Coca-Cola is competition from rival companies, like PepsiCo (NYSE:PEP) and local competition throughout the world. Another risk factor is the changing tastes of the customers. There is a trend towards tea, which the company is trying to benefit from by entering the segment. Still, it risks coming in too late on the trend and/or paying too much to enter. The increasing health-awareness of consumers is also a risk, though I think the worst is behind us as Coca-Cola has been quite successful in adapting to this trend.
Current Valuation
Before making an investment, we always have to know what we pay for it. Below I have compared Coca-Cola to two of its closest competitors, PepsiCo and Dr. Pepper Snapple Group (NYSE:DPS).
| | | | |
| --- | --- | --- | --- |
| | Coca-Cola | PepsiCo | Dr. Pepper |
| Price/Sales | 4.2x | 2.3x | 2.8x |
| Price/Earnings | 27.2x | 28.9x | 23.7x |
| Yield | 3.1% | 2.8% | 2.2% |
Source: Morningstar
All these companies qualify as expensive in my book. On Price/Sales PepsiCo is the cheapest at 2.3x with Coca-Cola clearly the most expensive one. The Price/Earnings ratio competition is won by Dr. Pepper whereas PepsiCo is the most expensive with Coca-Cola following closely behind. The dividend yield category is won by Coca-Cola with its 3.1% yield. In all, Coca-Cola comes in third place, second place and first place, each company winning each its category.
As a comparison, the S&P 500 index is trading at 18.1x earnings, clearly below all the companies above. A certain premium can be expected for such high-quality companies but a 50% premium is probably a bit too much.
The average analyst estimate for EPS growth over the next five years is of an annual growth rate of 2.3%. That has to be considered paltry by any standard. If we add in the current dividend yield of 3.1%, we arrive at an expected total annual shareholder return of 5.4%. Granted, you do get stability and a certain dividend from this company, but an expected total return of 5.4% will probably be considered too low for most investors. Long term stock market returns of approximately 10% is double this level.
If your only focus is a decent yield with the near-certainty of decent growth of that dividend, you could consider adding Coca-Cola to your portfolio. If, on the other hand, you also care about total shareholder return, you should either wait for growth prospects to improve or for the stock to correct before buying.
Conclusion
Coca-Cola is a safe investment with its huge portfolio of global brands. Additionally the company has been a very reliable dividend payer -- and hiker -- for 52 years. Make that 53 years this coming week. The company will continue increasing its dividend for many years to come. It will provide dividend investors with a reliable stream of income, just don't expect the stock to soar anytime soon.
Disclosure: I/we have no positions in any stocks mentioned, and no plans to initiate any positions within the next 72 hours.
I wrote this article myself, and it expresses my own opinions. I am not receiving compensation for it (other than from Seeking Alpha). I have no business relationship with any company whose stock is mentioned in this article.