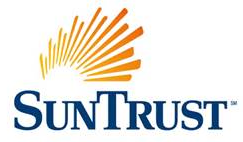 Regional financial SunTrust (NYSE:STI) - like just about anything else with "bank" in its name - has been crushed over the last several weeks. The stock is hitting multi-year lows as confidence of investors in financials is pretty much gone at this point and everything is being sold. Back in October I made the case that at $41, the only real reason to own STI was its generous capital returns. But $41 was a very long time ago and with shares now at just $34, is it time to consider STI as a long candidate again?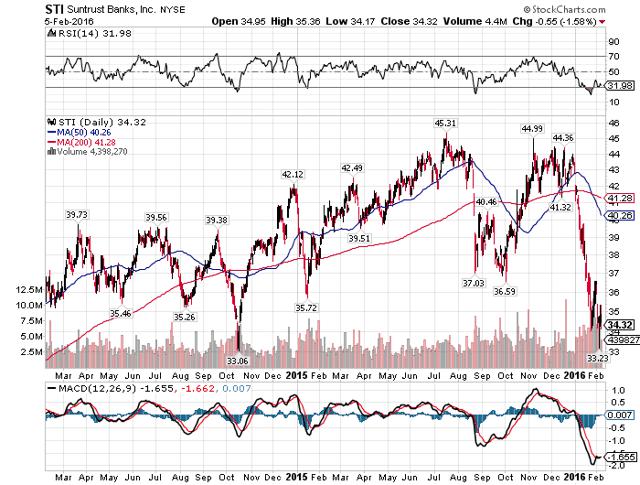 Click to enlarge
Last time I visited STI I lamented the fact that its NIM and loan book growth were basically flat and I extrapolated from those bits of information that EPS growth would be hard to come by. Of course, the environment for banking has been tough but STI was working aggressively to grow its mortgage business earlier in 2015 to produce some spark. But as I mentioned, STI was fully valued $7 ago; what about now that it is much cheaper?
We recently received Q4 results and just like every other financial that's reported, the results did nothing but give sellers another reason to pile on. This earnings season has felt like the financial crisis for banks as any news is taken as bad news and STI's report was certainly no different.
Total revenue was roughly flat against last year's Q4 as STI has been producing very similar levels of quarterly revenue for some time now. This helps bolster my claims from late last year that STI would have a hard time growing into its $41 valuation; revenue growth has been virtually nonexistent. That in and of itself isn't necessarily a problem with the right valuation, however.
On the bright side, STI's net interest income grew 3% over the sequential quarter as it managed to eke out a gain of 4bps of NIM. In addition, it saw 2% average loan growth during the quarter as well. This gain in NII is actually a fairly strong result at a time when many banks are pulling back; the fact that both NIM and loan growth moved up is pretty encouraging given the rate environment we're (still) in.
However, noninterest income suffered as the wealth management business underperformed and gains on asset disposals dried up. The losses here more than offset the gains in NII so STI's total revenue fell slightly over Q3 but, as I said, was flat against last year's Q4. Q4 2015 was STI's lowest level of noninterest income in the last five quarters so if it is to begin growing in earnest, it needs to figure out the wealth management business and boost noninterest income in the coming quarters.
While STI is quite profitable it also uses a lot of its capital to return to shareholders. Its CET1 ratio is still under 10%, something that was surpassed a long time ago by many of its rivals. While STI is certainly well within compliance for its capital position, the fact that its excess capital is well under many other large banks means that if STI were to want to purchase another bank or return additional capital to shareholders, it would need to be a little more cautious. Again, not a problem necessarily, but something to keep an eye on, particularly if its CET1 ratio begins to decline at any point.
After the selloff to $34 STI is now yielding very close to 3%. There aren't a lot of banks that yield that much and in particular, ones with $17B market caps. STI's dividend is certainly the big draw for investors as I pointed out in earlier articles; STI's priority is to return as much capital as it can to shareholders and its primary method is that ample dividend. STI's management is unusually focused on growing the dividend for a bank stock and that is certainly a positive catalyst going forward.
At 9.3 times forward earnings, STI no longer carries the premium valuation it once did. When it was trading in the $40s and for ~12 times forward earnings, I certainly did not think it had much upside potential. But at this more reasonable valuation, I've been persuaded. In addition, it is trading at just 79% of book value and 108% of tangible book value, very low valuations for a regional like STI. In short, it has been thrown out along with every other bank stock and it has created a very cheap valuation.
Despite the fact that STI's fundamentals could be stronger, the bank's flat revenue and profits are good enough to warrant a look here from the long side; such is the deterioration in the valuation we've seen of late. In addition, if you throw in the nearly 3% yield and the fact that growing the yield is a clear priority for management, you've got a value stock with a bright future of a rising payout. That combination is somewhat rare in the banking space and for that reason, I've seen enough to warrant flipping to the bulls' side on STI here. If you're more risk averse you can wait for a potential move down to tangible book value at $31.65 but we are right there in terms of a cheap valuation for STI and I think it can be bought here.
Disclosure: I/we have no positions in any stocks mentioned, and no plans to initiate any positions within the next 72 hours.
I wrote this article myself, and it expresses my own opinions. I am not receiving compensation for it (other than from Seeking Alpha). I have no business relationship with any company whose stock is mentioned in this article.