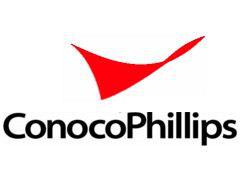 The oil price crash is now really hitting home. Linn Energy, LLC (LINE) informed investors last week that it is exploring strategic alternatives, maxing out its credit facility and working with advisers to help in its restructuring in light of devastatingly low crude oil prices that continue to hurt upstream companies. Chesapeake Energy Corporation (NYSE:CHK) suspended preferred stock dividends at the end of January in a desperate attempt to conserve cash.
But levered upstream companies with shale oil and gas exposure aren't the only ones that are feeling the pain from the energy price crisis. ConocoPhillips (NYSE:COP) also released depressing fourth quarter earnings on Thursday. In fact, the economics in the oil patch are so poor right now that ConocoPhillips decided to slash its dividend by ~66%. But first things first.
ConocoPhillips' Q4 revenues fell hard Y/Y on the back of lower oil prices. In the fourth quarter of 2015 ConocoPhillips said it pulled in $6.77 billion in revenues compared to $11.85 billion in the fourth quarter of 2014. ConocoPhillips didn't manage to cut costs as fast as revenues declined, so the bottom line result was ugly: ConocoPhillips said it had a Q4 net loss of $3.45 billion compared to a loss of just $39 million a year ago. On a per-share basis, ConocoPhillips reported a loss of $2.78 compared with a minimal loss of $0.03 last year. Not good.
Expectedly, lower price realizations in ConocoPhillips' upstream business hurt the company's cash flow, too. ConocoPhillips ended 2015 with less than half the cash on hand than it started the year with.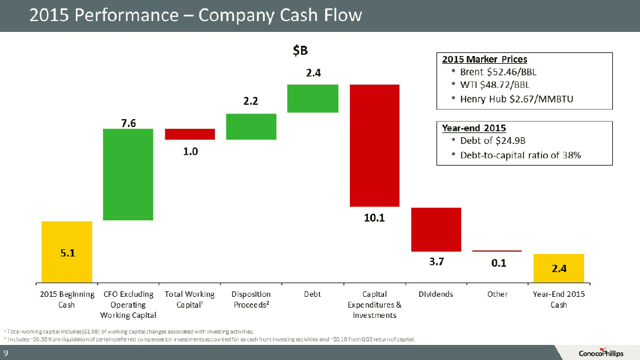 Click to enlarge
Source: ConocoPhillips
More spending cuts
ConocoPhillips needs to get its cost base under control fast, which is why the company is going to slash its capital budget and operating cost forecast once more. ConocoPhillips now targets $6.4 billion in investment spending in 2016 vs. the projected $7.7 billion in its December operating plan. Operating costs are forecast to hit $7.0 billion in 2016 compared to a $7.7 billion cost estimate two months ago.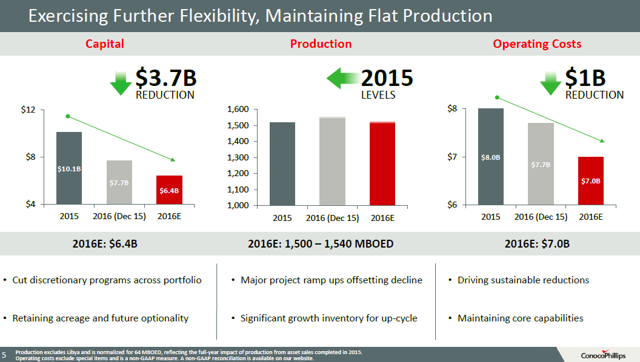 Click to enlarge
Source: ConocoPhillips
No love for ConocoPhillips
As opposed to Exxon Mobil Corporation (NYSE:XOM) or Chevron Corporation (NYSE:CVX), ConocoPhillips can't rely on a downstream business to offset an earnings drop in its upstream business. Conoco is now the first major U.S. oil company to cut its dividend in this market environment.
Though a dividend cut was already priced into ConocoPhillips' shares, investors were nonetheless upset about it last week. On Friday, COP slumped ~7%, and crashed to a new 52-week/multi-year low in the process.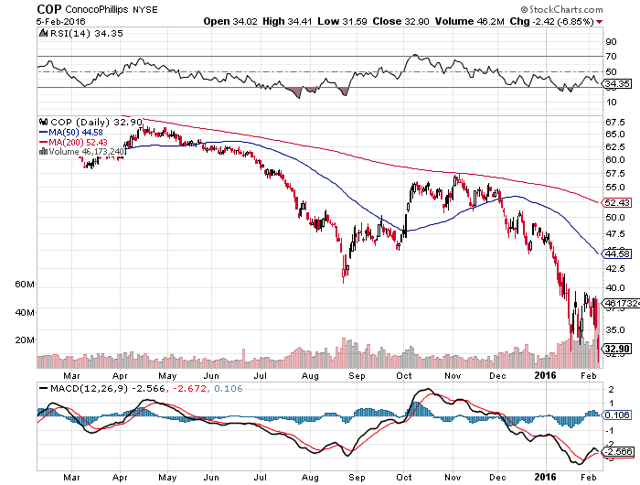 Click to enlarge
Source: StockCharts.com
Your Takeaway
ConocoPhillips is the first major U.S. oil company in the non-shale space that has cut its dividend. ConocoPhillips slashed its quarterly dividend by ~66% from $0.74/share to $0.25/share which is dealing a heavy blow to income investors who were in it for the dividend paycheck. Conoco is not only cutting its dividend, though: It further guided for operating expense and investment spending cuts in order to stabilize its cash flow and balance sheet. ConocoPhillips' revised operating plan shows that oil companies have virtually no planning certainty right now.
Investors have two options at this point: They can sit out the bear market even if it means to put up with ConocoPhillips' lower dividend, or they have to bite the bullet, take a loss and move elsewhere. Since I wouldn't want to be a seller at new multi-year lows, it might as well worth it to ride the market out. COP now yields 3%.
Disclosure: I am/we are long LINE, XOM.
I wrote this article myself, and it expresses my own opinions. I am not receiving compensation for it (other than from Seeking Alpha). I have no business relationship with any company whose stock is mentioned in this article.