Philip Morris (NYSE:PM) reported fourth-quarter and full-year results on Thursday. I believe the results were strong and showcase the company's great business model, but currency rates remain an issue for the company.
Business performance
Philip Morris reported revenues of $6.4 billion, down eleven percent yoy. Operating income for the fourth quarter totaled $2.1 billion, earnings per share came in at $0.81, which was in line with estimates. Full-year revenues declined ten percent to $26.8 billion, whilst full-year operating income declined twelve percent to $12 billion. Full-year earnings per share came in at $4.42, down seven percent yoy.
At first sight, these results look pretty bad: Lower revenues, lower operating income, lower earnings per share, the only positive being the company's dividend increase. These negatives, however, are only due to currency issues that overlie the company's great performance when we adjust for currency rates.
When we adjust for currency rates, Philip Morris' fourth-quarter revenues are up four percent, whereas full-year revenues are up six percent when we adjust for forex. These are great results when we look at the fact that Philip Morris is active in a declining market. According to Philip Morris' earnings release, total cigarette shipments (all producers) declined 0.9 percent in the EU, 1.6 percent in North Africa, 0.1 percent in Canada and 6.2 percent in Mexico, total market volume is down in most other countries as well. This doesn't have to worry investors, since Philip Morris was able to earn higher revenues nevertheless. This is the result of the company's strong brands and pricing power, and it is also due to the fact that Philip Morris' customers are very price inelastic. As cigarette prices go up, customers do not change their habit of smoking, but keep buying Philip Morris' products. This is why Philip Morris was able to report a six percent revenue increase despite cigarette volumes being down by one percent - increasing prices by seven percent yoy makes up for the small volume decline and allows for ample revenue growth.
When Philip Morris' revenues go up and its volumes go down, this is beneficial for the company's margins as well - gross margins increase, operating expenses decline (since less labor is necessary when the amount of cigarettes produced and sold declines), and once in a while, the company can shut down one of its plants. Higher revenues and lower costs mean earnings growth at a disproportionate pace, thus it is not surprising that Philip Morris' operating income was up seven percent in 2015 when we adjust for currency rates. On a per share basis, the company's performance was even better, adjusted diluted earnings per share were up by twelve percent in 2015 (to $5.62) when we exclude currency impacts. I believe these results are encouraging. The company is doing very well operationally, when we exclude the impact of currency rates, the company's revenues, operating income and earnings per share keep growing at a very attractive pace.
I believe we could see positive news about the impact of currency rates in the near future: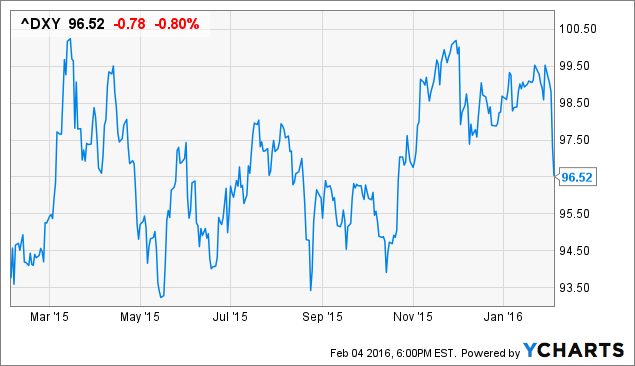 When we look at the dollar strength index, we see that recent price movements indicate that currency impacts could be lower in the future. During January, the DXY averaged 99, but over the last days, the DXY has dropped to 96.50. If the dollar drops further, this year's reported results will be closer to the company's (very good) currency adjusted results, which will in turn mean that the company would have cash available which it could use for share repurchases or a (more substantial) dividend increase in September.
Should currency rates not continue to move in favor of Philip Morris, the company would continue to produce great currency adjusted results, but reported earnings would continue to be lacking behind the company's fundamental earning power. If currency rates remain a major issue, Philip Morris will likely not announce any share repurchases, and this year's dividend increase would likely be very small again ($0.01 or $0.02, to $1.03 or $1.04, respectively). Yet, we have to say that even in this case, the company's dividend is still attractive: With a current dividend yield of 4.6 percent, the company's forward dividend yield would be 4.7 percent in case of another $0.02 dividend increase (as we have seen last year). This means a yield well above the market average (2.2 percent) and well above bond yields as well (e.g. the 30-year treasury bonds yield 2.7 percent right now, bonds with a lower duration oftentimes have negative interest rates).
Takeaway
Philip Morris' fourth-quarter results were good, I believe. Despite a small volume decline, the company was able to grow revenues, margins and EPS (when we adjust for currency).
With the dollar strength index's latest movements, we could see a smaller impact of currency rates in the next quarters, which would be very beneficial for the company's reported results.
When currency rates remain a major headwind through 2016, the next dividend increase will be rather small again, but the company's dividend yield is attractive, nevertheless.
Disclosure: I/we have no positions in any stocks mentioned, but may initiate a long position in PM over the next 72 hours.
I wrote this article myself, and it expresses my own opinions. I am not receiving compensation for it (other than from Seeking Alpha). I have no business relationship with any company whose stock is mentioned in this article.