This is the latest in my "Investing with an Edge" series. For more on the series, please see here.
Company: First Trust Dividend and Income (NYSE:FAV). Reasons for opportunity: Activism, discount to NAV

First Trust Dividend and Income Fund is a diversified closed-end fund with a focus on maintaining "a high level of current income". FAV's current market price is ~$7.70 and its current Net Asset Value ("NAV") is $8.37, so investors today are effectively buying a dollar for $0.92. Normally, this discount wouldn't be that interesting, because closed-end funds generally deserve to trade at a discount. Why? The answer generally comes down to fees. Closed-end funds can be thought of as mutual funds where you cannot pull your money out; instead, the only way to get your money back is to sell your shares in the open market. Because money can't be pulled out, the capital in a closed-end fund is effectively permanent - so a dollar in a closed-end fund is not worth a dollar in your hand. Instead, that dollar is worth any alpha the fund manager can produce less the discounted value of the fees the manager charges. In general, closed-end fund managers produce zero or negative alpha, so they generally trade at a discount in proportion to their management fees (what the investment managers charge to manage the closed-end fund; in FAV's case, 1% of managed assets).
FAV's managers have clearly demonstrated zero ability for creating alpha. The fund launched in September 2007 and was sold to investors at $20 per share despite having an NAV of $19.10 at the time. Effectively, investors who bought at that price were expecting moderate alpha from FAV's investment management to offset the investment management fee. Who would buy expecting alpha from a closed-end fund manager? My colleague Chris DeMuth has written a bit about it (and we have discussed it as well), but generally, unsophisticated retail investors looking for a dividend stream get sold on closed-end funds by brokers who earn big commission checks for selling them. As so often happens when investors go chasing dividends without regard for anything else, investors would have been much better off purchasing the S&P 500 or some other index instead of purchasing FAV at a premium. Below are the fund's results since inception.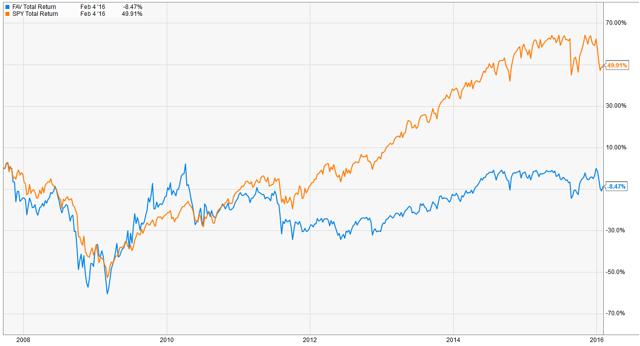 Click to enlarge
So, if FAV deservedly trades for a discount to NAV, where is the opportunity here? Bulldog Investors has acquired almost 15% of the shares. In the middle of January, they announced they would submit a proposal that "the board of trustees should consider adopting a plan to afford stockholders an opportunity to realize net asset value" as well as to elect some nominees to FAV's board. Bulldog has a long history of successfully liquidating underperforming closed-end funds whose sole purpose for existence is to collect management fees, and they will likely be successful here as well.
How does this play out? FAV held its annual meeting in late April last year, and it'll likely do the same this year. At the meeting, Bulldog will propose an event to realize NAV; likely a tender offer at around NAV that turns into a liquidation if more than 50% of shares are tendered. Bulldog will likely win, either by winning the vote or (hopefully) having FAV's board agree to something similar before it comes to a vote. It's a clear path from that vote to an NAV realization event. Assuming that happens, investors at today's prices will realize roughly an 8% return plus or minus roughly whatever the market does in the meantime. If the liquidation event doesn't happen, investors probably won't fare too poorly; the shares have generally traded for a low-double digit discount to NAV, so if a liquidation doesn't happen, investors will probably lose ~5% as the discount widens out a bit.
There are two other aspects worth pointing out. First, potential investors should be conscious of the price they pay for FAV. Upside here is limited, and the bigger the discount to NAV an investor pays, the better. So, using limit orders and being conscious of that discount are both beneficial. Second, it's worth noting that an investment in FAV is somewhat reflexive. If investors who believe the fund should be liquidated buy in, they can vote for a liquidation and act as their own catalyst for that value realization. If investors don't believe the fund should be liquidated (either because they don't know a fund can be liquidated, or they like the fund's dividend focused strategy), they can vote against a liquidation or not propose one at all, and the fund will continue to exist.
Disclosure: I am/we are long FAV.
I wrote this article myself, and it expresses my own opinions. I am not receiving compensation for it (other than from Seeking Alpha). I have no business relationship with any company whose stock is mentioned in this article.