Peabody Energy Corp. (NYSE: BTU) could file for bankruptcy within the next few days unless Bowie Resource Partners LLC (Pending:BRLP) gets financing for its planned purchase of three BTU coal mines. According to a report in a newsletter, Leverage Finance News, there was a meeting planned for Jan. 26th and commitments for financing are due Monday, Feb. 8th. Given current financial conditions in energy sector, arranging for new financing could be difficult.
Last fall, I published an article regarding how Australian Corp. Act of 2001 could influence whether or not BTU files for Ch. 11 in the U.S. I am of the opinion that these Australian laws have impacted Peabody's deleveraging plans, and that is why it has been aggressive in trying to stay out of bankruptcy court. If it was planning on going bankrupt, it would have been better off to file last November. The company would have been able to avoid making semi-annual interest payments on debt, avoid making VEBA payments, and delay making federal coal mine lease payments. Peabody has used a lot of cash in its fight and now is backed into the corner. BTU needs to sell assets immediately and to close the $358m sale of its mines to Bowie.
The coal industry has had not been lucky during the last three months. Winter weather has been warmer than normal resulting in lower natural gas prices, President Obama has continued his war on coal, and environmental groups have filed lawsuits regarding self-bonding that covers coal mine reclamation costs.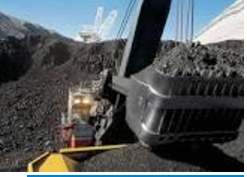 Last November, there was an announcement about the sale of three western BTU coal mines to a subsidiary of Bowie Resources. At that time, there was a statement that one of the owners of Bowie, Galena Private Equity Partners, was planning to sell its stake and that a private equity fund affiliated with the Blackstone Group (NYSE:BX) was going to make a $313m equity investment ($112m common and $201m preferred stock). In order to make the purchase and to re-finance existing debt, $650m in new financing was planned to be raised.
Deutsche Bank (NYSE:DB) and Citibank (NYSE:C) are the joint bookrunners for the new financing. The current plan is to have a $650m first-lien term loan maturing in 2019 issued by a Bowie subsidiary, Western Megawatt Resources. Part of the amount would be used to repay a $280m first-lien term loan and a $75m second-lien term loan. In addition, there would be a new $100m revolver replacing the current $35m revolver and repaying $18m outstanding on that revolver. This is going to be a difficult sale to lenders. It is important to remember that last spring, Bowie tried to sell limited partnership interests after filing an S-1, but because of very weak market conditions for coal investments, that offer was pulled.
This is from Jan. 21 Moody's release:
Issuer: Bowie Resource Partners LLC
.... Corporate Family Rating, B2, Placed on Review for downgrade
.... Probability of Default Rating, B2-PD, Placed on Review for downgrade
....Senior Secured Bank Credit Facility, B1 (LGD3), Placed on Review for downgrade
....Senior Secured Bank Credit Facility, Caa1 (LGD5), Placed on Review for downgrade
There is a typical breakup fee of $20m payable to BTU if the deal is not completed. It will be interesting to see if Blackstone or Bowie's Chairman John Siegel's Cedar Energy would be willing to add more equity to get the deal completed. A modest extension period is possible. The various institutional holders of Peabody's debt could also be indirect "salesman" to potential lenders because they would be major losers in a Peabody bankruptcy.
There is an indication that both parties to sale continue to take needed action for the deal to close. A recent application was filed to change control of radio frequencies from BTU to a Bowie's subsidiary.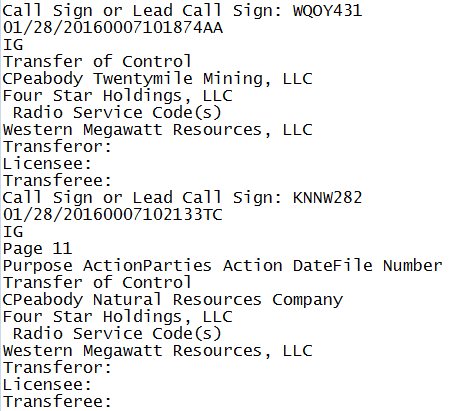 One of the conditions for a debt exchange offer, that was stated in an 8-K information release, was that BTU had to sell $500m in assets. In order to reach that goal, BTU is selling its 5.01% interest in the coal power plant, Prairie State, for $53m. The announcement mentioned that the company would record a small gain on the sale. It must have taken prior write-downs for this investment because there were reports that it made a $250m original investment in this venture.
The self-bonding issue for future reclamation expenses continues to trouble many investors. In Illinois, groups are trying to stop BTU from being allowed to self-bond and last November Colorado indicated that they may not allow self-bonding in the future. The big issue for BTU is self-bonding in Wyoming.
The federal government has informed Wyoming that they incorrectly applied self-bonding regulations to bankrupt Alpha Natural Resources (OTCPK:ANRZQ) and Arch Coal (ACI). The Wyoming D.E.Q. was granted a request for additional time to research the legal issues and possible remedies for self-bonding. Some investors are worried that when Wyoming does a "re-look" at Peabody's financials using its audited 2015 statement, that these inquiries from the federal government could result in BTU not being allowed to use one of its subsidiaries to qualify for self-bonding. BTU would have a very difficult time trying to purchase surety bonds to cover reclamation expenses. Investors are assuming that BTU is being very careful finalizing its year-end financial statements to make sure that the subsidiary, Peabody Investing, qualifies for self-bonding.
The U.S. Circuit Court of Appeals in D.C. ordered a review of the federal fund that pays for reclamation costs of mines that go bankrupt and have no remaining assets to cover the required reclamation costs. There is concern that the federal government may take over the reclamation programs for all coal companies. This new huge federal bureaucratic program could be costly to miners.
The attempt by various parties to get a stay for President Obama's Clean Air Act is in the U.S. Supreme Court. Parties submitted responses to the application, as per request by the Chief Justice, on Feb. 4. Investors are waiting for the results, but it is not likely to be granted because the court may rule that there is no sufficient evidence to indicate that immediate harm will be done by letting the regular appeal process be followed.
Another important plank in Peabody's restructuring is the repurchase of its debt in the open market. Funds that are required quarterly to report their holdings of BTU debt have not shown a dramatic decline in their positions, except Franklin Resources (NYSE:BEN) which reported a total decrease of about $149m in its various note holdings in the 12/31/15 quarterly reporting period. Collectively, I was expecting larger declines in holdings, which could indicate that possibly BTU was the buyer of some of those notes and bonds. Now, we will just have to wait until the earnings report is released to see how much, if any, were repurchased.
There never seems to be an end to the bad news in the coal industry. Last week, Peabody announced layoffs of another 75 miners in Illinois. Peabody's earnings report that is expected to be released on Feb. 11 may show very weak results. Many investors are looking past the current earnings and are expecting or actually hoping for good news to be announced when the earnings are released.
Other articles have covered the potential for higher coal prices based upon higher natural gas prices as the gas industry drastically cuts capex over the next few years. In order for current BTU investors to benefit by an improving coal industry, drastic financial restructuring of BTU is needed. With debt selling at such extremely low prices, there is the potential for new note buyers to make 10-15x their money within just a few years. Even if the probability of BTU being successful in its plans is as low as 20%, one could make a rational argument for an investor to make a purchase of debt at current prices. The potential for stock gains is not as clearly defined, but could be significant enough to warrant consideration.
I made my purchases of BTU stock and notes when ACI went bankrupt and made additional purchases the following week, fully aware of the major issues facing BTU in the near term. I used the following reasoning: would you place a bet at a casino if you determined the odds of winning were 1 in 5, but you would be paid $15 for each dollar bet?
You have to give Peabody credit. Management tried to stay out of court. They did not know exactly how the Australian laws would impact a normal Ch. 11 filing in the U.S. and were not willing to risk facing the possibility that their control of PEAMCoal Pty could pass to an Australian administrator who could end up paying BTU nothing as sole shareholder. It is not over yet, but Bowie must get financing for its purchase - soon.
Disclosure: I am/we are long STOCK AND BONDS.
I wrote this article myself, and it expresses my own opinions. I am not receiving compensation for it (other than from Seeking Alpha). I have no business relationship with any company whose stock is mentioned in this article.
Editor's Note: This article covers one or more stocks trading at less than $1 per share and/or with less than a $100 million market cap. Please be aware of the risks associated with these stocks.