Contributing Analyst: Eric Harding
Domino's (NYSE: DPZ) is a pizza restaurant chain with more than 11,600 locations nationwide. The company generates earnings primarily through store operations, delivery services, and percent-of-sales franchise royalties. Domino's has the largest market share in terms of delivery services and is the second largest provider of carryout in the pizza industry. The four largest players in the industry, including Domino's, control 55% and 41% of delivery and carryout market share, respectively. Despite the fact that consumer spending in the restaurant industry is tied to discretionary income, typically at the mercy of prevailing economic conditions, consumer spending in the pizza segment has held steady at approximately $33-34 billion annually for the past decade, regardless of the highs and lows of the economy. This leaves Domino's in a good position to continue growing by expanding market share in the coming years even in the face of an economic downturn.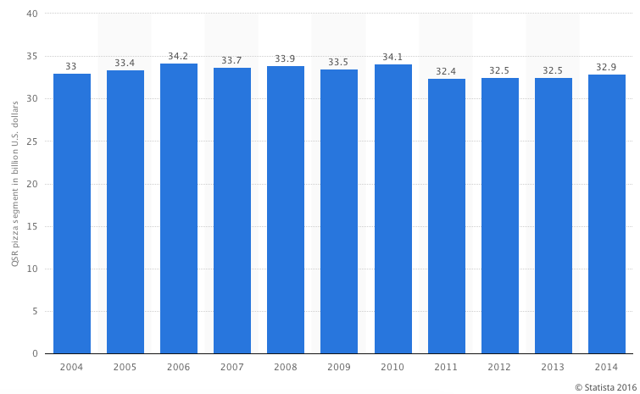 Click to enlarge
(Chart depicts annual consumer spending in the pizza industry)
Fundamentals
On Wednesday, shares closed at $113.75, trading evenly between the high and low end of the 52-week range. Domino's has a market cap of $6.07 billion, a 34.9x P/E multiple, and EPS of 3.15 (TTM). Although shares are trading well above earnings, especially relative to industry peers, the P/E multiple suggests that investors are confident that EPS growth will continue.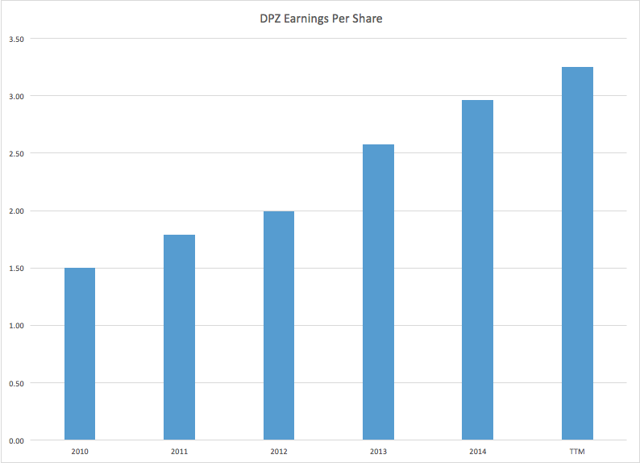 Click to enlarge
Analyst's own research
Domino's earnings per share has seen solid progress over the past five years and it can be expected that this will continue as a result of continued net income growth coupled with the company's capital structure. Management has chosen to take a leveraged balance sheet approach to financing, which is clearly reflected in a 27.43 debt-to-equity ratio. Inherently, this is not a problem as interest is tax deductible and operating cash flow is consistently more than sufficient to cover both investing and financing activities, which is typically the case in mature companies. As Domino's cash flows statement illustrates, each year long-term debt is paid down comfortably within the limits of cash provided by operating activities. The cash flow statement also says something important about Domino's business: its earnings are legit. There are no games surrounding how the earnings are generated, no unusual or infrequent gains buoying income or anything similar. All income is generated in the same time-tested and profitable manner that it has been since the company opened its doors.
For argument's sake, there is some concern associated with capital structure that so heavily favors leverage. A levered balance sheet makes it extremely tempting for management to increase or maintain a dividend that exceeds net income, a trap which Domino's has played into in the past resulting in a shareholder's deficit of $1.2 billion and growing. In other words, Domino's recent dividends have been at least partially funded by debt, and in some cases, earnings have not been enough to cover the entire distribution. Obviously, this is a bad thing, right? Not necessarily. Dividend signaling theory (and common sense) tells us that the market will react negatively to the reduction or lack of a dividend, and positively when dividends increase. Since the company's 2012 "recapitalization" heavily discussed in the 10-K, dividends have increased annually to match earnings growth. This measure maintains positive share price momentum while allowing management to focus on other things - specifically expansion.
A read-through of Domino's financial statements shows that all of that debt is funding three principal activities: (1) maintaining and increasing dividends, (2) accelerating EPS growth, and (3) focusing on opening new stores. As mentioned earlier, one use of the leverage is to maintain positive trading momentum. Another use has been to accelerate EPS growth, which has been growing at a rate faster than net income over the past five years. This has been made possible by share repurchases totaling more than $430 million over the past four years. An action that has reduced the number of shares outstanding, consequently increasing EPS. Furthermore, the addition of the debt has been part of a targeted effort to open more stores, as illustrated by recent increases in capital expenditures.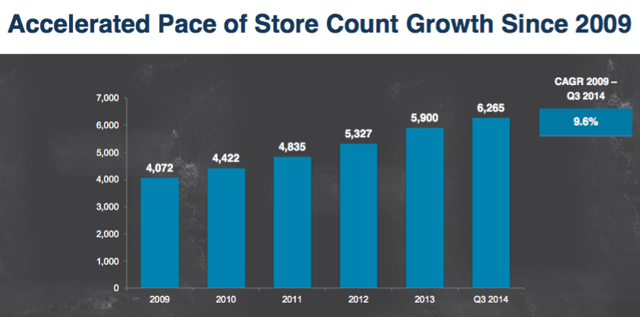 Click to enlarge
As depicted by the chart above, store count is growing at a rapid rate largely thanks to this effort. These additional stores can be expected to help capture additional market share in the $34 billion pizza industry, which will bring nice returns for shareholders in the future.
In a nutshell, Domino's management is driving store count growth while keeping shareholders happy with dividends in the meantime. This is reflected in net income growth and upward EPS momentum, while share repurchases add the bonus of EPS growth acceleration. When all is said and done, the P/E multiple indicates that investor confidence is in the right place, making Domino's the perfect growth play.
Technical Overview
Domino's recently traded off of its recent lows of about $102.5/share, and proved the significance of its $105/share support level. On a technical basis, this would be an excellent level to define one's risk at. However, it is currently running into a strong level of resistance at $115/share. A break and hold of this level would present a high probability for a move through its July 2015 highs of $120/share. Volume has also been relatively increasing in Domino's since December 2015, so the potential move to the upside has a strong level of conviction.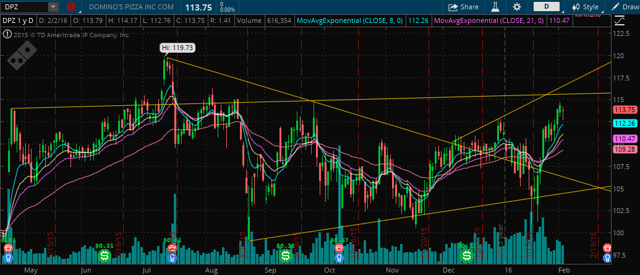 Click to enlarge
Analyst's own research
Risk Factors
As with any growth stock having a high P/E ratio relative to its peers, the risk is always present that the high multiple will suggest that shares are overvalued rather than imply investor confidence. The risk moving forward is that EPS growth could halt or decay, in which case Domino's would take on the image of being overvalued rather than being a growth play. This would cause short interest to rise, creating a bearish sentiment. The Q3 EPS miss may have raised an eyebrow or two with respect to whether or not Domino's will be able to post another consecutive year of growth, but I see no cause for concern as both Q1 and Q2 results came in above estimates. Investors can expect Q4 results on February 25th where the current expectation is $1.13. This would round out EPS for the year at $3.42 - a nice increase of about 9% over the TTM figure. Ultimately, I remain confident that five consecutive years of EPS and net income growth provide enough justification for the high P/E multiple and should ease any concern regarding this risk. The growth is there as the financial statements show, and management's advancement of its expansion strategy should give you reason to consider DPZ for your own portfolio.
Disclosure: I/we have no positions in any stocks mentioned, but may initiate a long position in DPZ over the next 72 hours.
I wrote this article myself, and it expresses my own opinions. I am not receiving compensation for it (other than from Seeking Alpha). I have no business relationship with any company whose stock is mentioned in this article.