Magellan Midstream Partners (NYSE:MMP) has made a name for itself over the last few months as an equity worthy of capital allocation versus a tough comparable universe. The company missed earnings expectations on both the top and bottom line, but surprisingly only finished down 3.32% this week. The company has a unique revenue structure and while I like the diversification, I'm bearish on the outlook for their primary operating segment. Furthermore, despite a high yield, this company is prone to heavy volatility.

Performance Consideration
Against a comparable universe of Kinder Morgan (NYSE:KMI), Energy Transfer Partners (NYSE:ETP), and Spectra Energy (NYSE:SE), we can see that, over the last six months, Magellan has a far different chart than its competitors. While this is due to the vast differences in revenue composition, thus making the equity's drivers different, the MLP structure has made it a closely-watched comparable (Kinder Morgan is not a MLP, it is structured as a C-Corp, but still reports MLP metrics like "distributable cash flow").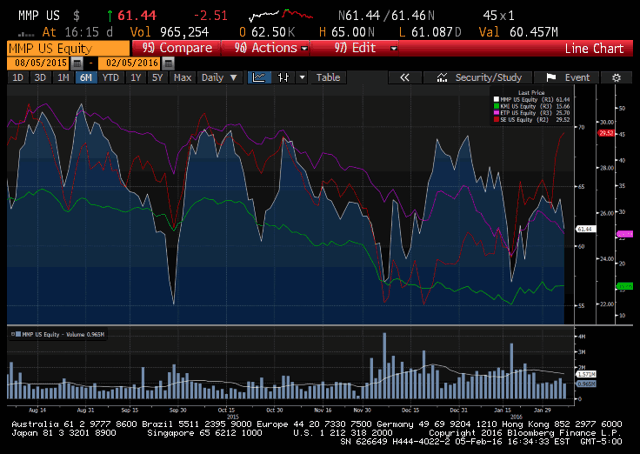 Click to enlarge
Source: Bloomberg
Given the varied structures of this comparable universe, I'd largely say the yield is a major factor driving long investment. MMP currently yields 5.11%, while ETP yields 15%, KMI yields 3.36% 6.06%. The Alerian MLP index currently yields 9.58%. The ETP yield is astonishingly high, although stable, as I have pointed out recently - but a 5.11% yield for MMP is nothing to ignore, especially when you think about the average S&P 500 yield of 2.31%.
Considering that the company has a high yield, its cash flows are going to have to set it apart. An unstable dividend is a recipe for disaster in this market, as we've seen Kinder Morgan and more recently, ConocoPhillips (NYSE:COP). That being said, Magellan did see its distributable cash flow increase YOY from $248 million to $257 million. It's a small change, but nonetheless a positive in this environment. The full year 2015 DCF change was an increase of about 7%. The company has guided $900 million in 2016 distributable cash flow, which would represent a decrease of about 4.4%. That's notable, but not enough, in my opinion, to jeopardize the current status of the dividend.
Thus, I'm primarily concerned with the drivers behind this stock. The company operates three segments: marine storage, crude oil, and refined products, for which the latter is their largest transport segment. A bulk of their transports are gasoline and distillates, but they also have exposure to aviation fuel and liquefied petroleum gases.
What I found particularly interesting in Magellan's recent earnings report was that the volume shipped on refined products was lower by 5.0 million barrels, which is likely to blame for the transportation and terminals revenue drop of $13 million. While we're beginning to see lower refined products being transported across the industry, we're also seeing efficiency gains. The crude oil terminal average utilization increased over 10% and there was a small increase in marine terminal average utilization.
Because of Magellan's unique revenue composition it is far different from many midstream players, it does not correlate well with either the Henry Hub or the WTI, seen below over a six month basis. Thus, this stock is harder to predict than its commodity counterparts and I'd largely expect the volatility in the equity to continue through Q1 as the volumes of refined products being transported changes with the various industry-specific spreads.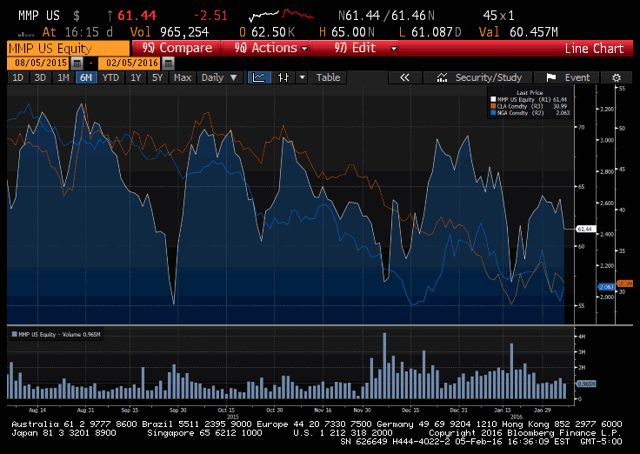 Click to enlarge
Source: Bloomberg
A Simple Strategy
The first thing that should pop out at you when you see the below six month graph is that the volatility is heavy. The total change over time is small, but the runs and windows of opportunity are sharp. There's heavy fluctuations in the MACD and volume, and while we're not oversold on the RSI, the stock is still down 24.64% over the last twelve months. These drastic swings really hinder long investment and I'd argue that's primarily why we see the stock being stifled now.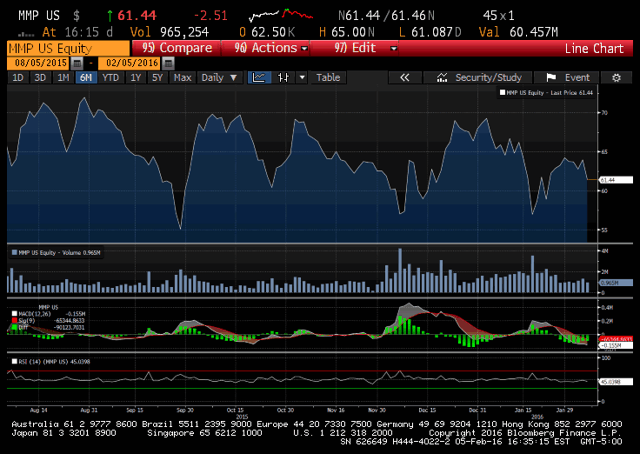 Click to enlarge
Source: Bloomberg
Given the volatility surrounding the stock, we can see some very strong support coming from the $55 level and anything below that price, if it breaks, would be an excellent entry point. However, I'm notably bearish on the prices of refined products for the LT and while Magellan's midstream operations allow it to have reduced risk than other players, I can't place my full confidence in a long position right now. Furthermore, there's arguably better places to allocate capital - especially energy names that have a drastically improved risk/reward scenario.
Conclusion
Now that the company has put Q4 2015 behind it and looks to finish Q1 strong, I'd say a stark positive about this company is its different revenue composition. It is unique for midstreams to operate in the way that Magellan does. The Company saw a very decent increase in distributable cash flow in 2015, which was undoubtedly on the back of a very difficult environment, and despite the lower outlook for 2016, this company could provide adequate returns for the LT if bought off of one of the many dips.
Disclosure: I/we have no positions in any stocks mentioned, and no plans to initiate any positions within the next 72 hours.
I wrote this article myself, and it expresses my own opinions. I am not receiving compensation for it (other than from Seeking Alpha). I have no business relationship with any company whose stock is mentioned in this article.