Roughly seven months ago I authored a piece on Mobileye (NYSE:MBLY), a leader in the development and distribution of software for autonomous driving. At the time of that article, Mobileye had advanced 51% year-to-date and traded at $60 per share. So far, 2016 has painted a much different picture - the Israeli based company has fallen almost 40% this year to $26.50. But is the selloff justified? To answer this question we must first recognize the macro circumstances that are affecting Mobileye's stock price. With this knowledge at the forefront, we may then consider the company's upcoming catalysts and valuation.
This Market Hates Growth
I have little doubt that if Mobileye had come public a few years earlier (the company celebrated its IPO on August 1, 2014), investors would have enjoyed monstrous gains. I'm certain because over the last several years the stock market has championed growth, listening to and believing any company that outlined a promising growth strategy. However, as recession fears loom, the market is afraid to touch the stock of any company whose earnings power derives primarily from growth. And Mobileye is one of these companies.
Multiple compression has started to take its toll on the majority of high-growth stocks. A great way to track a cross-section of these high-growth momentum names is by following the ETF MTUM. Looking at MTUM's six-month performance, it is easy to see the outflow of capital from high growth names. Keep in mind that being an ETF, MTUM is less volatile than the stocks that compose it. Despite its low beta, MTUM has dropped roughly 10% over the last six months, a very meaningful move.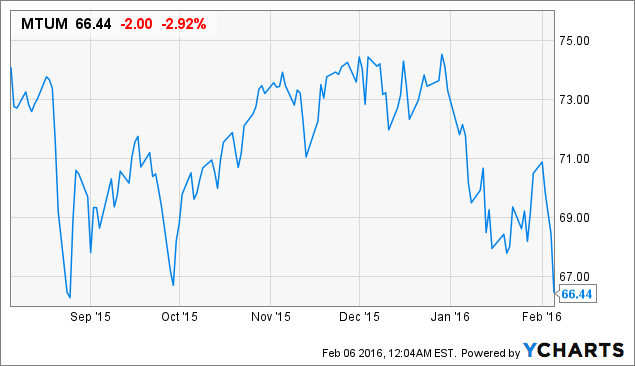 MTUM data by YCharts
I believe the rotation out of growth names is justified and is still in its early stages. On this account alone I would not recommend buying Mobileye today. With that said, there are a handful of compelling catalysts that may currently be underestimated by investors, and these keep me bullish on the name in the very long term. By the end of this article, if you are bullish on Mobileye my advice is to wait out the remainder of this rotation. This would mean waiting a few months to begin legging-in to your position. From there, I urge you to understand the underlying theme of each market condition to help you pick smarter, lucrative entry points.
Compelling Catalysts
Mobileye recently announced its plan to convince automakers to join its project to create crowd-sourced maps. The Mobileye mapping system is unique in that it is designed to use less bandwidth than Google's (NASDAQ:GOOG) (NASDAQ:GOOGL) detailed maps, which are used to power their autonomous vehicles. Mobileye's project would create a global digital map to more efficiently guide their autonomous vehicles. Mobileye already has agreements with General Motors (NYSE:GM) and Volkswagen (OTCPK:VLKAY), and expects another large, undisclosed automaker to join the project as well. According to Mobileye CTO Amnon Shashua, Volkswagen and the third automaker will start building their maps in 2018.
Moreover, as I wrote in my first piece on Mobileye, I maintain that as the household autonomous vehicle nears reality, regulatory support should work in Mobileye's favor. On January 14, Department of Transportation secretary Anthony Foxx said that President Obama's 2017 budget proposal will outlay $4 billion for autonomous driving projects over the following 10 years. These funds would be used primarily to test self-driving cars on technologically advanced roads. Mobileye is an obvious beneficiary of this initiative.
I do not see any reason for the regulatory tailwinds to stop blowing, save a recession. Should a recession become reality before a household version of a fully-autonomous car, it is likely that a reallocation of the President's budget would be in order, cutting the capital to autonomous driving projects.
Valuation
When I last wrote about Mobileye the stock was trading at a stratospheric 157x earnings. Now the company's valuation has come down almost three-fold, to 57x earnings. Clearly the valuation has decreased substantially, but it is still very rich. With that said, however, I believe it is unfair to look at Mobileye's P/E ratio in isolation. Rather, we must remember that Mobileye is promising an unparalleled five-year earnings growth rate of 50%. Thus, a more apt metric to measure Mobileye's valuation is PEG ratio, or price to earnings growth ratio. Mobileye's PEG ratio is 1.78x.
A stock is assigned a PEG ratio of 1 when there is a perfect correlation between its market price and earnings growth. When it comes to this valuation metric, a stock with a PEG ratio above 1 is considered overvalued - and, consequentially, a stock with a PEG ratio below 1 is undervalued.
By the aforementioned metrics, no sane investor would touch MBLY with a 10-foot pole. But - call me crazy - Mobileye actually looks cheap relative to its 2018 earnings. Given that much of Mobileye's value comes from its long-term growth prospects, valuing the company on 2018 earnings expectations is not farfetched and actually makes sense. On this metric, Mobileye trades at 16.5x earnings (and let's not forget that this is the same year in which Mobileye is expected to grow earnings by 100%).
Mobileye's current fundamentals give talking points to both bulls and bears. I think that this debate boils down to the investor's outlook. Most investors fall under short-term or long-term views. A shorter term view sees Mobileye as a highly valued company with few catalysts occurring in the fiscal year, while a patient, longer term view turns to the more cheaply valued out-years and faith in the long-term catalysts.
Personally, I subscribe to the latter view and believe that where it currently trades, Mobileye only represents value to long-term investors who are willing to deal with short-term pain. One cannot look at Mobileye's valuation without also looking at the broader picture. When this broader picture is factored into the valuation, Mobileye is a company whose valuation has come down to earth and offers out-of-this-world growth.
Disclosure: I/we have no positions in any stocks mentioned, and no plans to initiate any positions within the next 72 hours.
I wrote this article myself, and it expresses my own opinions. I am not receiving compensation for it (other than from Seeking Alpha). I have no business relationship with any company whose stock is mentioned in this article.