Quicksilver Resources Inc looks like it may be building a foundation for future growth. This would make it a candidate for a possible bottom entry. But the entry point will be dictated by natural gas and how it does this year. Taking a look at KWK, we wouldn't advise getting in yet.
Quicksilver Resources Inc. (KWK) engages in the acquisition, exploration, development, production, and sale of natural gas, natural gas liquids, and oil onshore in North America. It focuses primarily on unconventional reservoirs in fractured shales, coal beds, and tight sands. The company owns producing oil and natural gas properties, principally in Texas, Colorado, Wyoming, and Montana, as well as in Alberta and British Columbia in Canada. Its development and production areas include the Barnett Shale, the Cutbank Field in the southern Alberta Basin, and Horseshoe Canyon regions.
KWK is in the middle of a long term downward spiral. For 18 months it barely moved in a trading range from 12 to 16 but then in mid summer of 2011 it succumbed to the bad natural gas market and has been bearish ever since.
In the past, its strategy has been to acquire acreage in "unconventional" natural gas fields. This makes the acreage inexpensive but the potential for extraction may be significant. Research and extraction is a pricey process. KWK has had to issue long term debt (twice) and use short term funding to finance its operations.
At the Mercy of Natural Gas
Almost all of its work comes from the natural gas market in North America. It doesn't take a rocket scientist to realize that its financial performance is tied to the demand and price of natural gas in North America. Low prices have played havoc on its financial position as of late.
Natural gas prices were at a ten year low as recent as mid January. And according to Ecomatters from Seeking Alpha, the fundamentals are not showing that the recent rally can be sustained. 2012 is not said to be a good year for natural gas. Since higher oil prices usually mean lower prices for natural gas, 2012 may not be the year to invest long term in KWK. Oil prices will continue to rise and Iran's banishment of exports to Great Britain is part of the problem we are facing this year.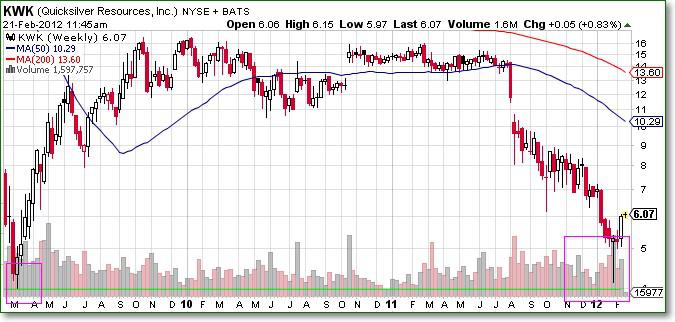 Options and KWK
Looking at the foundation that KWK may have started to build, it may spend the next 6 months forming a strong bottom before the natural gas industry turns itself around. If this is the case, KWK may offer a good opportunity to make money through buying options.
With the likelihood that KWK may continue down, we would advise looking at buying a June 2012 6 put option (presently priced at $0.85). This gives the stock time to take a bounce. With the increase in oil prices, KWK is sure to come down more this first half of the year.