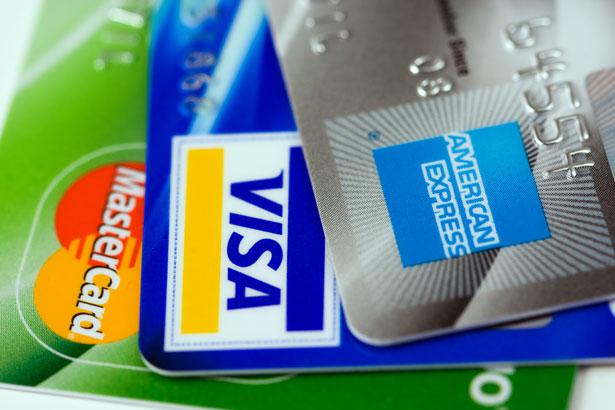 Being a 29-year old Seeking Alpha contributor is tough sometimes. Being surrounded by so many colleagues with a staggering wealth of knowledge and experience in their metaphorical quiver can cast a pretty tall shadow. So, it comes with great pleasure when I can speak with authority and experience on a subject:
I am a Millennial, and I am going to teach you how to shop!
How A Millennial Shops
Cash is becoming obsolete. I stopped carrying cash a long time ago. I went to college in Philadelphia, and it just isn't prudent to carry more than $25 at a time - it's just enough to bail you out of an emergency, but not enough to fret over losing (or have taken from you!). I carry significant cash in one semi-regular situation - when I go out to eat at a restaurant. You should always remember to tip your server in cash. Aside from emergencies and tips, I use credit... because if you're going to buy something, why not get rewarded to buy it?
I have four trusty credit cards in my arsenal.
The Amazon.com (NASDAQ:AMZN) Signature Rewards Card. This card is signed by Visa (NYSE:V) and backed by Chase (NYSE:JPM). I buy almost all of my "things" from Amazon.com, and with my trusty Prime membership that I happily pay for, they arrive at my door in no-time and I get tons of incidental streaming options on my Roku for free. If it's in my house and you aren't eating it or wearing it, I probably bought it off Amazon.com with this credit card.
The American Express (NYSE:AXP) Blue Cash Everyday Card. This card gets me 3% cash back at US supermarkets, 2% cash back at US gas stations, 2% cash back at select US department stores and 1% cash back on all other purchases. I purchase all of my gas and groceries with this credit card.
The Capital One (NYSE:COF) Quicksilver Card. This card is signed by MasterCard (NYSE:MA) and gets me unlimited 1.5% cash back on everything. Everything else goes on this card.
Kohl's (NYSE:KSS) store card. I buy the overwhelming majority of my wardrobe from Kohl's. Its sales and customer rewards programs are unbeatable, and given my routinely intense gym schedule, I have to painstakingly try on every single article of clothing I purchase because I cannot fit into "typical cuts." Sorry Amazon.com, online clothes shopping is not in my future.
This, ladies and gentlemen, is how Millennials shop, and how the trend will progress. Aside from groceries and clothing for atypically sized individuals, we're buying online. And that is a credit-only business! I have my Plastic Arsenal specifically tailored so I maximize my reward dollars for everything I buy, and I carry the three major credit card companies to ensure I'm always in business.
My Credit Dilemma
As much as I love my precious plastic that has paid me so well to shop with them over the past 11 years of my life, I have zero dollars invested in any of the major credit card companies. I have been wanting to add them to my portfolio for quite some time, but I have been unable to pull the trigger for one reason: valuation.
It has been difficult watching the relentless ascension of Visa and MasterCard's stock price after their respective IPOs. I am in love with both of their corporate structures - they are essentially toll booths, collecting a fee for every transaction and taking on little to no risk. Carrying practically unheard of debt-free balance sheets is a huge plus for me. "Debt" is the dirtiest four-letter-word of all for us Millennials. I have just never been able to wrap my head around the earnings multiple, and I have constantly waited for a stock price correction that has never come. I still cannot justify either company's valuation multiple at this current time, but I am batting .000 at this point.
I have been following American Express ever since its issues with Costco (NASDAQ:COST) sent the stuck plummeting from all-time highs in the mid-$90s. American Express' decline, ironically, began around the same point that I watched Visa and MasterCard begin a huge run skyward.
A Divergence In Structure
You'll notice that my Visa and MasterCard credit cards above are signed with a bank. Visa and MasterCard are known as "open loop" systems. They are payment processors - toll collectors - you swipe, they collect a fee. They do not extend credit. That is done by the banks that use their network (in my case, JPM Chase & Co. and Capital One Financial Corporation). Visa and MasterCard take a swipe fee while the banks take on all the risk. As a result, Visa and MasterCard maintain practically debt-free balance sheets (literally $0 long-term debt for Visa and a paltry $1.5B for MasterCard, barely more than 1.5% of its current market capitalization).
American Express is structured very differently than Visa or MasterCard. American Express is operated as a "closed loop" system. American Express actually extends credit, which is why my Amex card isn't signed by a bank (though some cards are branded, such as in the Costco deal that was recently lost). Its long-term debt is a more sizeable $21.3B, total debt at $26.7B.
However, the advantage to Amex's structure is that while Visa and MasterCard must command tremendous volume to generate enough fees from merchants for revenues, Amex collects not only merchant fees, but fees and interest from individual cardholders. And thanks to its brand, it tends to command wealthier clientele with higher spending habits. As such, Amex can generate higher revenues with less cards in circulation.
A Word On Valuation
While I love Visa and MasterCard's simplistic business model and low levels of debt, their valuations are too rich for my blood. Amex, being beaten down so hard recently, is starting to look appealing. Let's take a look at the 5 years from 2010-2014 while Amex's Costco deal was still intact.
| | | | | | | |
| --- | --- | --- | --- | --- | --- | --- |
| | 2014 | 2013 | 2012 | 2011 | 2010 | 5Y CAGR |
| Total Revenues | $34,292.00 | $32,974.00 | $31,555.00 | $29,962.00 | $27,582.00 | 4.45% |
| Net Income | $5,885.00 | $5,359.00 | $4,482.00 | $4,935.00 | $4,057.00 | 7.72% |
| Return on Average Equity | 29.1% | 27.8% | 23.1% | 27.7% | 27.5% | |
| Earnings Per Share (Diluted) | $5.56 | $4.88 | $3.89 | $4.12 | $3.35 | 10.66% |
| Cash Dividends Declared per Share | $1.01 | $0.89 | $0.80 | $0.72 | $0.72 | 7.00% |
| Book Value per Share | $20.21 | $18.32 | $17.09 | $16.15 | $13.56 | 8.31% |
The thing that stands out to me is that while Amex's revenues grew at only 4.45% YoY, its income grew at a whopping 7.72% and EPS at a gigantic 10.66%. This says to me that Amex was able to do more with less - management appears to have done a fantastic job streamlining the company into a more efficient cash machine.
| | |
| --- | --- |
| | 2015 |
| Total Revenues | $32,818.00 |
| Net Income | $5,163.00 |
| Return on Average Equity | 24.0% |
| Earnings Per Share (Diluted) | $5.05 |
| Cash Dividends Declared per Share | $1.13 |
| Book Value per Share | $19.71 |
The 2015 results from its most recent filing are ugly by comparison. All metrics are down, with the only bright spot being a sizeable dividend increase. The current dividend rate is $1.16/share, and even though EPS is down, with a payout ratio of 23%, there is still a lot of room for growth.
I attempted to put these numbers in context by delving into the past 5 years of earnings and focusing on three metrics:
P/E Ratio
Dividend Yield
Payout Ratio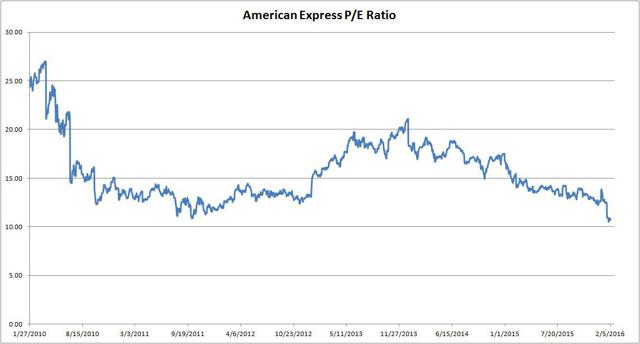 Click to enlarge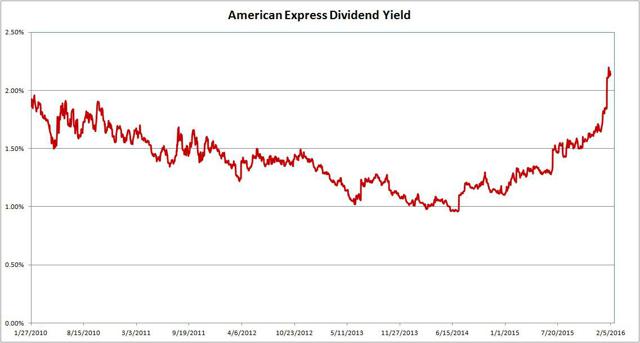 Click to enlarge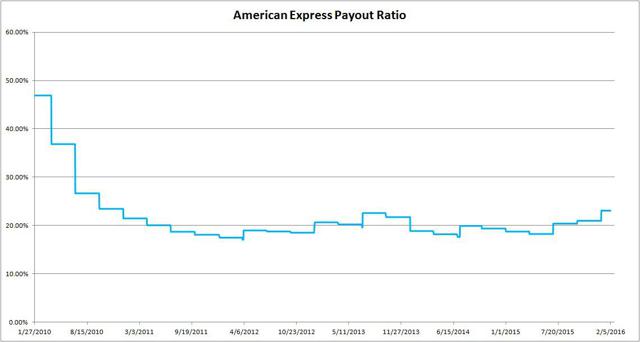 Click to enlarge
Now, historical performance certainly does not guarantee future results. However, they tend to be a very reliable indicator. When comparing American Express today to any time over the past 5 years:
Its P/E ratio is at a 5+ year low. In fact, American Express tends to trade with a P/E ratio similar to that of the S&P 500 (NYSEARCA:SPY). Considering the S&P 500's current P/E ratio is 21.1x and Morningstar pegs American Express' forward P/E at 9.6x, we know Amex is trading at a substantial discount to the market.

Click to enlarge

American Express' yield is at a 5+ year high. Amex hasn't traded with a yield >2% in over 5 years. Today, it trades at a yield of 2.15%.
Despite falling EPS, its payout ratio is sitting near its 5-year low.
W.W.B.D.? The Salad Oil Scandal of 1963
A man named Anthony "Tino" De Angelis, who started the Allied Crude Vegetable Oil Refining Co. in 1955, developed a scheme to get even richer.
De Angelis, who had the soybean oil market cornered, wanted to secure loans from banks using his large vegetable oil inventories as collateral. By buying soybean oil futures, he could artificially drive up the value of his inventories, allowing him to profit both from the inventories themselves and the futures contracts.
These types of collateral-driven loans were something that American Express had recently began specializing in. American Express wrote De Angelis receipts for millions of pounds of oil, which he then was able to trade in for cash at a discounted rate. It became so simple, De Angelis began falsifying warehouse receipts for oil inventories he did not have. American Express sent warehouse inspection teams to verify De Angelis' inventories, but they were easily fooled by De Angelis' deception. De Angelis' tankers were mostly filled with water with a small amount of vegetable oil floating on top. American Express failed to do its due diligence and never realized that De Angelis' reported inventories were much higher than those reported by The Department of Agriculture.
Eventually, the swindle collapsed and Allied Crude was found to only have $6 million in inventories versus the $150 million reported. Soybean oil futures crashed, wiping out the value of the loans. Allied Crude filed for bankruptcy, and 51 total companies were stuck with bad loan debt from the scheme - Amex being one of them. As a result, American Express' share price fell from $65 in October 1963 to $37 in January 1964.
What Would Buffett Do? The Great Salad Oil Swindle of 1963 is the catalyst that Buffett used to purchase Amex's shares at deep value. It was at this time that he established a 5% position with a $20 million investment. Warren Buffett is currently American Express' largest shareholder, holding 15.39% of the company through Berkshire Hathaway, Inc. (NYSE:BRK.A) (NYSE:BRK.B). This has been one of Buffett's absolute greatest investments.
Closing Thoughts
We have no way of knowing what the future holds for American Express, or any company in the stock market. However, what we do know is that the market has handily punished American Express for its broken relations with Costco. While revenues and profits have certainly been negatively impacted, the market's reaction appears to be overblown. American Express' fundamental earnings machine is still well intact. Profits are down, but they are still high. Dividends are up and payout ratios are low. Guidance has been cut, but forward P/E is at a 9.6x, far below recent historicals. While I certainly cannot guarantee the bottom is in, we do not have a value trap on our hands.
I currently do not have any direct positions in American Express stock, but I am seriously considering opening a position at these levels. I am eagerly awaiting the release of its 2015 Annual Report before I make a final decision. I feel this is a stock that should currently be on everyone's radar.
Disclosure: I/we have no positions in any stocks mentioned, and no plans to initiate any positions within the next 72 hours.
I wrote this article myself, and it expresses my own opinions. I am not receiving compensation for it (other than from Seeking Alpha). I have no business relationship with any company whose stock is mentioned in this article.
Additional disclosure: All information found herein, including any ideas, opinions, views, predictions, commentaries, forecasts, suggestions or stock picks, expressed or implied, are for informational, entertainment or educational purposes only and should not be construed as personal investment advice. I am not a licensed investment adviser.