Natural gas is one of the most volatile commodities that trade on futures exchanges. That is why the margin level for the energy commodity is higher than it is for many other futures contracts. While the original margin for a contract of gold is under 4% of contract value, the margin for a contract of natural gas is over 13%. That is because natural gas volatility can be wild. In December 2015, the price of natural gas fell to the lowest level since the late 1990s when it traded to lows of $1.6840 per mmbtu on the active month NYMEX futures contract. Less than one month later the energy commodity rose to $2.495 -- an increase of over 48%. Since those highs on January 8, the price has retreated. Last week it fell below the $2 level once again and closed the week just above at $2.063 per mmbtu.
Inventories disappoint bulls
Two weeks ago, the Energy Information Administration reported the largest withdrawal from inventories of natural gas of this season when it said that stockpiles declined by 211 billion cubic feet as of January 22. The price of natural gas moved higher after that report closing on Friday, January 29 at over $2.30 per mmbtu.
Last week the price of gas fell as speculators took advantage of higher prices to re-establish short positions. Shorts have been empowered; they made lots of money in October through December as the price of the energy commodity fell to levels not seen in over a decade and a half. However, the volatility and price recovery that followed toasted and roasted those who overstayed their welcome in this crazy market.
Meanwhile, a major snowstorm dumped over two feet of snow on populous regions of the Northeastern United States on January 23. This encouraged some brave traders and speculators to take on the shorts and buy natural gas futures with the expectation that another huge withdrawal from inventories would increase heating demand because of the winter storm thus resulting in another round of short covering. When the EIA released figures last Thursday, the shorts breathed a sigh of relief and the longs scrambled to liquidate their positions. The agency reported a decline in stocks for the week ending January 29 of 152 billion cubic feet. The number was below market expectations. The decrease in stockpiles was low considering the size and scope of the winter storm. Inventories fell below the three trillion cubic feet mark and now stand at 2.934 trillion cubic feet, which is 20% above last year's level and 17.9% above the five-year average for inventories of natural gas.
Natural gas volatility has been wild this winter season as natural gas declined at the beginning of the season, rallied sharply in late December and early January and now has fallen yet again. Longs and shorts alike, who overstay their welcome, experienced the toasting and roasting of a commodity that loves to confuse and cause losses. In markets, bulls make money, bears make money and pigs suffer slaughter. Nowhere in markets is this saying more appropriate than in natural gas.
Price action is negative
The recent price action in natural gas is negative for the future price path of the energy commodity.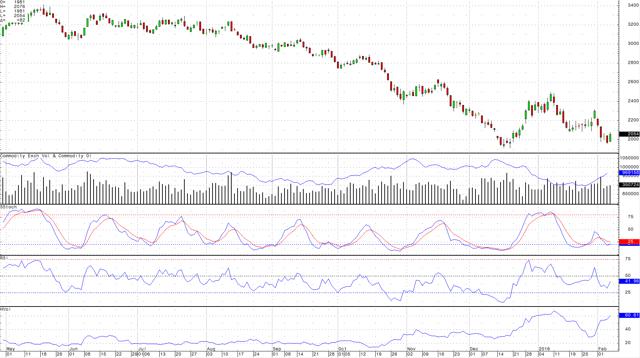 Click to enlargeAs the daily chart for NYMEX natural gas futures highlights, the price tested levels below $2 again last week, levels not seen since the middle of December when the commodity plunged and exploded in a V-shaped rally on the charts. You can almost hear the squealing and screaming as you look at this price chart.
Technical metrics on the daily chart are currently bearish. Although the slow stochastic is in oversold territory it remains negative in terms of price momentum. Relative strength is neutral after recent price action and daily historical volatility has increased to over 60%. Open interest, the total number of open long and short positions on NYMEX natural gas futures has been rising as the price has been falling. On January 25, open interest was at the 895,870 level, last Friday it had increased to 969,158 contracts -- an increase of over 8%. This could mean that shorts have returned to the natural gas futures market. Falling price and rising open interest is generally a bearish signal in futures markets. The longer-term chart paints an even more bearish picture for the future of the price of natural gas.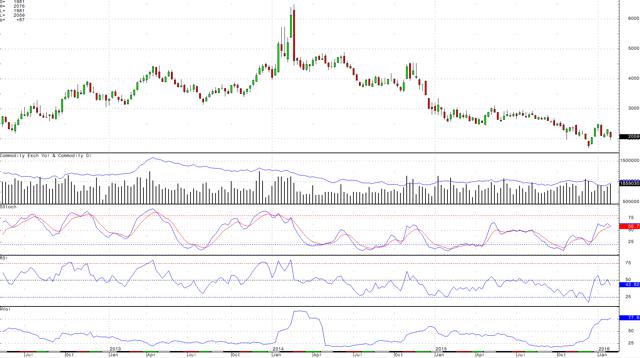 Click to enlargeThe weekly natural gas chart shows that historical volatility is at over 77% because of the recent wide trading range. However, on this chart, momentum appears to be turning lower and relative strength has risen to a level where there is room for another round of downside price action. While technical indicators seem to be pointing lower, weather is likely to influence the path of natural gas prices over the coming weeks as it is still the winter season in the United States.
Weather is negative
February is generally a very cold and frigid month across populous regions of the U.S. While weather forecasts for major cities like New York, Boston and Chicago are for temperatures below the freezing level with some snow over the coming week, it could be a little too late for a big natural gas rally. The current level of inventories stands at more than enough Btus to handle the cold snap. Early winter weather caused heating demand to be low and a late winter freeze may not be enough to lift demand to a level that will cause the withdrawals needed to get natural gas going on the upside again. Last week's disappointing withdrawal has put a pall on the natural gas market and the path of least resistance now appears to be lower, once again.
Contract lows versus continuous contract lows
On the daily chart, support for the March natural gas futures contract stands at $1.913 -- last week we got down to lows of $1.954. A rebound of just over 10 cents put Friday's close at around $2.06 per mmbtu. If the shorts are able to push the price of gas below contract lows, we may see another vacuum lower. On a technical basis, the continuous contract lows we saw back in December at $1.684 comes into play below $1.913.
Open interest tells a story
There is a lot of room on the downside for the shorts if they get the market going once again. The increase in open interest suggests that shorts are back in town to take another stab at this market on the downside, perhaps the last stab for the winter of 2016.
When the price was falling back in December, open interest rose to over 1.04 million contracts. The current level of just 970,000 contracts suggests that there is room for a lot more short selling if the price begins to fall again. Keep an eye on open interest, this metric will tell us what the speculators are looking for. They got their wish in December, those who did not overstay their welcome made lots of money. Now, they could be coming back for more downside fun in February.
Meanwhile, at current prices the production of natural gas is a business that is far from economic. With oil prices around the $30 per barrel level fracking in the United States is not what is was for producers. This is likely to set up all the right conditions for more two-way volatility in the natural gas market. There is no guarantee that the shorts will be able to push the price as low as they did two months ago. If they become over stimulated on the downside we may just see another updraft like the one we saw that took the price 48% high in less than one month. There is fun and games and lots of volatility ahead for the natural gas market. The magnet of lower price is making the mouths of shorts water once again as they eye those December lows. This could just be bait for another dose of pain -- more toasting and roasting. Natural gas is a market that loves to hand out more pain than most. The margin required to trade hints at the danger involved. There are great opportunities to trade natural gas these days from both the long and short side. However, you must remember that you will never buy the lows or sell the highs. In fact, many traders and speculators do just the opposite. Take your profits when they are on the table in this wild market. While tight stops could result in a light toasting, no stops are almost a guarantee for a total roasting.
As a bonus, I have prepared a video on my website Commodix that provides a more in-depth and detailed analysis on natural gas to illustrate the real value implications and opportunities.
Disclosure: I/we have no positions in any stocks mentioned, and no plans to initiate any positions within the next 72 hours.
I wrote this article myself, and it expresses my own opinions. I am not receiving compensation for it (other than from Seeking Alpha). I have no business relationship with any company whose stock is mentioned in this article.