In last week's jobs report we learned that 151,000 jobs were created in January and that the unemployment rate declined to 4.9%. The number of new jobs was below expectations, but the decline in the unemployment rate was viewed as a positive. The problem we continue to have with the unemployment rate decline is that it has largely been a result of fewer people actively participating in the labor force. We think the real rate is much higher than 4.9%, but regardless, it is a lagging indicator and tells us very little about where the economy is headed. The number of jobs being created today is more significant and coincident with what is happening now. We have an entirely different problem on that front.
There has always been a fair amount of cynicism about the accuracy of the estimates that come from the Bureau of Labor Statistics, and this report was a perfect example. It is hard to believe that 29,000 jobs were created in the manufacturing sector in January, as this report purports, when the sector is in recession and didn't create any jobs throughout all of 2015. Additionally, the Commerce Department reported last week that new orders for manufactured goods plunged 2.9% in December, the largest drop in a year, after declining .7% in November and four out of the past five months. It is hard to believe that any new jobs are being created in this sector given these factual statistics.
It is also hard to believe that retailers created 58,000 jobs in January, led by department stores, when retail sales were exceptionally soft going into the holiday season. Especially since Challenger, Gray & Christmas reported last week that employers announced a surge in job cuts for January to 75,114, led by the retail sector to the tune of 22,248. There is clearly no basis to challenge the 47,000 bartender jobs supposedly created, as there are plenty of Americans in part-time, low-wage positions drowning their sorrows.
The chart below shows a significant spike in the number of multiple jobholders. The Economic Cycle Research Institute points out that this number has risen by 752k since May of last year, while single jobholders have increased by 429k. This means that two-thirds of the new jobs created since last May have gone to multiple jobholders, who are counted as full-time so long as they log 35 hours of work from their collective jobs. This vital sign is not indicative of an economy that is strengthening.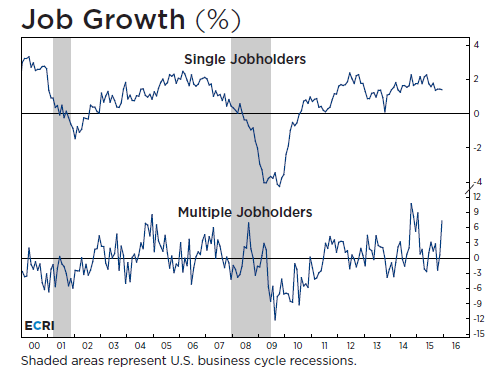 Following last month's jobs report we introduced what we think is a new leading indicator of employment and general economic activity, focused on the revisions between the initial estimate and the final revision to that estimate provided by the Bureau of Labor Statistics two months later. This is our first update to this indicator.
In review, along with every new jobs report, the previous two months are revised with more incoming data. This month the gain in December's initial figure was revised downward from 292,000 to 262,000. That number will be revised a second and final time in next month's report. The gain in November was revised for a second and final time, up from 252,000 to 280,000. Now let's put these numbers in context.
The initial jobs number is always subject to significant revisions. The BLS states on its website that the margin for error can be as great as 100,000 jobs per month. This is partly due to sampling errors, which is why the BLS makes seasonal adjustments to its data, depending on the month of the year. It also makes adjustments to account for the job creation it assumes is resulting from the formation of new businesses that are too new to be included in its survey. The statistical model it uses for this calculation is called the birth/death model.
One downside to this model is that it misses the major turning points in economic activity. It overstates job creation by new businesses as the economy is slowing or contracting, because fewer new businesses are being created. It also understates job creation when the economy is starting a new expansion and lots of new business formation is taking place. Therefore, regardless of the accuracy of the estimates, using the data on revisions and the direction of those revisions can give us clues as to the rate of economic growth. At least this is our hope!
Below is a chart of the average revision to the jobs number, from the initial estimate to the final revision, for the 12 months of each calendar year, as well as the number of revisions that were negative. What is notable is that as the economy slowed in advance of the last recession in 2008, the number of months with negative revisions increased, and the size of the upward mean revision decreased. During the first half of 2008 the revisions were downward nearly every month, but there was no acknowledgement that the economy was in recession at that time until the second half of the year.
| | | | |
| --- | --- | --- | --- |
| | Mean revision | Negative months | S&P 500 Total Return |
| 2015 | -3,000 | 6 | 1.40% |
| 2014 | 37,000 | 1 | 13.69% |
| 2013 | 21,000 | 4 | 32.39% |
| 2012 | 24,000 | 3 | 16.00% |
| 2011 | 28,000 | 3 | 2.11% |
| 2010 | 40,000 | 1 | 15.06% |
| 2009 | 12,000 | 4 | 26.46% |
| 2008 | -73,000 | 11 | -37% |
| 2007 | 5,000 | 6 | 5.49% |
| 2006 | 23,000 | 5 | 15.79% |
| 2005 | 31,000 | 3 | 4.91% |
| 2004 | 21,000 | 4 | 10.88% |
We now have 11 months of data for 2015, and we will have December's final revision next month. The upward revision to November's job number actually increased the mean revision from -10,000 to -3,000 in our update, but this is still a negative number that looks eerily similar to what we saw in 2007. There has been a gradual increase in the number of negative months, and the mean revisions have gone from significant increases to modest declines. We will provide another update next month.
Personal Income and Spending Trends
While the employment data is very important, it is not as significant as the income and spending data, despite the fact that pundits, the main stream media and even the Federal Reserve focus more attention on employment. Trends in consumer spending lead trends in employment and economic activity. This is one of the most misunderstood concepts in economics.
It is true that the creation of additional jobs each month increases the amount of disposable income available to spend on goods and services at the margin, but it is the spending on goods and services fueled by the income earned by the much larger existing pool of workers that leads to the creation or destruction of new jobs. Therefore, consumer spending is a primary driver of job creation, while job creation is a secondary driver of consumer spending.
The Bureau of Economic Analysis reported that personal income rose .3% in December, above the estimate of .2%, while personal spending (personal consumption expenditures or PCE) was flat at 0%, below the estimate for an increase of .2%. These income and spending figures are very informative, but not in the manner that the BLS presents them. Month-over-month figures don't tell us a lot about trends. Year-over-year is far more valuable.
The personal income numbers include total compensation received from salaries, wages, bonuses, rental income, self-employment income and dividends and distributions from investments, so it is all encompassing. Because it is all encompassing it is less correlated with consumer spending than the average hourly earnings report. This is because workers that earn an hourly wage tend to spend all of it on goods and services, while the top income earners that are represented in the personal income figure will save and invest a significant percentage of their income. Personal income rose 4.5% in 2015 over 2014's increase of 4.4%, while personal spending (personal consumption expenditures) increased 3.4% in 2015, which was below the 2014 increase of 4.2%.
We can see a much better picture of the trends when looking at the year-over-year rates of growth on a more regular basis, in this case monthly, as can be seen below.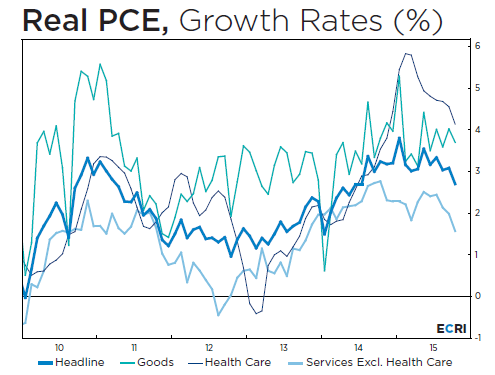 The rate of consumer spending growth, as measured by real (inflation-adjusted) personal consumption expenditures, peaked a year ago. In the most recent personal spending report the growth rate of real PCE was 2.6% on a year-over-year basis. It is declining, which is normal for this stage of the business cycle. Historically, the growth rate in real PCE peaks in the 5-7% range and then slows to zero before recovering back to a similar level. We are well into the downslope of the cycle.
Further confirming this downtrend in growth is the downtrend in consumer confidence, which also peaked about a year ago, as can be seen below.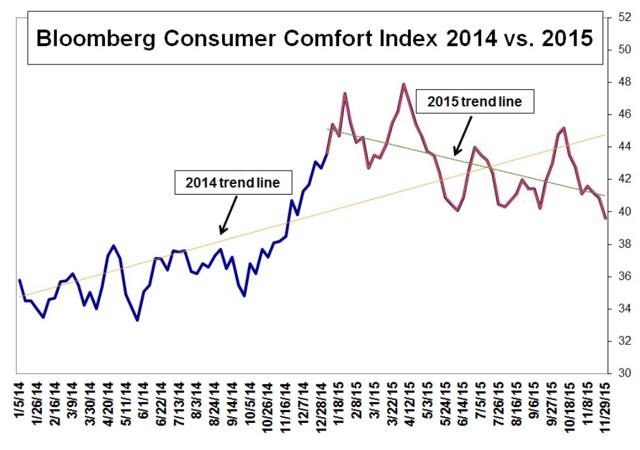 Click to enlarge
These are two very broad strokes of economic data. One is lagging - employment statistics, and the other is leading - consumer spending trends. We have tried to present the employment data in a way that gives us more insight into what may lie ahead. The bottom line is that economic growth is slowing, which may be self-evident to most investors, but not to the Federal Reserve.
It is amazing how obtuse our central bank governors are today. They are driving the US economy down what has become a treacherous road, while looking in the rear view mirror of employment and inflation data. An accident is an inevitable consequence. The opportunity to normalize interest-rate policy has come and gone. It is the rate of change, rather than the absolute rate, that is more important when it comes to economic growth. This means that regardless of whether short-term interest rates are zero or 3%, increasing the rate will slow growth. Based on trends in employment and consumer spending, we see no reason why anyone would want to slow growth now.
Disclosure: I/we have no positions in any stocks mentioned, and no plans to initiate any positions within the next 72 hours.
I wrote this article myself, and it expresses my own opinions. I am not receiving compensation for it (other than from Seeking Alpha). I have no business relationship with any company whose stock is mentioned in this article.