This is a short series of articles (to update my other "PSEC Articles") discussing upcoming net asset value ("NAV") declines and dividend coverage, lack of recent share repurchases and target pricing for Prospect Capital (NASDAQ:PSEC).
Upcoming NAV Declines:
It is important to understand that most business development companies ("BDCs") use third party independent valuation firms to assess portfolio fair values but are usually given a range of values that are not disclosed to investors. The only true test of value is when a BDC actually disposes/sells or is repaid for an investment/asset with realized gains or losses. However, until there is a true arm's length test of these values, NAV is basically a guesstimate of value at any given time.
There are plenty of reasons that I believe PSEC will experience NAV per share declines in the coming quarters including exposure to control investments (I will discuss later) and almost 40% of its portfolio at fair value originated in 2011 and 2012. There is a good chance that many of these loans should have been refinanced at lower rates over the last 12 months but could not because of credit related issues. However, this article will focus on collateralized loan obligations ("CLOs") that currently account for 33.3% of PSEC's NAV per share.
The primary reasons for the recent declines in the fair values of CLO investments (especially residual interest/equity) is due to the widening of credit spreads and the potential for increased defaults. First I will discuss and provide examples why I believe PSEC's CLOs were overvalued as of September 30, 2015, and then I will discuss why I believe CLO values should be further discounted for the December 31, 2015 period.
ECC Comparison - I have gone through PSEC's CLO marks on comparable positions with Eagle Point Credit Company (NYSE:ECC) and have found that PSEC is valuing its CLO equity investments at a large premium relative to ECC.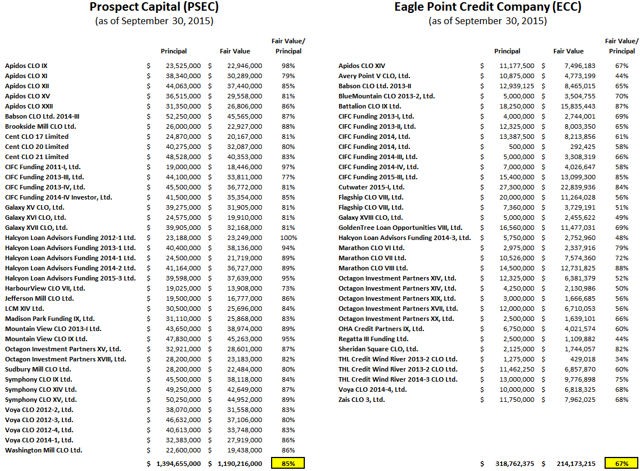 Click to enlarge
TICC & KCAP Comparisons - TICC Capital (NASDAQ:TICC) and KCAP Financial (NASDAQ:KCAP) have continually marked down their CLO investments while PSEC has valued these investments at a premium as shown in the table below.

Click to enlarge
OXLC Comparison - Oxford Lane Capital (NASDAQ:OXLC) is a closed-end management investment company (not a BDC) that primarily invest in CLO equity vehicles (currently 97% of the portfolio) and recently reported a 28% decline in its NAV per share.
As of September 30, 2015:
"The Morgan Stanley average 2.0 CLO equity NAVs were down by approximately 20% at par at the end of the third quarter 2015 compared to the end of the second quarter 2015."
As of December 31, 2015:
"At December 31, 2015 our net asset value per share stood at $8.13 compared with a net asset value at September 30, 2015 of $11.33. For the quarter ended December 31, 2015 we also recorded net realized losses of approximately $4.1 million or $0.23 per share and net unrealized depreciation of approximately $51 million as our CLO position experienced significant price declines during the quarter."
"Price dispersion also increased across CLO collateral as approximately 15% of loans were trading below 90 and 8% below 80 as of year-end compared to 11% and 5% respectively at the end of September. Consequently, 2.0 CLO equity NAVs dropped approximately 30 points in the fourth quarter of 2015."
Back of the envelope assuming apples-to-apples comparisons:
ECC comparison implies that PSEC's CLOs are overvalued by ~$250 million as of September 30, 2015.
TICC and KCAP comparison implies that PSEC's CLOs are overvalued by ~$280 million as of September 30, 2015.
OXLC comparison implies that there will be significant declines in CLO values for the December 31, 2015, quarter.
Recent S&P Downgrade:
September 29, 2015 - "Standard & Poor's Ratings Services said it lowered its issuer credit ratings on PSEC to 'BBB-' from 'BBB'. At the same time, we lowered our issue-level ratings on the company's unsecured debt to 'BBB-' from 'BBB'."
PSEC's capital, leverage, and earnings metrics have been weaker relative to similarly rated peers over several quarters.
Additionally, we have changed our expectations regarding the reduction of portfolio risk based on updated management guidance on the potential size of the spin-offs of certain businesses.
As a result, we have lowered our issuer credit rating on the company to 'BBB-' from 'BBB'. We have also lowered our issue-level ratings.
The stable rating outlook reflects our expectation that PSEC will continue to operate with debt to equity below 0.85x and will improve its realized return on average portfolio investments above 5% and its non-deal-dependent income coverage of both interest and dividend above 1x.
"We could lower the rating if the company's debt to equity rises to more than 0.85x or its asset coverage ratio declines below 220%, and we expect these levels to be sustained over several quarters. We could also lower the ratings if we observe any signs of increasing portfolio risk or portfolio deterioration, such as a significant rise in nonaccruals and unrealized and realized losses that could result in realized return on average portfolio investments remaining below 5% or its non-deal-dependent income coverage of both income and dividend remaining below 1x."
As of September 30, 2015, PSEC had a debt-to-equity ratio of 0.78x and asset coverage of 231%. If PSEC adjusted its CLO marks to reflect the current relative values similar to other publicly traded companies, I believe it would violate the acceptable leverage and coverage ratios outlined by S&P.
How does a lowered NAV per share and credit rating impact investors?
There are many potential impacts including higher borrowing costs, reduced liquidity and access to capital that could reduce the net interest margin, critical for providing dividend coverage. It is also important to point out that management is paid a 2.00% base management fee on the total value of assets and if these assets are marked at the conservative end (lower) of the valuation range it would reduce the amount fees paid to management and increase the amount of net investment income to cover dividends. If you are interested in more information on BDCs including individual dividend coverage potential, rankings (risk, return, pricing, dividend potential), target pricing charts and valuations, my recent purchases and current positions, and suggest BDC portfolios, please see my "BDC Research Page" and for information on specific BDC pricing, total returns, operating expenses and dividend coverage, please visit my "BDC Pages".
My predictions/opinions:
PSEC management will choose to continue with higher valuation marks using reasons discussed on previous investor calls.
Various credit agencies will use their own discretion when considering the coverage and leverage ratios for PSEC and will adjust accordingly, similar to equity investors and the current 41% discount to NAV pricing multiple.
Upcoming articles and reporting schedule:
In the following articles I will discuss PSEC's upcoming dividend coverage, lack of recent share repurchases and target pricing.
As mentioned in my previous article "BDC Buzz Begins 2016 Purchases", I have begun actively purchasing select BDCs and I am currently waiting for companies to report before purchasing more. The following are some of the estimated reporting dates for upcoming BDC results including PSEC later this week.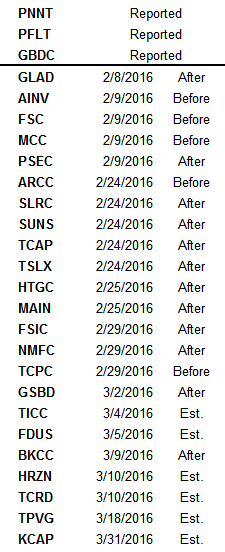 Personal note: I have updated my positions to reflect changes in my holdings, but please keep in mind that some of the positions are very small and mostly for research purposes.
Disclosure: I am/we are long ABDC, AINV, ARCC, BKCC, FDUS, FSC, FSFR, FSIC, GAIN, GARS, GBDC, GLAD, GSBD, HTGC, MAIN, MCC, MRCC, NMFC, PFLT, PNNT, PSEC, TCAP, TCPC, TICC, TPVG, TSLX.
I wrote this article myself, and it expresses my own opinions. I am not receiving compensation for it (other than from Seeking Alpha). I have no business relationship with any company whose stock is mentioned in this article.