"The supply chain may not be glamorous, but it is a powerful indicator of the state of the economy. During the recessions of 1992, 2001, and 2008, the transportation sector was among the first to plummet, and in turn was among the fastest to recover."

- Benjamin Gordon, managing partner of BG Strategic Advisors
Normally, I write about maritime trade, a not-so-fashionable sector with lumbering ships moving at snail's pace. But under the surface lies an intriguing web of global connections impacted by commodity booms/busts, political turmoil, global trade agreements, currency fluctuations, supply/demand imbalances, labor disputes, and a plethora (I've always wanted to use that word in an article) of other factors.
But every now and then, it becomes the focus of something even larger: global economic health. Recently, after a round of macro analysis for the energy, dry bulk, and container shipping segments, I concluded in early January that a global contraction may be on the table for 2016.
After all, collective demand trends most often emerge first in transports. Therefore, it is always wise to stay abreast of these trends in an effort to gauge current and possibly future economic activity. Here, we will review the shipping trends that led me to that aforementioned conclusion and look at trends in railroads, trucking, and air freight that appear to be in line with this prediction. Since a picture is worth a thousand words, I have selected 20 charts to illustrate trends in the transportation sector that could be indicative of a slowdown.
Shipping
A major concern of mine would be the slowing growth on the world's major trading lanes. Clarksons notes that from "1996-2007 container trade growth had been rapid, averaging 9.6% per annum - an astonishing performance given the average 4.1% per annum expansion in global seaborne trade in the same period."
Then, we all know things fell off a cliff, and as the global economy contracted, so did container shipping demand, turning negative to the tune of 10% in 2009. So, where does 2015 stack up historically? Well, taking the outlier of 2009 off the table, 2015 represents the worst year in container trade growth - at 2.5% - in approximately two decades. But maybe 2015 was another outlier, right? Unfortunately, as the illustration below shows, this looks to be more of a long-term trend in the making rather than a one-time event.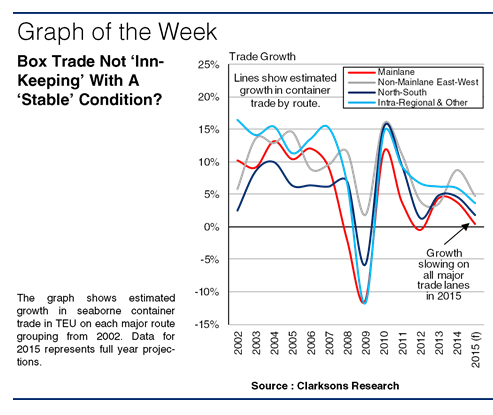 Source: Clarksons
All of this looks to be adding up for a slow year in global trade, and on December 30th, Reuters reported that Christine Lagarde of the IMF confirmed exactly what the data appeared to be pointing toward:
"Global economic growth will be disappointing next year and the outlook for the medium-term has also deteriorated, the head of the International Monetary Fund said in a guest article for German newspaper Handelsblatt published on Wednesday.

IMF Managing Director Christine Lagarde said the prospect of rising interest rates in the United States and an economic slowdown in China were contributing to uncertainty and a higher risk of economic vulnerability worldwide.

Added to that, growth in global trade has slowed considerably and a decline in raw material prices is posing problems for economies based on these, while the financial sector in many countries still has weaknesses and financial risks are rising in emerging markets, she said."
This risk to commodity-based economies was detailed further in my "Container Shipping Market Macro Outlook For 2016".
Speaking of commodities, we all know that the dry bulk shipping demand is an important indicator of global growth with regard to real estate, industry, and manufacturing. Please note that I said "dry bulk shipping demand" and not the BDI (Baltic Dry Index), which has experienced problems over the past year due to vessel oversupply issues in the segment. These problems have lately been compounded by waning demand for key commodities. This is an important distinction to make and cannot be overlooked, as it is the waning demand that concerns me the most. Before, when it was a segment, specific oversupply issue and demand had remained steady, and the collapse of the BDI posed no real threat to the global economy. However, the recent collapse in the BDI has been seen as largely a demand-side issue. The new historical lows I believe is a realization of this reality, as we now have both supply- and demand-side issues in the sector.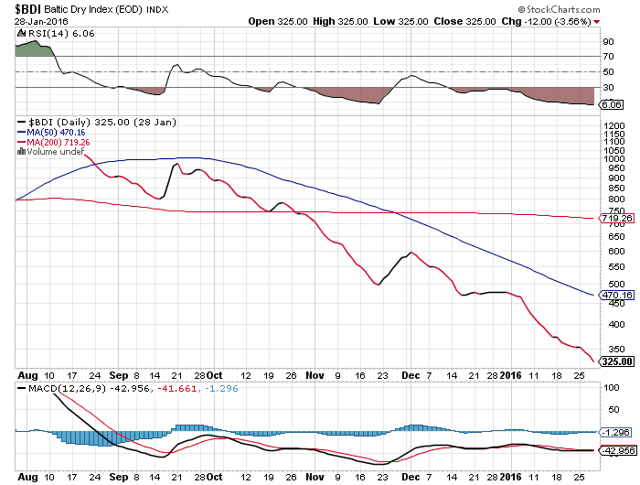 Click to enlarge
Source: StockCharts
So, what is the root of the demand problem, you ask?
China and dry bulk demand
Two-thirds of dry bulk market demand comes from iron ore and coal, and China (which is experiencing an economic transition, an economic slowdown, and is enacting protective measures to benefit the domestic coal and the iron ore sectors) is a top consumer of both.
It might surprise many to learn that the country has accounted for 95% of net growth in the seaborne iron ore trade from 2002 to 2014 and over 40% for coal. Together, iron ore and coal compose approximately two-thirds of total dry bulk shipping demand.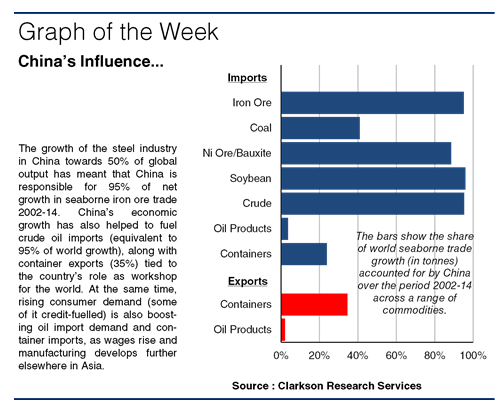 Source: Clarksons
Currently, China imports two-thirds of the world's seaborne iron ore, and its coal trade accounts for almost a quarter of all coal trade globally. Therefore, you can see why dry bulk shippers as well as commodity producers globally are concerned about the future of the Chinese economy.
Well, the numbers are out for 2015, and they aren't good news for dry bulk shipping. China saw imports of coal fall 30% and iron ore imports rise just 2.2% in 2015. That 2.2% was greatly helped by a massive iron ore stockpiling effort that began mid-year.
It wasn't just China that appeared to be facing these headwinds. Slumping steel output across major economies contributed to a collective decline in iron ore demand.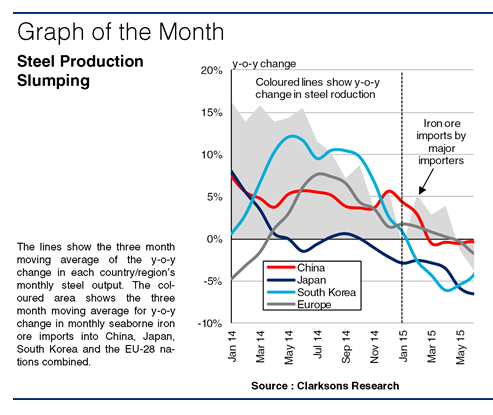 Additionally, coal also appeared to be on an even steeper downward trajectory since 2012.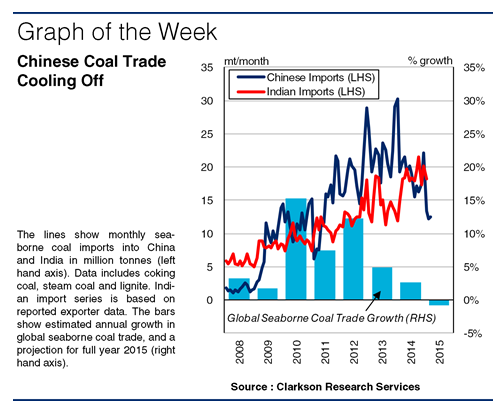 Also, the parallel between industrial production and seaborne trade with regard to China is impossible to ignore, as Clarksons points out.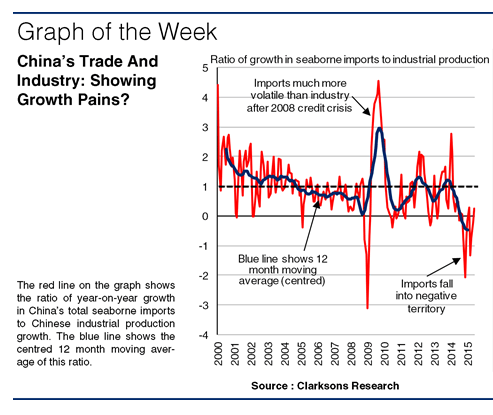 Recently, the Caixin China Purchasing Managers' Index for January came in at 48.4, marking the 11th straight month of an ongoing decline. Caixin reported that "total new manufacturing orders received continued to shrink, albeit by the lowest rate in seven months. Lower production requirements led companies to cut back on their purchasing activities."
In December, The Asia Times noted that the "index fell mainly because of a renewed shrinking of manufacturing output. December was the seventh month out of eight in which production fell. Softer demand at home and abroad lead to a further weakening of new businesses. New export orders fell for the first time in three months."
In January's report, Dr. He Fan, chief economist at Caixin Insight Group, stated that "recent macroeconomic indicators show the economy is still in the process of bottoming out and efforts to trim excess capacity are just starting to show results." Additionally, "the pressure on economic growth remains intense in light of continued global volatility. The government needs to watch economic trends closely and proactively make fine adjustments to prevent a hard landing."
Railroads
2015 saw a contraction of 2.5% in U.S. railroad freight traffic, the most since 2009.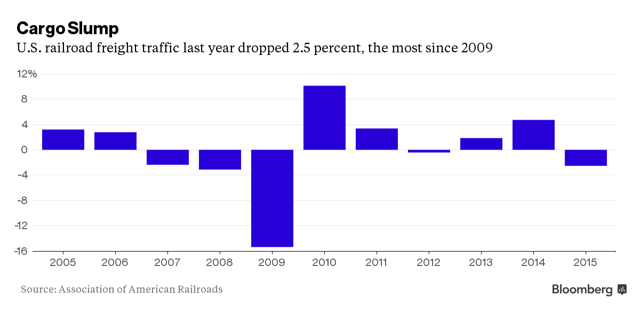 Click to enlarge
Source: Bloomberg
Bloomberg reported: "carloads of coal, crude oil and metals plummeted and don't show signs of recovery this year. Auto shipments, one of the few bright spots, have little room to grow after record-breaking car sales last year.

"For those who expect last year was an aberration and there's going to be a return to normalcy, they're going to be disappointed," said Larry Gross, a partner at FTR Transportation Intelligence.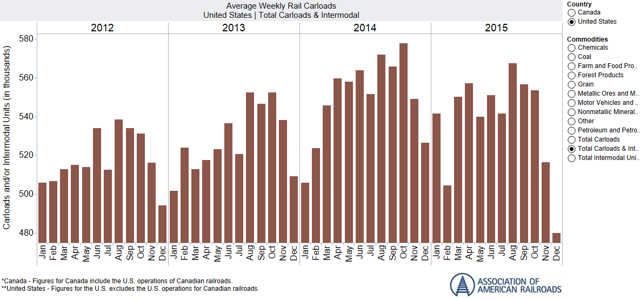 Click to enlarge
Source: AAR
The drop-off in total carloads for the month of December was a real eye-opener when compared with previous months.
This drop-off has been the result of a collective decline across several categories, which has carried over to January 2016.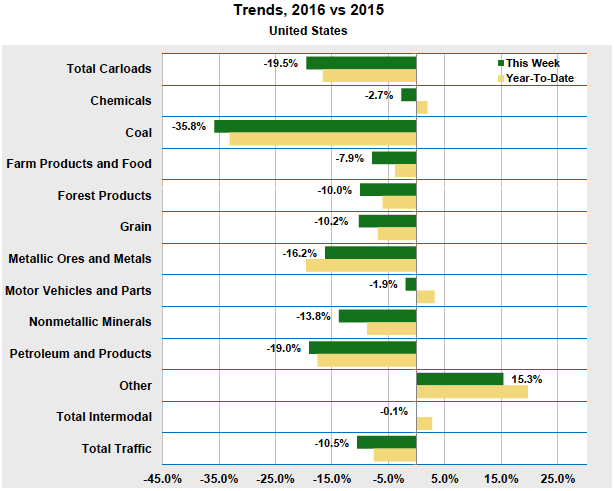 Source: AAR Week 3 2016 Report
Canada is also experiencing a similar trend...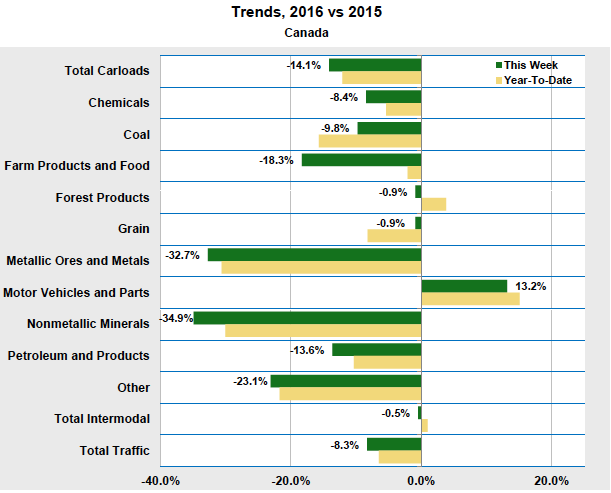 ... which has made for a significant decline in overall North American traffic.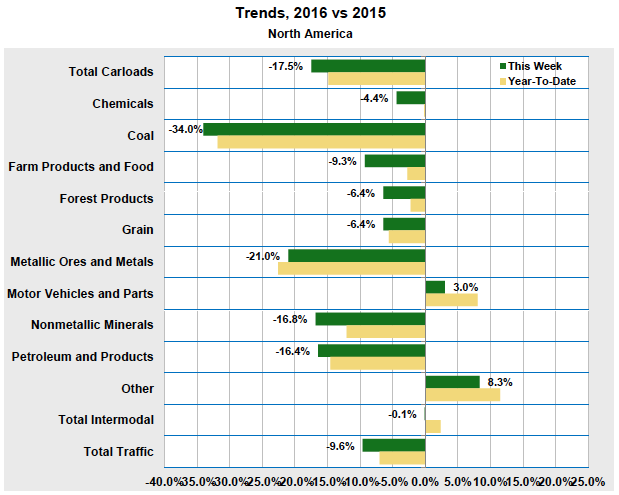 The scary part for me is the disconnect between the railroad index and the S&P that has developed lately.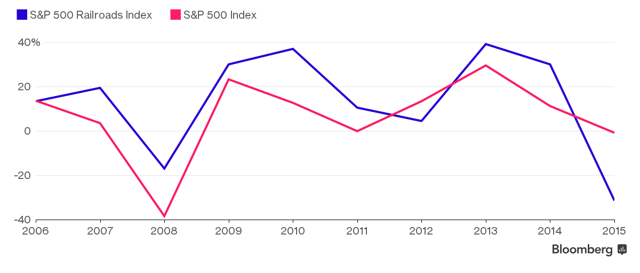 Click to enlarge
Source: Bloomberg
For only the second time since 2007, the railroad index has trailed the S&P, but the magnitude of this downturn seems to be a bit more pronounced.
A different Bloomberg article examined the relationship between railroads and the broader market (recessions highlighted), and the picture continues to look downright bearish.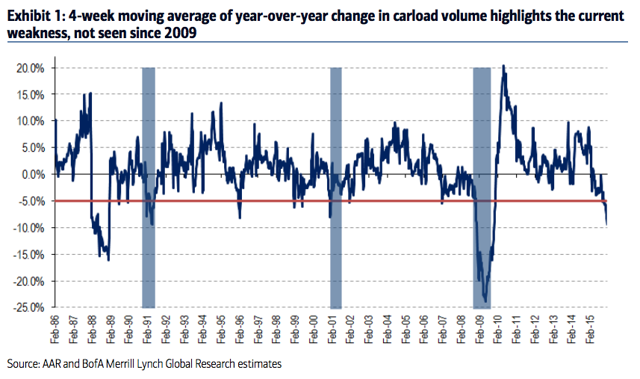 Click to enlarge
Source: Bloomberg
Bloomberg reported: "We believe rail data may be signaling a warning for the broader economy," the recent note from Bank of America says. "Carloads have declined more than 5 percent in each of the past 11 weeks on a year-over-year basis. While one-off volume declines occur occasionally, they are generally followed by a recovery shortly thereafter. The current period of substantial and sustained weakness, including last week's -10.1 percent decline, has not occurred since 2009."
Of course, some of the volume decrease can be traced to coal and other commodities seeing less demand. That is true, but the last quarter of 2015 saw a contraction of 1.7% of Intermodal carloads, indicating that finished goods destined for consumers are also slowing.
One final note on railroads and China. Reuters reported that "China's rail freight volumes fall 10.5 pct in 2015." Additionally, "China's national rail freight volumes declined by a tenth in 2015, their biggest ever annual decline, business magazine Caixin reported on Tuesday, a figure likely to raise questions about how sharply the economy is really slowing."
Trucking
Nearly 70% of all the freight tonnage moved in the U.S. goes on trucks. American Trucking Associations (ATA) Chief Economist Bob Costello reported that, "with year-over-year gains averaging just 1.2% over the last four months, there was a clear deceleration in truck tonnage." He added, "At the expense of sounding like a broken record, I remain concerned about the high level of inventories throughout the supply chain. The total business inventory-to-sales record is at the highest level in over a decade, excluding the Great Recession period. This will have a negative impact on truck freight volumes over the next few months at least. And, this inventory cycle is overriding any strength from consumer spending and housing at the moment.".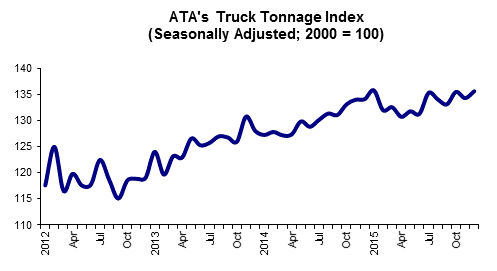 Source: The American Trucking Associations
So, the strength that we have seen in trucking may be in greater jeopardy as shipments are adjusted to account for bloated inventories.
A different metric told a similar story. The Cass Truckload Linehaul Index increased only 1.1% year over year in December, after growing 1.6% and 1.9% in November and October, respectively.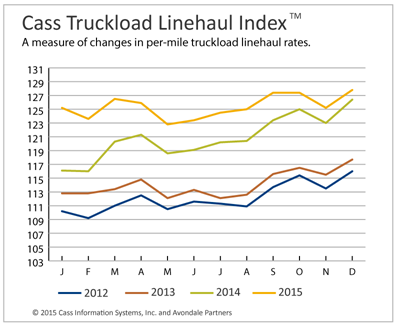 Source: Cass
Cass reports: With softening demand and more available capacity, 2016 forecasted price increases remain between 1% and 3%, stated analysts with Avondale Partners. Also noteworthy is the negative imbalance between truckload spot and contract pricing. With the spot market tending to lead contract pricing directionally and decreases not seen since 2009, "current spot market weakness have lasted long enough to begin to be troubling," Avondale continued.
An index can only tell part of the story, though. What I believe really matters is traffic on the road. DAT Solutions recently posted some industry trends that are nothing short of bearish.

Click to enlarge
Source: DAT Solutions
According to DAT Solutions, "load-to-truck ratios represent the number of loads posted for every truck posted on DAT Load Boards. The load-to-truck ratio is a sensitive, real-time indicator of the balance between spot market demand and capacity. Changes in the ratio often signal impending changes in rates."
Notice the significant percentage declines in the year over year category, as well as the most recent weekly declines that seem to play into the aforementioned concerns regarding slowing traffic.
One final thought on trucking. David A. Jackson, president and chief executive officer of Knight Transportation, noted in the most recent earnings conference call that, "in stronger markets we add trucks, often open new service centers and explore acquisition opportunities. Growing logistics is always a priority." But "when we see less-robust freight demand, we're less likely to add trucks organically."
This is a common practice in the shipping industry. Right now in shipping, we are seeing higher tanker orders during this high rate environment and practically zero newbuild orders for dry bulk as the historic collapse in that segment continues. So, what are truck orders indicating?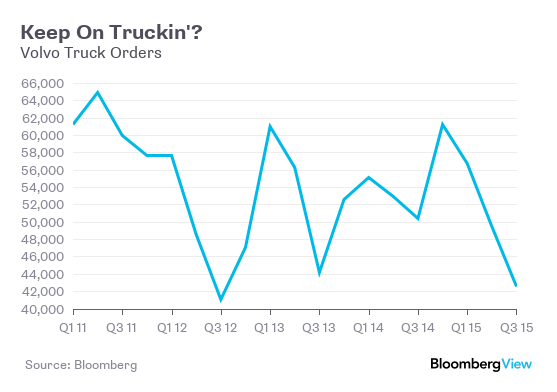 Source: Bloomberg View
Volvo (OTCPK:VOLVY) shows the second weakest quarter for orders in many years happened in Q3 2015. But recent data is even more disturbing. FTR Transportation Intelligence reports that for the month of December 2015, Class 8 truck orders were down 36% year over year.
Air Freight
The trends have even extended to air freight, as noted in a January 28th Bloomberg View article.
We all know that Europe has been struggling, and the cargo transported by air confirms that these struggles have created a measurable impact and irrefutable downward trend.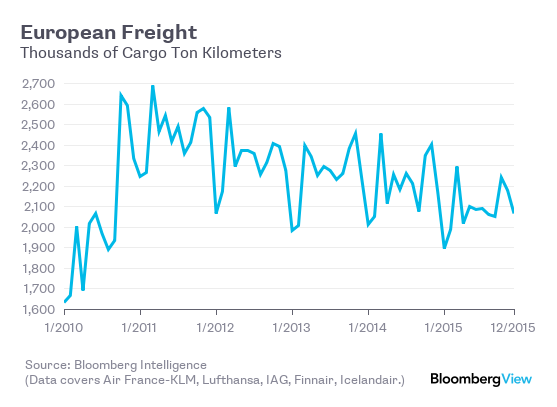 Source: Bloomberg View
The downtrend that started in 2011 has now persisted for nearly five years. We could have anticipated this with the impact of a weakening euro on a consumer-based economy amid recently introduced austerity measures. But it's the data out of the USA that has me most concerned.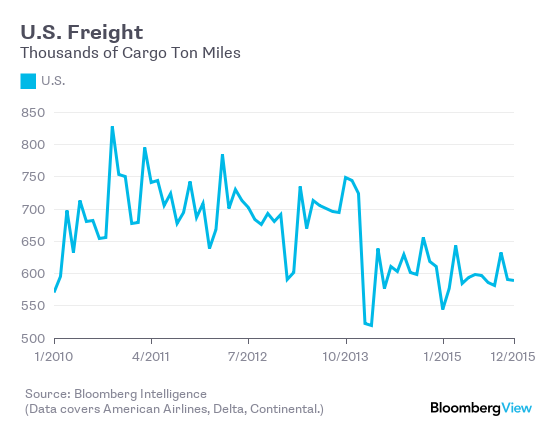 Source: Bloomberg View
For an economy that is supposedly doing well and experiencing an increase in purchasing power abroad with a strengthening dollar, you might expect this chart to look a bit more bullish. The same could be said for rail carload volume as well.
One more quick point about air freight. Fuel cost is always a concern when transporting goods by air. Typically, a reduction in price results in increasing demand. Recently, we have seen some serious savings on jet fuel thanks to the collapse in oil prices.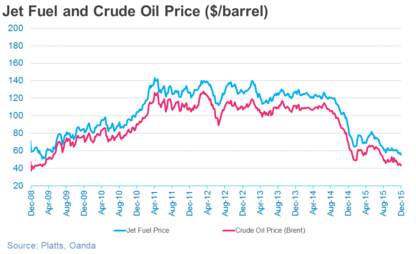 However, as noted above, the expected increases in demand have failed to materialize. When that basic correlation begins to break down, it becomes troubling, as deeper issues may be at work to mitigate or even negate the expected outcome.
Conclusion
If it were just one or two segments that showed a bearish indicator, I might be able to ignore that fact. But the reality is we are seeing slowing growth across all major trading lanes in the container ship segment. Dry bulk shipping is seeing a demand-side problem erupt for commodities related to construction, manufacturing, industry, and energy in key economies. Rail traffic is slowing, and as indicated by the chart above, past contractions of this magnitude have paved the way for recession 3 out of the last 4 times. Truckers are dealing with waning demand amid bloated inventories resulting in spot price weakness. Finally, air freight has continued to weaken even as prices for jet fuel (a key cost component to transportation through the air) have declined.
A collective downturn in the transportation segments could be a warning sign going forward. The recent contraction in the transports is even more troubling, as it is occurring during a time of unprecedented government and central bank intervention.
I welcome all questions/comments and invite you to "Follow" me on Seeking Alpha as I continue to cover all aspects of maritime trade. Thank you for reading.
Disclosure: I/we have no positions in any stocks mentioned, and no plans to initiate any positions within the next 72 hours.
I wrote this article myself, and it expresses my own opinions. I am not receiving compensation for it (other than from Seeking Alpha). I have no business relationship with any company whose stock is mentioned in this article.