After rising in anticipation of a meeting between OPEC and non-OPEC member Russia, oil prices moved lower after news broke from the EIA (Energy Information Administration) that oil inventories last week rose compared to where they were just one week earlier. By the end of the day, however, the price of oil closed up more than 8% before coming down some by the end of the week. This has, no doubt, an impact on all operators in this space, like Linn Energy (NASDAQ:LINE) / LinnCo (NASDAQ:LNCO), Breitburn Energy Partners (NASDAQ:BBEP), and Approach Resources (NASDAQ:AREX), and it is something that warrants some degree of optimism, but data presented during the week was a mix of both bullish and bearish news.
Inventories rose... for the most part
According to the EIA, oil inventories for the week rose by 7.791 million barrels, climbing from 494.9 million barrels to 502.7 million. This topped the 3.8 million barrel build forecasted by the API (American Petroleum Institute) just one day earlier. In addition to seeing persistently-stubborn production, inventories were negatively affected by rising imports for the week, further adding to concerns that the market glut will continue to grow. In the graph below, you can see the historical inventory levels reported by the EIA for each of the past 52 weeks. As you can see, we are at the highest point on the graph today.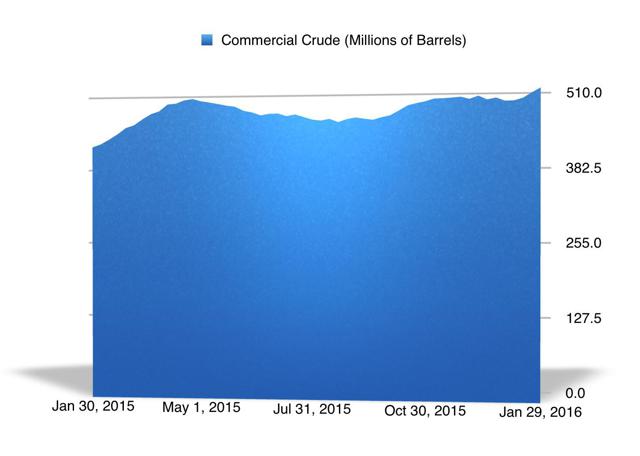 Click to enlarge
Fortunately, there were a couple of categories that showed improvements week-over-week. According to the EIA, distillate fuels dipped slightly, dropping by 0.8 million barrels from 160.5 million to 159.7 million. Meanwhile, propane/propylene also fell, declining by 5.6 million barrels from 83.7 million to 78.1 million. The drop in the latter is most likely seasonal in nature, but it is still modestly encouraging to see levels in any category improve near-term.
The downside to all of this, however, is that other categories saw meaningful builds. The EIA believes that motor gasoline managed to rise by 5.9 million barrels for the week, growing from 248.5 million barrels to 254.4 million. Although this is certainly a negative for the oil market, it's not materially higher than the 240.7 million barrels seen the same time last year and it's not necessarily in a state of glut. Certainly, fuels in this category are elevated but, between January of 1971 and October of 2015, levels have been at or above this level 33 other months, or about 6.3% of the time. As a result of this increase, total crude plus petroleum products climbed even higher, soaring 9.6 million barrels from 1.3281 billion to 1.3377 billion, placing it within a stone's throw of record highs that were experienced in the 1980's.
Production was better and demand is stabilizing a bit
One good thing reported by the EIA relates to oil production. According to the data provided, production for the week averaged 9.214 million barrels per day. This implies that oil output in the U.S. managed to fall by 7,000 barrels per day week-over-week (49,000 for the week), from the 9.221 million barrels per day seen a week earlier. This is certainly positive but, as small as the drop was, investors should see it as a rounding error, just as has been the case over the past few months, during which oil output has remained more or less consistent.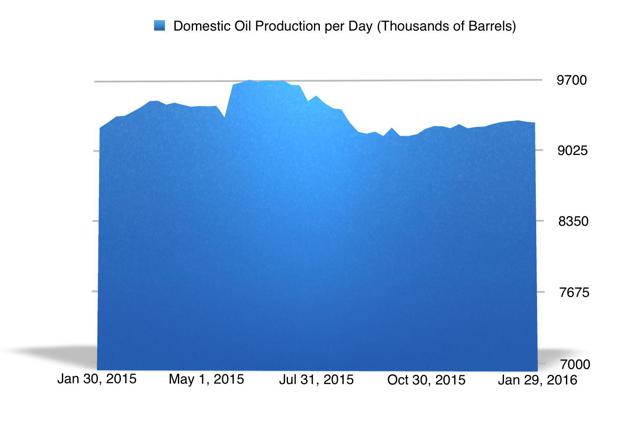 Click to enlarge
In terms of demand for motor gasoline, a major end use of oil, we saw some stabilization but things still aren't as good as I'd like for them to be. For the week, the EIA reported demand totaling 8.341 million barrels per day. This is well below the 8.941 million barrels per day seen a week earlier, but was only slightly lower than the 8.442 million barrels per day seen the same week last year. Using the four-week averages for this year and last year, demand came in at 8.715 million barrels per day, just 0.9% lower than last year's 8.798 million barrels.
Rig counts came tumbling down
One indicator that was extremely positive was the release of the Baker Hughes (NYSE:BHI) rig count on February 5th. According to the company, the number of oil rigs in operation for the week plummeted by 31 to just 467. This represents a 59% drop from the 1,140 rigs seen in operation the same period a year earlier, and suggests that the falloff in oil production must, eventually, take place. Meanwhile, the rig counts did tick up modestly in Canada, climbing by 5 to 131. Although any sort of increase is a negative, it should be mentioned that this is still 28.8% lower than last year's count of 184 units.
Takeaway
Beyond any doubt, this week's oil data was among the worst I've seen. We did manage to see some positive indicators, such as stabilizing demand, another downtick in production, some categories of petroleum products dip, and a very nice drop in rig count, but the overall increase in crude plus petroleum products seems to be very bearish near-term. This does not impact my view on the long-term prospect for oil (which continues to grow more positive as the rig count falls harder than I thought it would), but investors shouldn't be surprised to see additional volatility in the foreseeable future.
Disclosure: I am/we are long BBEP, AREX.
I wrote this article myself, and it expresses my own opinions. I am not receiving compensation for it (other than from Seeking Alpha). I have no business relationship with any company whose stock is mentioned in this article.
Editor's Note: This article covers one or more stocks trading at less than $1 per share and/or with less than a $100 million market cap. Please be aware of the risks associated with these stocks.