On October 28, 2015 I recommended Deckers DECK in October based on value principals - Deckers Should Provide A Fashionable Profit. Deckers was contrasted with Nike - NKE - to show that forward P/E was 1/3rd of the larger company with FCF/market cap of more than twice that of NKE.
DECK vs. NKE
| | | |
| --- | --- | --- |
| | NKE | DECK |
| Mkt Cap | 111B | 1.67B |
| P/E ttm | 33.1 | 11.56 |
| P/E fwd | 26.5 | 8.94 |
| PEG | 2.42 | 1.00 |
| P/Sales | 3.61 | 0.98 |
| FCF | 2.23B | 97.2M |
| FCF/Mkt Cap | 2% | 5.8% |
My prediction at the time was that Deckers was going to outperform Nike through next 4 months. Both stocks are down since my article but Nike is down 4.9% while Deckers is only down 1.4%.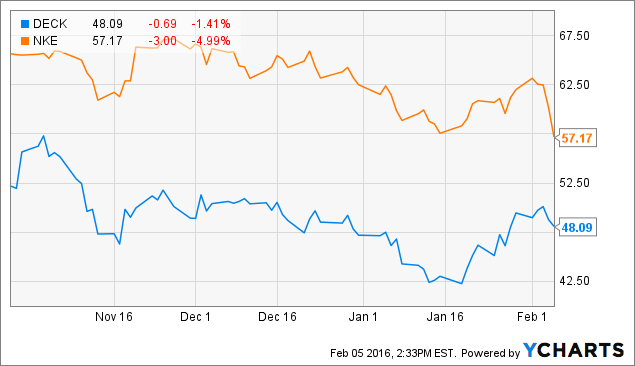 My prediction was really based on the likelihood that a stock that seemed deeply undervalued, with a good underlying business, will almost always outperform a market darling. This is not intended to detract from Nike. It is more of an observation of investor behavior.
Since that time many of the concepts supporting my bullish argument for Deckers Brands have weakened. I believe the risk/benefit ratio of owning the stock have changed and will address these below.
Fashion is Fickle
In October, I supported my bullish argument by noting that the fashion blogosphere was still promoting Uggs as a fashion staple. The variety of heights and colors and the two year replacement cycle of the "Classic" would allow for continued excellent sales. Unfortunately, that did not play out. Winter boots trended to two main styles. The popular utilitarian boot this year was Sorrel (a brand owned by Columbia Sportswear - COLM). Multiple other houses produced a tall, sometimes above knee, more slim line, leather boot that was very popular. Although UGGs does produce a more attractive version of the Sorrel style boot it's price point was almost twice that of it's competitors.
On the streets of Boston, as well as in our travels, my wife and I saw very few UGGs boots in either the new styles or in the "Classic" version. We live in the center of the city in close proximity to dozens of colleges. This has usually been a great 'tell' for what is fashionable in the past. During visits to the store (the manager would not give us any color on sales) we did not observe any sales, although there were shoppers.
The last blogosphere article about UGGs that I could easily find was in published in December. My wife and daughter have been very helpful to me over the years making money in women's fashion. They point out when the bloggers stop promoting something, it is no longer trendy to be seen wearing the article. This may seem to be a sexist characterization to some readers, but I have rarely found their instincts to be wrong.
The Earnings Call
Management had guided to an EPS of $5 (constant currency of $5.11) and managed to achieve $4.78. This reflected revenue growth up 1.4% (cc - up 3.6%). Most of this was a result of an unexpectedly low tax rate and reduced SG&A. That latter achievement is a result of the excellent management. Gross margins remain one of the most attractive aspects of the business at 49% down from 52.9% last year. One distinctly concerning note was inventories are up 26%, despite promotional (discounting) sales of UGGs this year.
At the end of the second quarter we had been told that they had raised inventory this year and buybacks were limited by constraints on their credit limit. On this call we learned, "there were no share repurchases in the third quarter." Management needed to retain working capital.
Management guided FY 2016 to $4.49 which is down 3.6% from the FY 2015 results of $4.66.
Where to Now?
The market has punished stocks that failed to meet guidance. But everyone expected Deckers to miss based on the warm winter, and expectations were very low. As a result, after an overnight trade down almost 10%, DECK closed down less than 2% which was in line with the market as a whole. If nothing else this is an affirmation for value investing. It also reflects that many weak hands were probably shaken out of the stock two weeks ago.
Deckers vs VFC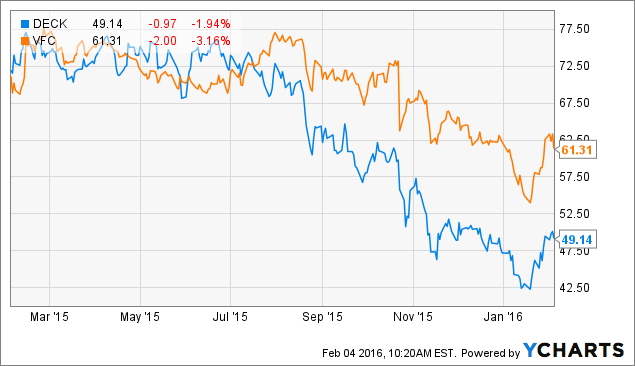 The stock had rallied nicely from a recent low of $42/share to around $50/share prior to this earnings announcement. It appeared that those "in the know" were expecting DECK to hop over the lower hurdle. I would point out that all of the retail stocks that took a beating earlier this year have the same chart. I compared DECK with VFC, but could have used Macy's - M or almost any company that sold coats or cold weather clothing.
The question really is whether those strong hands will continue to hold on to DECK as so many alternative stocks get cheaper?
Hoka, TEVA, Sanuk
In October I noted that the cyclicality of the earnings as one of the reasons that the stock was lagging it's peers. My impression was that the growth of the other brands would help smooth out quarterly earnings. As quarterly income smoothed out, the relative discount to other brands of similar quality should diminish. I still believe in this premise, but recognize that the main source of earnings is their UGGs brand. To quote from the earnings call, "Classic is less than a quarter of total business." Turning this statement around, Classic remains more than 20% of their total business. I gave you my impression earlier that Classic UGGs are no longer trendy. Read the conference call and you will get the sense that management is quite aware that the "Classic" is in decline.
The February quarter has traditionally been their money maker. That is the result of sales of the Classic. Good management of SG&A, and a little luck in terms of taxes, got them through this quarter with satisfactory results. They are at an undemanding valuation compared with the stocks that got slaughtered this Friday. But going forward, an investor will have to believe that they can grow their other brands and continue to innovate within UGGs to maintain their customer base. One positive note was that Hoka One sales are up 73% continuing a remarkable run for this brand.
They are going to continue to manage costs and the conference call reflects a significant reorganization. They are closing 15% of stores and closing and consolidating offices and management. I believe this reflects their preparation for a much leaner environment.
Don't Fight the Broader Market Tape
As I detailed in my article Hope And Denial: 2 Sides Of The Same Coin I believe the market is trending lower. If this is the case, even though DECK may be a good value over the long term, it is not going to be a place investors choose to park money for safety.
Conclusion
Deckers is down from my purchase price, but has rebounded from the lows of a few weeks ago. The company continues to have an experienced management team, good brands, and a low valuation. In a more stable market, I would have kept all of my shares of this stock using options to trade around the position. My biggest long term concern is the apparent loss of fashion buzz around the UGG brand. I sold my position from my retirement account around the recent price of $50/share, accepting a small loss.
I chose not to sell all of my stock. but wanted a little protection for the portion I was keeping. I sold a September 2016 $52.5 strike covered call for $6.30 in my taxable portfolio. This will protect me down to the recent lows and if the stock rallies, I won't lose money unless the stock is above $58.80 in late September. An expired covered call is not a taxable event until you sell the shares. At closing today the same call at the $50 strike is about the same price. I anticipate you will see analyst downgrades that will bring the stock down over the next months. The risk I am taking by selling the call is that the brands within Deckers would be very attractive to a VFC or similar company. Since potential acquirers will be husbanding their cash, I believe that risk is very small.
I am not a finance professional. Please do your own research and consult with your advisors. Always remember to be a Calm Investor.
Disclosure: I am/we are long DECK.
I wrote this article myself, and it expresses my own opinions. I am not receiving compensation for it (other than from Seeking Alpha). I have no business relationship with any company whose stock is mentioned in this article.
Additional disclosure: I have sold covered calls and may buy puts in DECK in the future.