In the current market environment, it is important for income investors to choose their dividend stocks wisely as they are putting new money to work. The markets will certainly continue to ebb and flow, but volatility will likely remain for the next 3-6 months.
One of the best ways to generate stable income in any market environment is through dividend growth investing. Thankfully, this strategy is not rocket science and it is fairly simple for anyone to implement. Ideally, you want to build a portfolio of dividend paying stocks that have a track record of increasing their dividends every year. This way, not only are you generating stable income, but you are also able to maintain the purchasing power of your dollar (as long as your dividends are at least rising at the rate of inflation).
All Dividend Stocks Are Not Created Equal
We love analyzing dividend stocks and we built our ranking system to help us find the cream of the dividend crop. Specifically, we use a combination of fundamental and technical analysis to determine which stocks to buy and when to buy them. Our ratings are derived by ranking each stock in our universe based on 30 key fundamental and technical data points across four rating categories: (1) Dividend, (2) Safety, (3) Value, and (4) Momentum.
That said, we recently scanned through our rating system and came up with our "All-Retirement" team. This team is made up of 25 dividend growth stocks that meet the criteria below.
Consecutive Years of Dividend Increases > 25 years
Dividend Yield > 2.0%
1-year Dividend Growth > 4.0%
5-year and 10-year Dividend CAGRs > 4.0%
Parsimony Momentum Rating > 20 (to avoid "value traps")
We then ranked these stocks using a Dividend/Safety/Value (DSV) blend. The DSV blend is a blend of our individual Dividend, Safety, and Value ratings for each stock using equal weightings: Dividend (33.33% weight), Safety (33.33%), Value (33.33%). We used this blend so that the most well-rounded stocks would be ranked higher on the list.
We will highlight each of these stocks over the course of a 5-part series. Below is a schedule of the entire series. Please make sure to"follow" us so that you will be notified when we publish future articles.
Part 1: Honorable Mention (stocks #21-25)
Part 2: Fourth Team (stocks #16-20)
Part 3: Third Team (stocks #11-15)
Part 4: Second Team (stocks #6-10)
Part 5: First Team (stocks #1-5)
The All-Retirement Team: Honorable Mention
This article highlights the 5 stocks that made Honorable Mention (stocks #21-25). The tables below summarize some of the key data points that we analyze when ranking our dividend stocks.
#25 McDonald's Corp. (NYSE:MCD)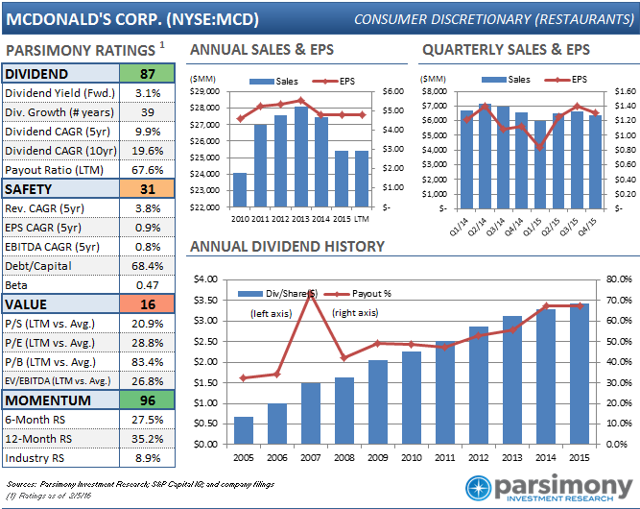 Click to enlarge
Founded in 1940, McDonald's Corporation operates and franchises McDonald's restaurants in the United States, Europe, the Asia/Pacific, the Middle East, Africa, Canada, and Latin America. The company's restaurants offer various food products, soft drinks, coffee, and other beverages. The company operates over 36,000 restaurants, including over 29,000 franchised restaurants. The company has increased its dividend for over 39 consecutive years and generates a 3.1% dividend yield - which has factored into its high Dividend rating of 87.
#24 The Clorox Company (NYSE:CLX)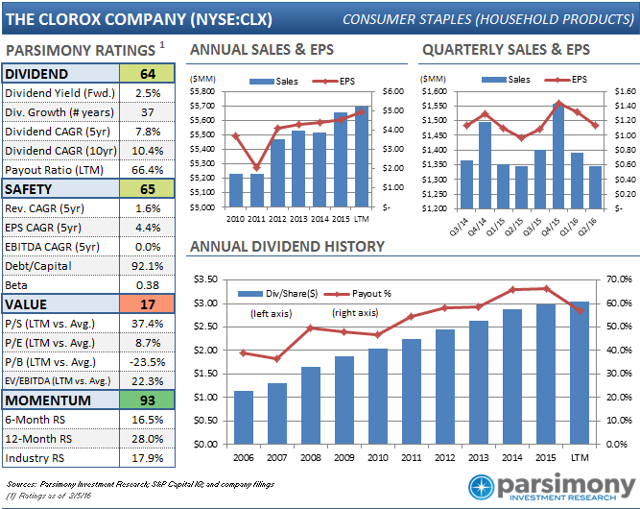 Click to enlarge
Founded in 1913, The Clorox Company manufactures and markets consumer and professional products worldwide. The Company operates in four segments: Cleaning, Household, Lifestyle, and International. Over the last 10 years the Company has increased its dividend by a CAGR of 10.4%. With a payout ratio of 66%, the Company generates a 2.5% dividend yield.
#23 Chevron Corp. (NYSE:CVX)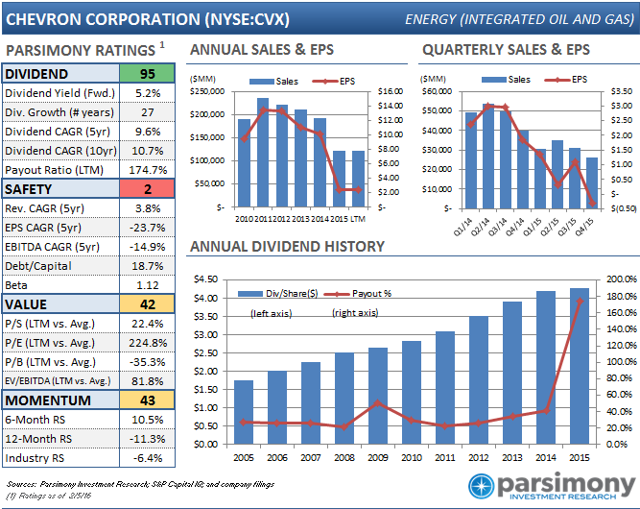 Click to enlarge
Founded in 1879, Chevron Corporation is a large multinational petroleum and chemicals company. The company operates in two segments, Upstream and Downstream. The Upstream segment is involved in the exploration, development, and production of crude oil and natural gas. The Downstream segment engages in refining crude oil into petroleum products; marketing crude oil and refined products. The Company generates a dividend yield of 5.2% and has increased its dividend for 27 consecutive years. The Company has been hit pretty hard with the rest of the energy sector, but CVX is one of the few stocks in the industry that we feel will maintain their dividend. In fact, at the last quarterly conference call Chevron's Chairman and CEO John Watson said: "Our number one financial priority is to maintain and grow the dividend. We have a strong balance sheet for precisely transition times like this."
#22 Exxon Mobil Corp. (NYSE:XOM)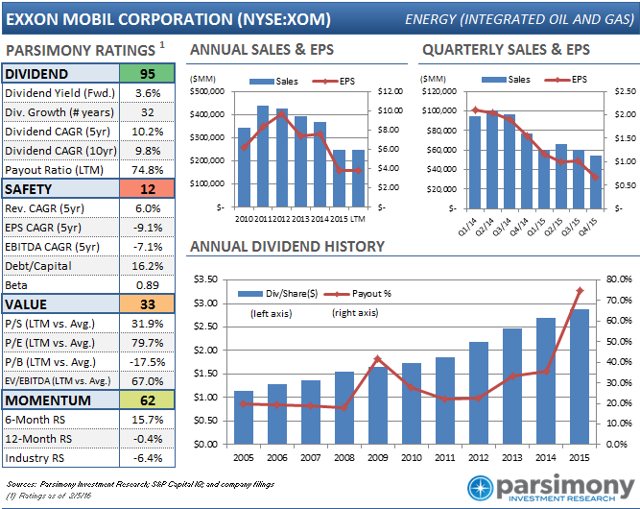 Click to enlarge
Founded in 1870, Exxon Mobil Corporation explores for and produces crude oil and natural gas worldwide. XOM generates a dividend yield of 3.6% and has increased its dividend yield for 32 consecutive years. As oil prices have declined, shares prices have traded down and have become more attractive. That said, XOM has held up better than most stocks in the energy sector and it is our top dividend pick in the industry. Despite the cyclical drop in earnings, XOM still maintains a payout ratio below 100% (something only a few energy stocks can tout at this point).
#21 Air Products and Chemicals (NYSE:APD)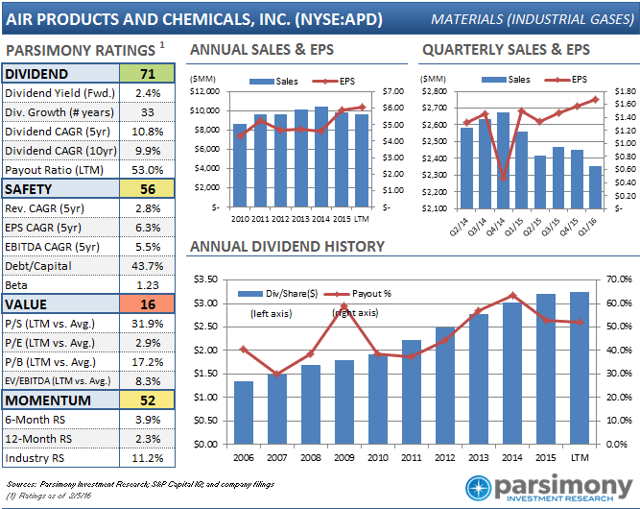 Click to enlarge
Founded in 1940, Air Products & Chemicals provides atmospheric gases, process and specialty gases, electronics and performance materials, equipment, and services. APD has increased its dividend at a compound annual rate of 10% over the past 10 years (including 9% and 6% hikes in 2014 and 2015 respectively). The company is diversified globally and it should continue to generate consistent cash flow in the years to come.
Summary
If you are looking to generate stable income for a retirement portfolio, dividend growth investing is a great way to accomplish this goal and any one of these dividend machines would make a nice addition to your portfolio. Note that identifying good stocks is only the starting point of building a dividend portfolio and investors should pay close attention to valuation as well when deciding whether or not to buy a stock as many stocks right now are overvalued (i.e., good stocks can often trade at bad prices). We try to focus on good stocks that have a minimum Value Rating of 50 when making new purchases.
Please make sure to "follow" us so that you will be notified when we publish future articles.
Disclosure: I am/we are long XOM, MCD.
I wrote this article myself, and it expresses my own opinions. I am not receiving compensation for it (other than from Seeking Alpha). I have no business relationship with any company whose stock is mentioned in this article.