Many market commentators are saying that the market rout is set to continue next week when Federal Reserve Chair Janet Yellen goes in front of the congressional committee to talk about the state of the economy. With the markets starting to doubt any rate rises this year, we think every single word she speaks will be scrutinized to the nth degree. So with a volatile week ahead stocks are likely to be bounced around all over the place. One stock that we think could counter the threat of this volatility is the telecommunication behemoth Verizon Communications (NYSE:VZ).

So far in 2016 Verizon has been one of the few stand out performers on the S&P 500, rising 11% year to date. The low beta that it exhibits, which is currently 0.46, really shows its strength when the markets get volatile. The ability of the stock to put on gains as the whole market crumbles around it, makes it a great pick for falling markets in our opinion. There have been earnings during this period, let's not forget that, but even prior to earnings the company was outperforming the market by over 6%.
The valuation of course still has to be right. No matter how great a beta it possesses, eventually it would run out of steam if the valuation were to get too high. The good news is that we feel the valuation at present is fair, despite the 11% gains year to date. As shown below the shares are trading at a reasonable price-to-earnings ratio compared to its 5-year range and competitor AT&T (NYSE:T). We feel 11.75 to 12 times earnings is a fair range for both stocks to trade in and so expect Verizon to rise a little and AT&T shares to make their way down in due course.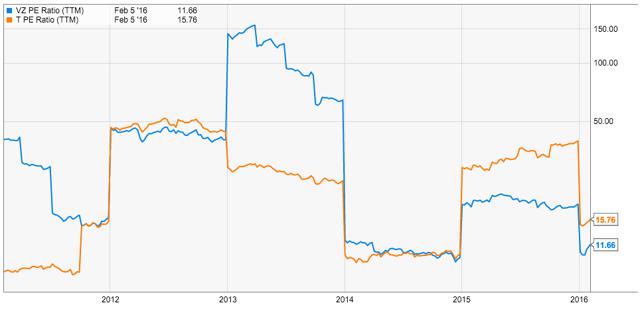 (Source: Ycharts)
In the fourth quarter the company added a fantastic 1.5 million net subscribers which enabled them to beat analyst expectations and report earnings per share of $4.37. If they can maintain this level of growth in 2016 then we anticipate earnings growth being in the region of 6%. This would mean earnings per share of $4.63 in fiscal 2016. But how will they achieve this?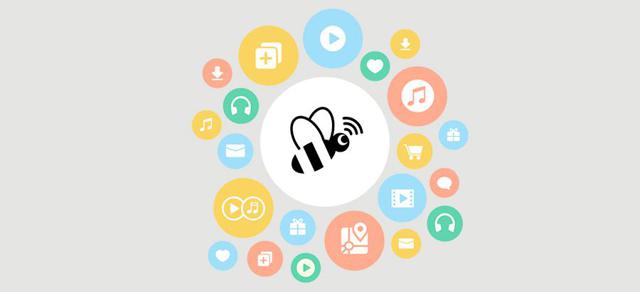 Well firstly, something that we find promising is that the company recently launched the FreeBee Data trial, which we feel could be a great selling point depending on the quality of content it can serve up. With FreeBee Data content providers can pay a per click or per gigabyte fee to Verizon in exchange for having their content accessible without using consumers' data plans. As more and more people are watching videos on their mobile devices (1 in 3 Americans according to the press release), offering unmetered content to consumers works in favor of both Verizon and the content provider. We all want something to watch when we are on public transport for example, but we don't want to eat all our data. This solves that issue. Currently Hearst Magazines, AOL and GAMEDAY have signed up for the trial. Data-free streaming of NBA out-of-market games were being offered through go90 as of last week. This comes on the back of a potential joint venture with go90 to launch a couple of media channels, too. So things are heating up in the space. Our view is that content is king, and Verizon is certainly starting to look like the heir to the throne. We have a feeling it could work out very well and be a great incentive for consumers to opt for Verizon ahead of its competitors.
For the year ahead management has prioritized investment in networks and platforms and a focus on new revenue streams. While it may take a little time, we think that advertising revenue will be a key new revenue stream in the future if it does go ahead with the joint venture with go90.
As we said earlier, we are expecting earnings to grow by approximately 6% year over year. We'd expect this growth to slow a touch in the following years and be in the range of 4% per annum which, although much lower than the almost 15% per annum we have seen in the last five years, is still a strong rate for such a mature company. In our opinion this should still produce more than adequate shareholder returns especially when combined with its dividend. The dividend it pays is another aspect that attracts us to Verizon. At present the shares are yielding 4.48% dividend from a payout ratio of just 47.75%. The dividend has grown at a reasonable 3.5% year over year, and we anticipate its growth to accelerate a touch in the future to around 4%.
We value the company at 12 times earnings, so with our earnings per share forecast for fiscal 2016 coming in at $4.63, we have a one-year price target of $55.56. This equates to a 9% return for the year. Add in the dividend and you're looking at over 13.5% total return for shareholders.
Disclosure: I am/we are long VZ.
I wrote this article myself, and it expresses my own opinions. I am not receiving compensation for it (other than from Seeking Alpha). I have no business relationship with any company whose stock is mentioned in this article.