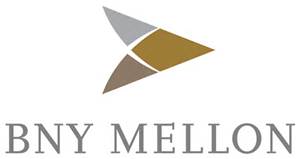 Bank of New York Mellon (NYSE:BK) has been my least favorite financial in a group I've liked for a long time. The company's leverage to fees was - I thought - a curse last year as the Fed was promising to begin raising rates. BK doesn't have the same interest rate sensitivity as other banks as it gets most of its revenue from fees so that kind of model doesn't work as well in a rising rate environment. However, rates have done anything but go up since late last year as the Fed's attempt at getting off of zero has been horribly botched. With markets confused about rates and banks of all kinds getting pounded, is BK the right pick in this uncertain environment?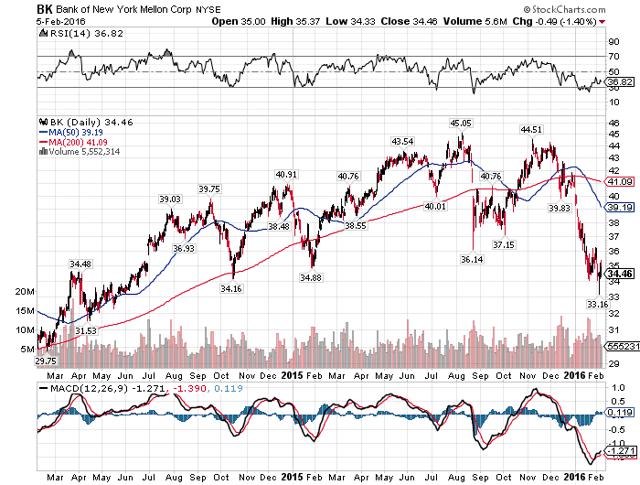 Click to enlarge
BK's Q4 adjusted revenue was up 2% as the company's investment services revenue was flat but net interest income was much higher. BK only gets about 20% of its total revenue in net interest income compared to a more traditional bank where that ratio is flipped. That means it is far less reliant upon higher rates (although that would still help) and that its revenue base should be much more sensitive to its ability to generate business rather than the interest rate market. This is a fundamental difference between BK and most other financials and this reason was perhaps the biggest grievance I had against BK last year; the company's lack of significant leverage to higher rates was a negative at a time when I took the Fed at its word that it would be raising rates. With rates much lower than they were for much of last year, BK's model looks very enticing.
In addition, I called BK bloated last year as its expense base had gotten way out of control over the past few years. The company operates with a higher expense base than most other financials and the market seems okay with that, but every bit of operating leverage helps and BK finally made good on its promises to reduce spending in Q4. Noninterest expense plummeted in Q4 as BK realized savings on almost every line item with the notable exception of compensation expense. However, the increase there was primarily due to severance costs as it reduces headcount so of course, that is non-recurring. That means BK is really doing great work in terms of getting its costs more in line with its revenue base and that is a removal of an enormous overhang that really made me negative on the stock last year. In addition, with BK comparing against 2015's higher cost base, it should be much easier for the company to grow earnings via higher operating leverage in 2016.
With book value at $32.69, BK is approaching a very rare valuation. The stock is now trading at just 105% of book value, well out of line with recent historical valuations around 130% or more of book value. While I can't say where the right balance is for this environment, one thing I'm pretty sure of is that BK is not going to trade with that kind of book value forever; we are seeing panic selling here.
In addition, instead of the ~14 times forward earnings we're used to, BK is going for just 10 times that number right now. Again, the stock is being sold along with all other banks despite the fact that its reliance on rates is a fraction of what others have. That means the temper tantrum investors are throwing due to lower rates and the Fed's mismanagement of removing accommodation shouldn't really impact BK nearly to the extent it does other large banks. And yet, here we are.
BK's real lack of a slowdown in business during a tumultuous time in financials is proof that its model is actually perfect for this kind of environment. As rate-sensitive names like Bank of America are getting killed, BK is chugging along in the normal course of business. There is no reason for this stock to be down as much as it is but now that we find it at just above book value, I think it is a screaming buy. I didn't like it at $44 but I very much like it here as I think there is potentially a lot of upside from this level. BK is trading at trough valuations across the board and the fact that its revenue base is insulated somewhat from rates is a strong characteristic until the Fed sorts out what it wants to do.
I never thought I'd flip to being bullish this early on it 2016 on BK but such are the circumstances we find ourselves in. The carnage that has taken BK to nearly two year lows is unwarranted and I think that when the panic subsides, BK will lead the financials higher. Yes, it is painful right now but if we take a step back and look at the long term, BK has a very bright future and a very low stock price. This business will not trade at book value forever so I think now is a great time to get long.
Disclosure: I am/we are long BK.
I wrote this article myself, and it expresses my own opinions. I am not receiving compensation for it (other than from Seeking Alpha). I have no business relationship with any company whose stock is mentioned in this article.