Colgate-Palmolive (NYSE:CL) is a stock that I've had some pretty bearish thoughts on in the past. This company sells general consumer goods on a huge scale and thus, its main value is the dividend it pays, not in the growth rates of the company. However, for quite some time now CL has traded for a growth multiple, something I lamented most recently back in November. I see a variety of factors that add up to a pretty obvious case of overvaluation but CL persists at its sky-high multiple. The stock continues to just chop around and not really move anywhere; is it finally growing into its lofty valuation?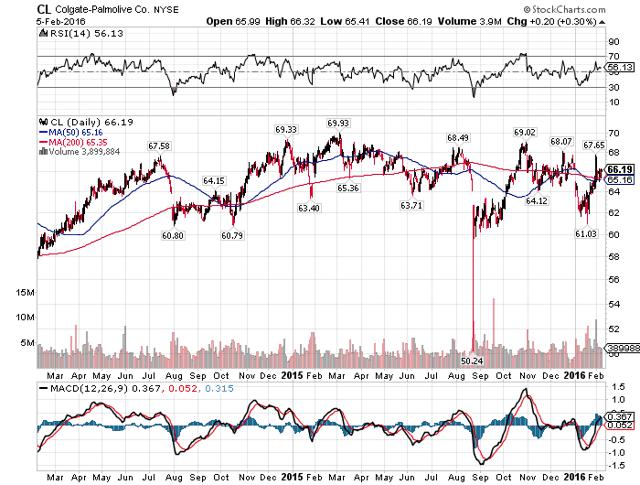 Click to enlarge
My issue with CL begins and ends with its valuation; there is nothing wrong with this business. In fact, it's a great business, it just sells for a terrible price. The company's growth rates are anemic at best and yet, the stock sells for 24 times this year's earnings. When comparing a multiple like that to a company like SBUX that trades for a slightly higher multiple but is growing at exponentially faster rates, the sheer magnitude of just how overpriced CL is begins to sink in.
CL's Q4 results weren't exactly awe-inspiring for the bulls and to be fair, they looked a lot like quarters one through three of this year. Revenue plummeted 7.5% (again) as CL continues to grapple with not only weak fundamentals but a very strong dollar impact as well. Every multinational is struggling with the dollar but CL's case is quite special; it lost 11.5% in revenue to the dollar in Q4, something that isn't close to escapable for CL considering its weak growth rates.
Speaking of those weak growth rates, CL posted flat volume growth on a reported basis. But if we take just organic sales - total revenue minus acquisitions/divestitures and forex translations - CL produced a nice gain of 5%. The thrust of the move was due to strong pricing at 4% and volume growth of 1% and while that's great, organic growth is not what matters; what matters is reported growth and it was absolutely crushed by the dollar.
Bulls will surely point out that pricing was strong and there's no denying it; however, pricing can only take a company so far as any product or service sold anywhere in the world from any company has a ceiling. There is only so much retailers will pay for the right to sell CL's toothpaste and at some point, pricing will no longer be a viable growth strategy. This is why I prefer volume growth because that is far more sustainable over the long term; pricing is a Band-Aid for companies with weak volume numbers. CL's volume still concerns me quite a bit because what happens when it begins to compare against the higher prices of 2015? Organic growth will fall off a cliff because there won't be anything powering it higher Y/Y if volume doesn't improve. That's my problem with CL that investors seem to be ignoring and extrapolating this organic growth out into the stratosphere has created a seriously overvalued stock.
Here's the thing; I know people buy CL for its dividend and there's certainly nothing wrong with that. But at just 2.3%, I can't say the yield is all that enticing. The recent turmoil in the market has created dividend deals all over the place in the US stock market and in short, you can do a lot better than just 2.3%. CL used to at least be close to yielding enough to be an income stock but given the risk in the valuation, I can't say that 2.3% is nearly enough to justify owning it.
CL is expected to post lower revenue and EPS in 2016 than it did in 2015 and to be honest, that's a pretty easy case to make. I mentioned the impact of comparing against the very strong pricing of 2015 this year and that isn't going to go well in 2016. CL almost certainly will not produce another 3% or 4% of pricing gains on top of what it did in 2015 and with volume flat or negative depending on how you look at it, the strong dollar's impact will almost assuredly cause total revenue growth to be negative in 2016.
The dollar has taken a significant downturn in the past few weeks as the market has backed off of the Fed's four hike mantra for 2016 but still, the dollar remains at elevated levels, particularly against currencies where the central banks are still executing some form of QE expansion. That seems very unlikely to change at any point in the near future so the dollar is going to be bad for CL again. And given the fact that I think organic revenue growth will struggle to hit zero this year, that means CL's valuation is even more egregious than it appears.
CL hasn't participated in the recent market selloff but it deserves to. This is a company with fundamentals that continue to deteriorate but it seems no one cares. It would take years - literally years - for CL to grow into its current valuation. There is no way that this company is worth more than 15 times forward earnings based upon its negative growth this year and anemic growth in years that are positive. There are so many headwinds for CL's top line growth that I likely wouldn't even pay that much for it but given the circumstance, it seems a pretty obvious conclusion to draw that CL is overvalued here. If dividends are what you seek, look pretty much anywhere else; you can do better with far less price risk.
Disclosure: I/we have no positions in any stocks mentioned, but may initiate a short position in CL over the next 72 hours.
I wrote this article myself, and it expresses my own opinions. I am not receiving compensation for it (other than from Seeking Alpha). I have no business relationship with any company whose stock is mentioned in this article.