Well, ConocoPhillips (NYSE:COP) finally did what it should have done months ago: It cut the dividend from 74 cents to 25 cents. Conoco also further cut capital spending for 2016. That move was months in the making, too. I first suggested that Conoco's dividend was in danger in an article dated September 2. I again warned of a cut on November 4th, although by then it was a pretty easy call to make.
I like dividends as much as anyone else does, but not when doing so is unsustainable from a cash flow perspective (unless there are significant growth prospects, which in this case there is not). All through 2015, Conoco was burning through its big pile of cash, taking out debt and selling assets in a bid to hold onto its dividend, with the hope that it could use its balance sheet to cover the dividend until oil prices recover to $70, hopefully by 2017. As 2015 progressed, however, it became increasingly obvious that oil wasn't going to recover anytime soon. This article covers the mechanics of why Conoco had to cut the dividend, and what things might be like going forward.
Assumptions vs. Reality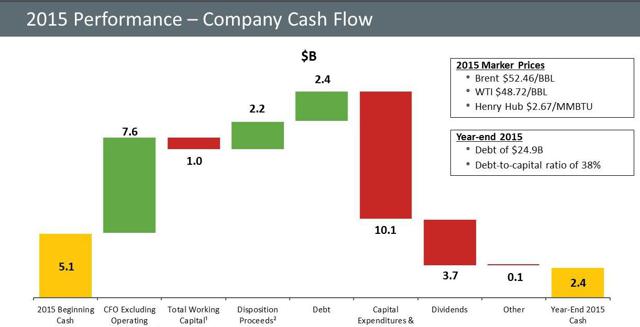 Click to enlarge
Courtesy of ConocoPhillips Investor Relations.
Conoco burned through substantial money in 2015. The dividend and capital expenditure significantly exceeded cash flow from operations in 2015. To maintain both, Conoco took out $2.4 billion in debt, disposed of $2.2 billion worth of assets, and burned through $2.7 billion in cash. Chances are, Conoco will not be able to sustain another year of that. Not without the credit ratings agencies downgrading the company's debt rating, at least.
Conoco is responding in a couple ways. First, the dividend is being cut by some $2.4 billion. Second, capital expenditure is being brought down from $10.1 billion last year to an estimated $6.4 billion for 2016 (down from $7.7 billion in just December). Will this be enough to avoid a downgrade or further dividend cut? Let's see.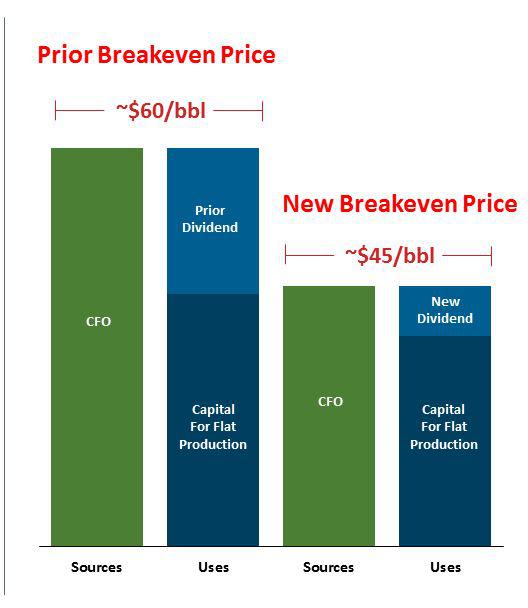 Courtesy of ConocoPhillips Investor Relations.
As you can see above, Conoco will now be cash flow neutral with $45 per barrel in realized oil prices, for better than the $60 per barrel needed previously. Unfortunately, today crude oil is $15 below even this expectation.
Management estimates a $150 million change in earnings per each $1 change in realized oil prices. So, if Brent and WTI stay at $35 a barrel, Conoco would still be $1.5 billion in the hole, assuming earnings is a good proxy for cash flow. Would that be enough to derail Conoco's plans? Maybe not, especially if Conoco sells its deepwater exploration business.
In my opinion, management has finally brought capex down to a level where it needs to be. With just $6.4 billion in capital spending, production growth will finally stop. I suspect that, at these capex levels, production would decline in 2017 and 2018. Production is to remain flat because the Surmont 2 oil sands project is ramping up and the second train at APLNG is about to deliver its first cargo. Once the "boost" from these finished projects is over, production should decline in the coming years unless capex is raised. After all, Conoco is down to just 3 rigs in the lower 48 states.
To understand at what price Conoco does well, we must first understand the company's assets. In a nutshell, Conoco has a strong Alaska position, a handful of legacy deepwater assets in the North Sea, Gulf of Mexico and Indonesia, some LNG facilities, and a very big US shale position in the Bakken and Eagle Ford. Even at these low oil prices, Conoco's non-shale assets generate a little bit of cash flow (though it's certainly not worth building new assets here). The shale needs a bit higher prices, maybe around $45 or $50 to turn a decent mid-cycle profit.
Looking ahead
While Conoco may still keep its reduced dividend, the company may still sustain a credit downgrade. At least, that's what management seems to believe. They warned that some E&Ps could get a 'multiple notch downgrade' from Moody's. It all depends on where oil prices go, but it appears that a "strong balance sheet" is Conoco's priority over the dividend.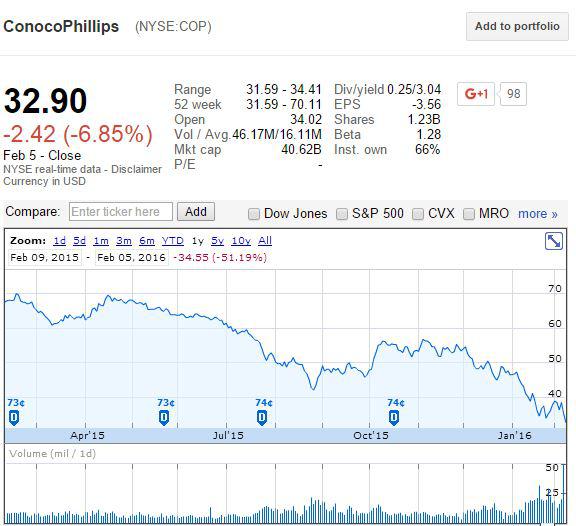 Courtesy of ConocoPhillips Investor Relations.
Is the dividend the last shoe to drop? At this point, I'm thinking "no." None of the big national oil companies are cutting production, and Iran is keen to send more barrels to the market. While oil companies in OECD countries are finally cutting enough capex, it won't be enough to take supply off for the short-term. Prolonged low oil prices means that Conoco will struggle. Thus far, sitting on the sidelines has been the right thing to do with Conoco, and I don't see a reason for a change in philosophy here. Conoco would do quite well at $50 or $55 per barrel, but that's just not where we are right now.
Disclosure: I/we have no positions in any stocks mentioned, and no plans to initiate any positions within the next 72 hours.
I wrote this article myself, and it expresses my own opinions. I am not receiving compensation for it (other than from Seeking Alpha). I have no business relationship with any company whose stock is mentioned in this article.