There is no way to sugar coat the market action on Friday; it was just plain ugly with the Nasdaq down over three percent on the day. I am struggling to come up when the last time I remember so many major blow-ups in a single day. Tableau Software (NYSE:DATA) and Lions Gate Entertainment (NYSE:LGF) were off 49% and 27% for the day, respectfully on results. Retailing stalwart Hanesbrands (NYSE:HBI) was also off 15% on the day after reporting an earnings miss and weak guidance.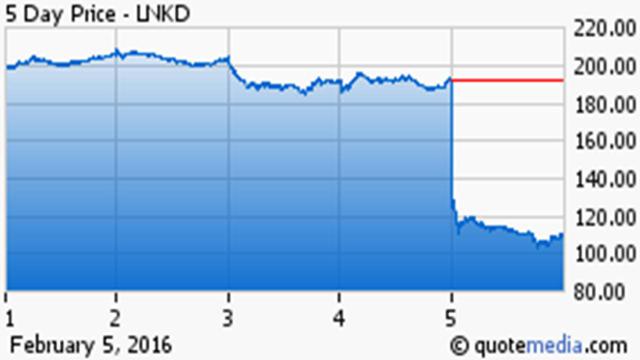 Click to enlarge
However, the real carnage happened in those momentum names that have defied gravity for so long despite sky-high valuations. This was led by LinkedIn (NYSE:LNKD) which had its worst one loss since coming public in 2011, losing more than 40% of its value Friday. The culprit was an earnings miss and downward revised guidance. These events totally blindsided analysts judging from 10 downgrades that came out on Friday on LinkedIn.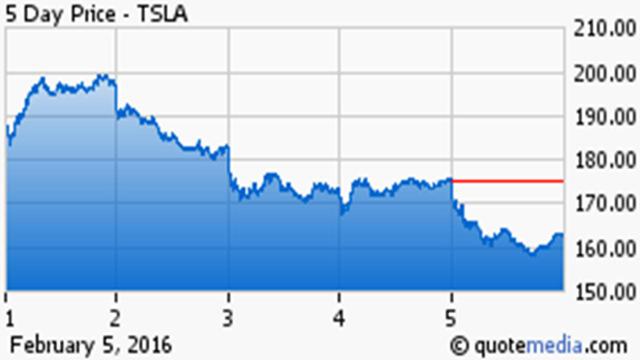 Click to enlarge
It is very clear that the air is coming out from the momentum stock bubble. One can see that in the chart of one time market darling Tesla Motors (NASDAQ:TSLA) above, as it got crushed and hit a new 52-week low this week. However, nowhere is this more evident than in the action in some of the so-called FANG (Facebook (NASDAQ:FB), Amazon (NASDAQ:AMZN), Netflix (NASDAQ:NFLX), Google (NASDAQ:GOOG) (NASDAQ:GOOGL)) stocks. This is the one area of the market that provided outsized performance in 2015's flat market. It fully appears investors are in full-on profit taking mode here right now as the bubble around momentum stocks pops.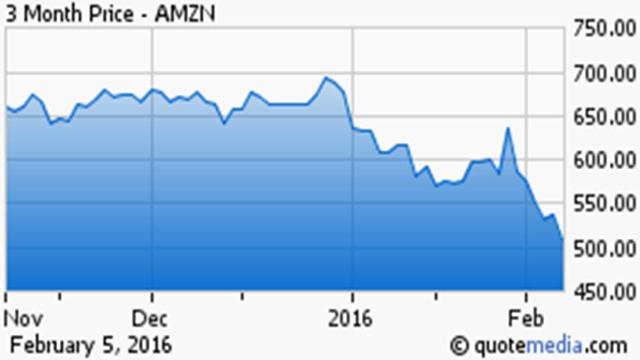 Click to enlarge
I recently warned that of the FANG stocks, Amazon and Netflix were the most significantly overvalued by any traditional valuation metric. They also would be highly vulnerable to a substantial pullback if investors started to not buy into their "stories" at some point early in 2016. That is indeed what seems to be happening in the New Year. The air coming of this particular bubble was also foreshadowed by the recent unwinding of the "Unicorn" trade in the private markets around Uber (Private:UBER), Snapchat (Private:CHAT), Airbnb (Private:AIRB) and other high profile names.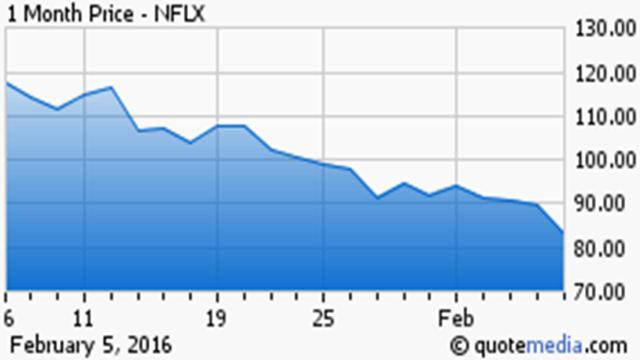 Click to enlarge
I think the popping of this bubble could play out for a while as valuation in this area is hardly compelling as sentiment has shifted even with the steep declines in recent weeks. Is Netflix at "just" 300 times forward earnings really a bargain?
More importantly, I believe this marks an inflection point in the market. In 2015, investors were willing to pay just about any price for a company that could produce robust revenue growth against a dismal global economic backdrop. This is why growth stocks easily trumped value stocks in 2015 and why the FANG stocks were all the rage last year. This is also why Netflix and Amazon were the only two stocks that doubled their market value within the S&P 500 in 2015.
However, investor sentiment is a fickle beast. In a heartbeat, it does not seem investors are willing to pay anything for growth in 2016 anymore. Interestingly, in Friday's bloodbath, value stocks stood up extremely well in the onslaught outside a few notable exceptions in big biotech. Equities with cheap valuations, solid balance sheets, and most importantly, high & sustainable dividend yields seem to be back in fashion.
I noted that this might be the way to play the early carnage in the markets to begin the New Year in a piece titled "Hide Under The Covers Or Back Up The Truck?" I stated that these five value selections are some of the stocks I was slowly allocating the 30% cash position I had built up prior to the start of 2016 into incrementally, as the market continued to provide lower and lower entry points.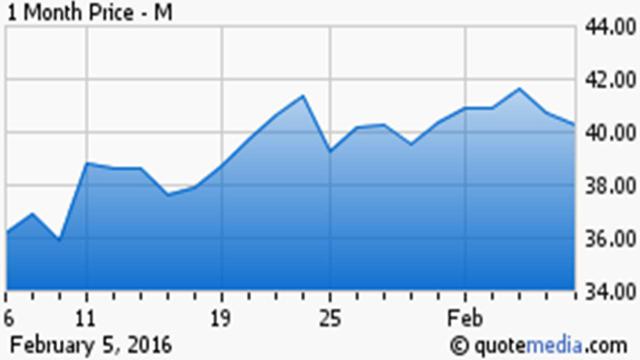 Click to enlarge
These five stocks have held up remarkably well over the past month, as they are either flat, slightly up or slightly down; substantially better than the momentum names in the market that are getting plastered almost on a daily basis. Macy's (NYSE:M) has been a particular standout as the chart above testifies.
AbbVie (NYSE:ABBV) might be the most undervalued of the bunch at the present moment, and I have added quite a few shares lately to my core stake. The drug giant should show earnings growth of 15% to 20% in FY2016, has an over 4% dividend yield and sells at just over 10 times forward earnings. One also has to love its longer-term growth prospects as I recently noted.
The market is clearly shifting from growth at any price to one that is more value focused. The only question as an investor is, are you going to shift with it?
Disclosure: I am/we are long ABBV, M.
I wrote this article myself, and it expresses my own opinions. I am not receiving compensation for it (other than from Seeking Alpha). I have no business relationship with any company whose stock is mentioned in this article.