Just about every large multinational industrial focused company got rammed in 2015. Many global headwinds came together to create a rough market for the sector and are continuing unabated into the current year giving investors both headaches and opportunities. As share prices decline yields increase and companies that historically aren't high yielders are suddenly gaining a lot of attention from dividend focused investors seeking high and growing yields. Before investors chase that yield taking a deeper look at the company is imperative to avoid falling into a high-yield value trap.
Eaton (NYSE:ETN) is a Dublin, Ireland based power management company with a $25.2B market cap. Their products are sold in over 175 countries across many different market segments and brought in $20.8B in sales for 2015. The company was founded in 1911 when Viggo V. Torbenson and J. O. Eaton formed Torbenson Gear and Axle. Since then they've helped their customers put power where they need it in the most efficient manner.
On February 3rd the company reported their 4th quarter and their year end. The results were promising with Eaton beating analyst's quarterly EPS estimates by $.07 but falling just shy of revenue by $40M, not a large amount when overall revenue was just over $5B. Taking a look at 2015 as a whole shows lower numbers when compared to 2014. Net sales were lower by nearly $1.7B at $20.8B but net income was higher by about 10% at $1.98B. The increase in net income was a result of cost cutting across the board with lower administrative and selling expenses and lower research and developing spending. Every segment saw a drop in sales but once again cost cutting preserved some operating profits in their vehicle and aerospace segments. Eaton took concentrated step in the third quarter to improve margins by initiating restructuring. The efforts resulted in a 150 basis points improvement from the third quarter to arrive at 16% margins for the quarter, a 10 basis points increase from Q4 2014. For the year operating margins were 15.2% and are expected to increase in 2016.
The share price dropped almost 20% through 2015 despite EPS only dropping 8%, giving the appearance that the selloff was overdone and that this is now undervalued from a P/E valuation. Some of those losses were undone in 2016 with shares rising about 4% so far but there is still much uncertainty concerning the company, notably their earnings potential in 2016 and 2017 for both EPS and cash flows.
Eaton is estimating that in 2016 they will earn between $4.15-$4.45 per share, which is relatively flat to what they earned in 2015. Operating cash flows are expects to be slightly higher at $2.6-$2.8B thanks to better operating margins and restructuring benefits taking effect. Taking the lowest estimate of $4.15 and assuming a price of $55 we get a P/E of 13.2, lower than their 20 year average of 14.9. With higher cash flows expected in 2016 the value deepens. At about $55 ETN trades at a 9.9 P/CFL, well under their average of 13.7. The company is still a cash generating machine and the market seems to have forgotten that. If they hit the low end of their estimates at $2.6B that gives each share about $5.56 and a forward P/CFL of 9.8. When you consider their ongoing share repurchase plan through 2018 that figure increases.
There is always a possibility that Eaton doesn't meet these estimates and investors must be aware that estimates are just that and they aren't guaranteed. Should Eaton have a terrible year and only achieve $3.75 EPS and $1.8B in operating cash what would happen? Trading at $55 that would give us a P/E of 14.6 which is still below 20 year historical average and a P/CFL of 14.8 should they not retire any additional shares. Shrinking the timeframe to 10 years changes the outlook slightly. Below is a F.A.S.T Graph to help illustrate the 10 year window worst case scenario for my article.
Cash flow is the purple line at 14.8, which places it just at fair value.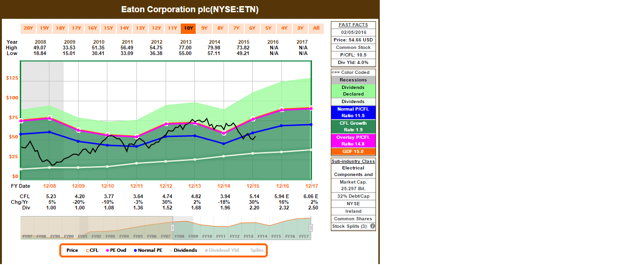 Click to enlarge
My worst case scenario is an unlikely one given the end markets that Eaton does business with are not doing badly. Broken down into electrical products, electrical systems and services, hydraulics, aerospace and vehicle we saw drops in sales across all segments but an overall improvement in margins. Eaton isn't tied very strongly to the oil and gas industry either, and their diversity is protecting them from that current downtrend. They're anticipating a 1-3% rise in aerospace for 2016 with a drop in all others, so there is definitely evidence of slowing economies. We are seeing a global slowdown overall but not one that would warrant alarm bells when looking at Eaton and their business.
The dividend is currently above 4%, a level not seen often for ETN. They pay $.55 each quarter for a total of $2.20, easily covered by EPS and operating cash flow. According to David Fish's outstanding list of dividend paying companies ETN has been raising their dividend for 6 years now, and has a five year DGR of 15.3%. Investors are expecting an increase to be announced toward the end of the month as well, further enhancing the value. One thing to keep in mind with the dividend is the taxation since Eaton is based in Ireland. I'm not a tax expert by any means, so please consider your own situation when deciding to invest in this company.
From what I can see Eaton is no value trap but instead a rare dividend growth play that has been battered by the broader market correction and now presents a great value. The company has taken very deliberate steps to overcome the global slowdown and has remained very flexible with their decisions. They remain committed to returning billions of dollars to shareholders through dividend raises and share buybacks and that's great to see. Being overweight already with the industrial sector I'll be more stingy with my limit order on this one and set it to $51. My excitement usually gets the best of me though so if it seems like that is unlikely to hit in the next couple weeks I'll adjust it higher because I like the yield and see this as a rare opportunity to own a solid company with a great future. I appreciate you all reading and I look forward to the discussion in the comments. As always, best of luck to you all!
Disclosure: I/we have no positions in any stocks mentioned, but may initiate a long position in ETN over the next 72 hours.
I wrote this article myself, and it expresses my own opinions. I am not receiving compensation for it (other than from Seeking Alpha). I have no business relationship with any company whose stock is mentioned in this article.