Cisco (NASDAQ:CSCO) will announce its fiscal second quarter earnings on the 10th of February after market close and the EPS forecast is $0.53 which is precisely the same number printed in the corresponding quarter of 12 months prior. Expected revenues are $180 million less than 12 months ago which is why the stock sold off when guidance was announced last quarter. It will be the same theme this time around as I'm pretty confident Cisco will announce another earnings beat on Wednesday (as it has done since 2011). Guidance again will be key and will be the defining factor on whether this stock sells off in the after-market hours on the 10th or not. The market has taken a bearish stance on Cisco over the last 12 months as the stock was trading up at around $30 a share last February only to come back down to present sub $23 levels. Wall Street's underlying theme is a predicted erosion of margins in its switching and routing products which make up almost two thirds of the company's revenues.
Facebook's (NASDAQ:FB) "Open Compute Project" definitely seems to be gaining traction with major US carriers recently joining the initiative. However switching revenues actually increased by 5% last quarter and although sales in routers dropped by 8%, this was seen by management as temporary due to the timing of the orders. Therefore I'm expecting to see a strong performance from the routing division this quarter. Furthermore margins as predicted by the street are not contracting. Cisco's trailing twelve month gross margin is 60.8% and operating margin is 23.2%. This is due to fast growing divisions such as wireless, security, collaboration, data center products and service taking the lead despite having less revenues collectively than switching and routing. The service division in particular has very high margin levels (mid-sixties) and made up almost $3 billion in revenue last quarter. The momentum that the "Internet of Things" initiative is gaining is bullish for Cisco's service division. More installed products is going to mean more service long term which is why I see this division growing much faster than the 1% number printed last quarter.
Let's take a look at the stock's fundamental metrics over the last 10 years.
Years Of Dividend Increases
5 Years - Pass
Free Cash Flow
$11.62 billion (10-Year Trend Is Up) - Pass (Very Important For Dividend Investors - Dividend Currently Is 3.67%)
Revenues
$49.16 billion (10-Year Trend Is Up) - Pass
Operating Margins
23.2% - (10-Year Trend Is Up as 10 Year Average is 22.1%) - Pass
Price History of the stock
Up 26% in the last 10 years excluding dividends - Pass
Healthy balance sheet
Total assets = $112 billion (10-Year Trend Is Up) - Pass
Competitive Advantage

Brand Leader Among IT Managers
Switching Costs
Pricing Power
Huge Annual R&D spend

Resistant to recessions?
Revenues recovered quickly after the great recession of 2008-2009 - Pass
Cisco passes on all major metrics even its operating margin which to many may seem a surprise. Even if the company witnesses sales declines in routing and switching over the next few years, this should be offset by divisions such as data-center and collaboration which have been growing at double digit rates recently. Although revenue growth has slowed in the past 4 years, I feel that too much of this trend has been priced into the stock which is why we will take advantage.
On the technical chart, the stock is approaching its 200 day moving average of $22.35 and the slow stochastics are at similar levels to 2011 and 2012 levels when the stock briefly traded at sub $15 levels. However from a valuation point of view, the stock has not been cheaper over the last 10 years as all of its valuation multiples (price to sales, book, earnings and cash flow) are under their 10 year averages.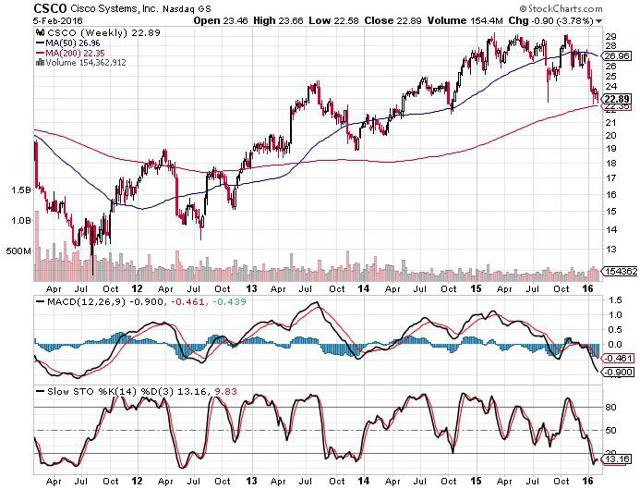 Click to enlarge
Speaking of valuation, the one indicator that really jumps out of the company's financials is its cash position. Cisco is currently holding over $59 billion in cash on its balance sheet which means that the company is carrying more equity than all of its liabilities combined! I'm not just talking about long term debt which is $21 billion but total liabilities which total $51 billion. Value traps are usually synonymous with high debt which Cisco doesn't have. As noted above, its valuation multiples are at 10 year lows and earnings are approaching $10 billion a year. Finally if there is more downside to Cisco, its dividend growth rate has been second to none since initiated in 2011. The quarterly pay-out has gone from $0.06 a share to $0.21 and another hike is scheduled for April. Why does the dividend offer downside protection? Well its trailing twelve month pay-out ratio of only 43% is testament to the robust free cash flow this company shells out every year. Suffice to say that there is plenty more room for dividend hikes plus if the stock falls more, the respective investor's yield will increase.
Pending earnings has spiked implied volatility with the stock presently having an IV rank (implied volatility measured against itself over the past 12 months) of 88. The stock is presently trading around the $22.60 level and the Feb-12 - $22.50 puts are selling for about $0.60 per contract. These puts are basically at the money but provide the best risk/reward setup in my opinion. We will either get assigned some stock ($2,250 for every 100 shares) or earn $60 in the space of a few days. Here is our portfolio balance at present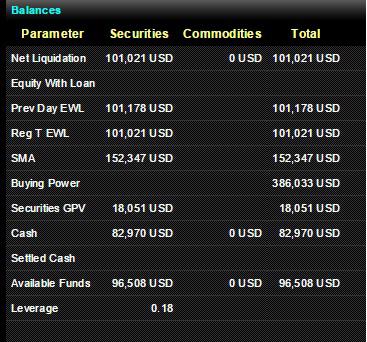 To sum up, this portfolio will be all about increasing trade activity amongst some overvalued dividend growth stocks like McDonald's (NYSE:MCD) so that over time we can pump more capital into our lower valued dividend growth stocks which by nature should be paying higher dividends - IBM (NYSE:IBM). We need to do this to keep the portfolio diversified as this increases our reward potential going forward as income portfolios are all about share count which we will increase substantially over time.
I'm going to be adding a good few dividend stocks to the elevation portfolio over the next several weeks. It's imperative that they are not correlated and don't all have similar valuations to ensure income is brought in every month which over time will increase our share count. Follow along by pressing the "Follow" button above. Action: Sell Feb-12th Put at the $22.50 strike for around $60. Let's see how quick we can get this to $20k in annual income.
Disclosure: I/we have no positions in any stocks mentioned, and no plans to initiate any positions within the next 72 hours.
I wrote this article myself, and it expresses my own opinions. I am not receiving compensation for it (other than from Seeking Alpha). I have no business relationship with any company whose stock is mentioned in this article.