Introduction
Zepatier is a new Merck (NYSE:MRK) drug approved by the FDA on January 28th, 2016 and it is used with or without ribavirin to treat hepatitis C (HCV) in people who have HCV genotype (NYSE:GT) 1 or 4 infection in adults. The drug works by inhibiting the HCV virus from reproducing. If a virus cannot reproduce inside you, it cannot survive.
Zepatier is not like Viekira Pak, it is better. Zepatier is only a single pill a day which you can take with or without food. One pill a day with or without food might sound trivial now but it can be the only difference between Zepatier and AbbVie's (NYSE:ABBV) Viekira Pak. Viekira Pak needs to be taken with food and 2 pink tablets plus 1 beige tablet at the same time every morning and 1 beige tablet at the same time every evening. Taking a tablet with food can be a deal breaker for religious people who like fasting and not everyone can be able to keep track of time and the number of pills accurately for the whole duration of the treatment. These seemingly trivial concerns can be enough reason for a switch from Viekira Pak to Zepatier.
Besides, Zepatier has potential to become more relevant and more useful by developing a combined treatment of HIV/AIDS and hepatitis C. Zepatier's competitive edge against Harvoni and Solvadi is in a potential combo between Zepatier and Doravirine or MK-1439. The Centers for Disease Control and Prevention (NASDAQ:CDC) states:
The risk of contracting hepaptitis C is higher in people infected with HIV among others.
The risk of a pregnant woman passing hepatitis C to her baby becomes greater if the mother has both HIV infection and hepatitis C.
50%-90% of HIV-infected persons who use injection drugs are also infected with the hepatitis C virus.
Merck's new HIV drug, Doravirine, is currently in Phase III clinical trials. The drug is meant for the treatment of HIV infection.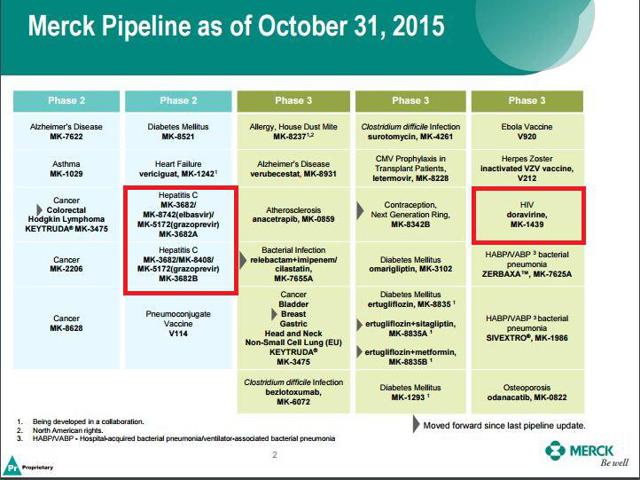 Because the hepatitis C and HIV co-infection is a prevalent problem, Merck has potential to reach a broader market and target more patients than Gilead (NASDAQ:GILD) in the future should a combo of Zepatier and Doravirine become possible.
Merck has been involved in the fight against HIV/AIDS since 1988 when its researchers first demonstrated that inhibiting the protease enzyme would prevent the Human Immunodeficiency Virus (HIV) from replicating. This is why I think Doravirine can succeed and subsequently, why I think the combo is a potential idea.
Perfect Timing
Zepatier is a great milestone for Merck and its release has been perfectly timed.
The market is underestimating the financial impact Zepatier is going to have on Merck's overall earnings. On December 19th 2014, the FDA approved AbbVie's hepatitis C drug Viekira Pak. After 12 months on the market, the drug managed to bring in ~$1.639 billion in revenues as shown below.
(Source: AbbVie's Financial Release - AbbVie's Full-Year 2015 & Q4 2015 Financial Results, with authors highlights)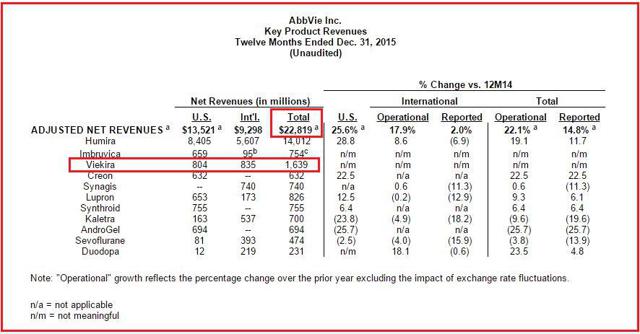 Zepatier is not meant to serve Merck but to supplement its growth. Merck has a vast portfolio of products each contributing roughly between $4.0 billion to $180 million of total revenues. Zepatier is not expected to be anywhere close to $4.0 billion in sales this year, but it is expected to help the company regain its growth momentum being lost from declining sales in products like Januvia and Remicade which came in below expectations this quarter.
"Merck could serve about 11% of the market in 2017 with its new drug, which would total roughly $2.2 billion in sales." Quote by Bernstein analyst Tim Anderson taken from TheStreet.
The pressure on Merck's key drugs; Januvia and Remicade, has put a lot of strain on the company's near-term growth opportunities. This pressure is likely to offset potential areas of strong growth opportunities and hence the perfect timing of Zepatier.
Merck is expecting the launch of new products to more than offset the impact from generic and biosimilar competition. Some of Merck's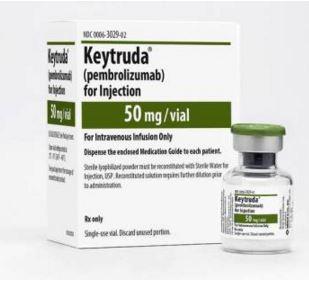 high margin products are losing exclusivity or facing stiff competition. Take Januvia and its sister drug Janumet for example, sales are declining in part because of Eli Lilly's Jardiance which significantly reduced death's as compared to Merck's Januvia. This is why 2016 growth is going to be primarily driven by Keytrude and Zepatier. Keytrude has already been a success growing at ~33%, ~45% and ~35% from Q1-Q2, Q2-Q3 and Q3-Q4 respectively. This growth is expected to continue overtime and Zepatier is expected to add to this growth.
(Source: Merck's Supplement to Q4 2015 Earnings Release)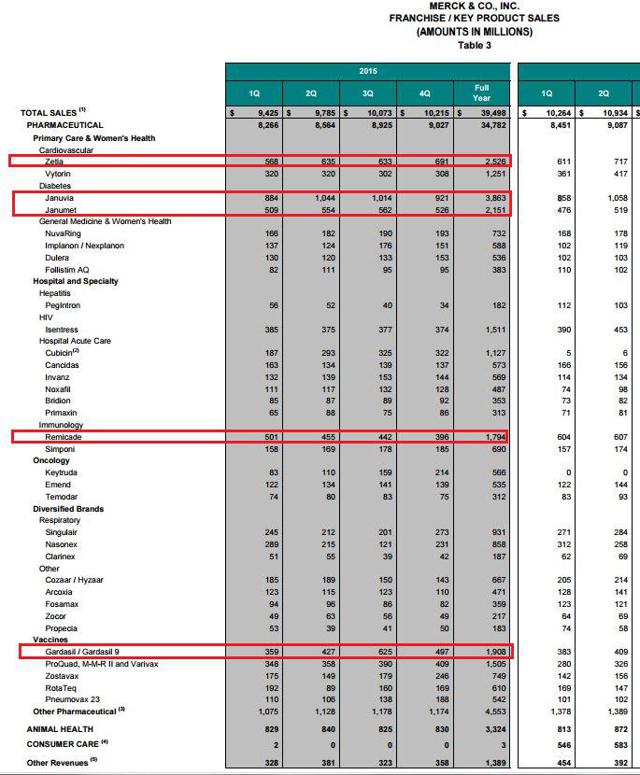 The beginning will be a bumpy road and this has nothing to do with Merck's competitive advantage or entry strategy but because of the on-going exclusive deals that big PBM's like Express Scripts and CVS signed with hepatitis C drug companies.
But I believe that by 2017, we are going to see significant progress in Merck's penetration rate. This high penetration rate will also be an advantage of timing. This is because this is the time when drug prices have really taken over headlines and raised concerns across the board. For instance, we have seen the Massachusetts Attorney General raise concerns over Gilead's hepatitis C drugs pricing. We have also watched Hillary Clinton calling the high drug prices as "predatory pricing", saying that they are "unjustified" and that is it "wrong."
Merck is likely to have a strong political backing. By being the low cost hepatitis C drug, Merck is able to significantly differentiate itself and greatly enhance its competitiveness from Gilead whose hepatitis drugs are believed to be superior though expensive.
There is room for another competitor to be successful in the market. Gilead Science has only managed to reach ~13% of more than 3 million HCV-infected individuals in the U.S. who have yet to be treated. Therefore, I believe that there are more than 2.6 million HCV-infected individuals in the U.S. alone, that Merck can target with Zepatier. It is this other 87% of the market that gives extra room to the new entrants in the market.
"Looking to the future, even with nearly 400,000 patients treated since the launch of Sovaldi, there remain more than 3 million HCV-infected individuals in the U.S. who have yet to be treated, approximately half of whom are diagnosed according to recent CDC data. Long-term education and awareness efforts to increase rates of diagnosis and the flow of HCV-infected patients into treated care are important and will play out over many years, as we know from our experience in HIV."- Paul R. Carter - Executive Vice President, Commercial Operations for Gilead Sciences during Q4 2015 earnings call.
In addition to the huge number of people that have yet to be treated, Merck's Zepatier comes at a time when AbbVie's Viekira Pak and Technivie are losing momentum.
"The U.S. Food and Drug Administration (FDA) is warning that hepatitis C treatments Viekira Pak and Technivie can cause serious liver injury mostly in patients with underlying advanced liver disease. As a result, we are requiring the manufacturer to add new information about this safety risk to the drug labels." - U.S. Department of Health and Human Services
This lost momentum can be what Zepatier needs to gain ground and win over clients who are seeking a cost effective alternative to Gilead's Harvoni and Solvadi.
Merck is taking swift measures to expand coverage and reach of its new drug. I think the company understands the urgency of growing Zepatier in international markets to offset losses and hence the reason why they have already introduced the product in Canada and I expect them to move to other markets as soon as possible.
"We value this accelerated approval of ZEPATIER in Canada which allows us to offer an effective, simple and well tolerated treatment not only for Canadians with the hepatitis C virus with genotype 1 infection, but also for genotype 3 and 4 infected patients for whom options were limited until now," says Chirfi Guindo, President and Managing Director, Merck Canada Inc. "With this new product, we now have the opportunity to help a broad range of patients overcome hepatitis C using a simple regimen of 1 pill daily, with most patients cured with an 8 to 12-week therapy." - Morningstar, information extracted from Canada NewsWire
Risks
There are still unknowns about Zepatier that might cause unforeseen tailwinds moving forward.
According to Merck's patient information for Zepatier (elbasvir and grazoprevir) tablets, it is not yet known if Zepatier is safe or effective for children under the age of 18 and people who have had or awaiting to have a liver transplant.
In addition, Zepatier has numerous possible side effects including depression and trouble sleeping. But these side effects are not unique to Zepatier, Solvadi and Viekira Pak also cause similar side effects. The only unique drug is Harvoni. There is no need for interferon, ribavirin or any complicated regimen and patients involved in clinical studies most common side effects were tiredness, headache, and weakness. Plus drugs like Solvadi have a history to help them with credibility. According to the Solvadi website; "9 out of 10 patients with genotype 2, and 8 out of 10 patients with genotype 3", were cured while using it. This creates a great challenge for Zepatier on the quality spectrum.
The fact that Harvoni has less side effects and that it has been proven to work, might be some of the reasons why Zepatier is perceived as an inferior good. This is why the price deduction is critical. It will allow Merck to gain some market share from AbbVie and a little from Gilead and hopefully reach more markets and patients for whom price is a critical factor in decision making.
Merck made a smart move to penetrate the market as a low cost option. Since Harvoni and Solvadi do not come with the same side effects as Viekira Pak and Zepatier, Merck cannot focus on competing with Gilead Science but on targeting those clients that:
Cannot afford Harvoni or Solvadi
Are on Viekira Pak but want a cheaper option
Merck's market entry strategy is likely to be a significant aspect of its success. Zepatier is posed to become one of Merck's top revenue contributors somewhere between Viekira Pak's 12-month $1.639 billion in sales to Januvia's $3.863 billion in sales as the hepatitis C market is bigger and lucrative. Because Zepatier is one of two critical drugs this year for Merck, Merck is going to do whatever it takes to make the drug better overtime.
Disclosure: I/we have no positions in any stocks mentioned, and no plans to initiate any positions within the next 72 hours.
I wrote this article myself, and it expresses my own opinions. I am not receiving compensation for it (other than from Seeking Alpha). I have no business relationship with any company whose stock is mentioned in this article.