For the past six months I have been advising investors to stay away from Emerson Electric (NYSE:EMR). In my recent articles I predicted the company would fall by high double digit rates. I anticipated a negative outlook for Emerson, based primarily on bleak market fundamentals in the energy sector along with depressed end markets. Emerson's business model is heavily dependent upon the markets that have been hit hardest by energy sector volatility.
The company generates nearly half of its revenue from depressed energy markets. At the same time, a recession among industrial businesses is impacting EMR's revenue base. On top of everything else, the company has been facing currency translation challenges, which further reduce its sales and earnings.
All these negative aspects have significantly challenged Emerson's business model. The company is making some changes to its business model and revenue base, hoping to adjust to the new business dynamics. It is working on a spinoff of its Network Power business along with the potential divestitures of the Motors and Drives segment and its Power Generation business. These portfolio moves will definitely add some strength to its overall business model, but they will decrease Emerson's revenue base.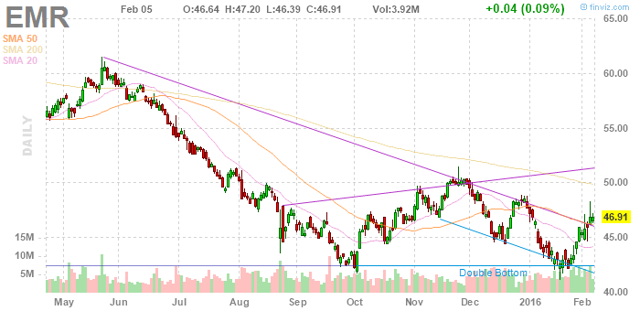 Click to enlarge
The company's stocks have experienced significant volatility amid falling financials and depressed end markets. Its stock price lost 18.25% of its value over the past twelve months. I addition to a poor financial performance, the company's stock value is tightly correlated with movements in oil prices and the economic environment. Over the past few trading sessions, EMR's stock has gained some momentum on the back of recent growth in oil prices and the strengthening of the dollar, but this is not expected to last.
Business Fundamentals are Weak
I don't believe that oil prices can sustain their current momentum. Oil inventories are expanding daily, as oil producers are looking to offset prices with sheer volume. Oil majors are showing no interest in reducing their market share by cutting production. Saudi Arabia, for example, generated record output in the month of January, displaying no interest at all in cutting production levels, despite the current oil glut. On top of all this, Iran is ready to dump its massive oil inventories into the already oversupplied market, following the lifting of sanctions. Thus, oil prices are likely to remain low for longer. The EIA predicted oil prices of around $37 per barrel for this year.
Adding to the challenge, the overall global economic environment is likely to remain volatile for the foreseeable future. Industrial activities are likely to remain depressed due to lower demand, the plunging Chinese markets and negative growth in emerging markets. The IMF has also forecasted economic growth of only 3.4% for this year following last year's growth of only 3.1%. Add to this that the U. S. economic environment is likely to remain stable, compared to the international markets. This will add strength to the U.S. dollar, a negative sign for multinational companies, due the significant impact of currency translations.
Financials are Tumbling
EMR's financial results are reflecting these trends. Recently, Emerson announced first quarter results, which show an almost 29% drop in earnings and a 16% fall in sales. Its major revenue contributing segments are extremely dependent on growth in the energy sector. Process Management, its main revenue-contributing segment, declined 11% in the first quarter, continuing its close correlation to growth in the oil and gas industry. Industrial Automation, its second largest segment, declined 30% compared with the same quarter of last year. The revenue base of this segment is declining due to unstable upstream oil and gas markets, general industrial spending, and European demand.
Its three other segments are not performing well, either. Sales from Commercial & Residential Solutions declined by 18%; Climate Technologies sales dipped by 13% and Network Power net sales decreased by 6%, compared with the same quarter of 2014.
Despite its crumbling financial performance, I'm not raising any question over Emerson's dividends. EMR is not operating in a capital intensive industry, which allows it to generate healthy free cash flows. In Q1, it generated operating cash flows of $487 million, down from $571 million in the same quarter of last year. After capital investments of $145 million, its free cash flows are standing at about $342 million, which is enough to cover its dividend payments of $310 million. However, it will be difficult for the company to make major dividend increases in the coming days.
In Conclusion
Emerson is likely to report even worse results for the current quarter. Since the start of this year, the energy sector has seen significant headwinds and many oil majors have posted historic losses. To counter these challenges, the company has cut its investments in half for the year, after making a cut of 40% in fiscal 2015. This means that demand for Emerson's products may decline further this year. In addition, industrial slowdowns, the strengthening of the dollar and the poor economic environment will also impact EMR's sales. Therefore, I'm not recommending investors to take a position in Emerson or in any company that is facing major threats to its business model.
Disclosure: I/we have no positions in any stocks mentioned, and no plans to initiate any positions within the next 72 hours.
I wrote this article myself, and it expresses my own opinions. I am not receiving compensation for it (other than from Seeking Alpha). I have no business relationship with any company whose stock is mentioned in this article.