By Parke Shall
US automakers have been absolutely crushed over the last few months. Despite promising looking performance over the course of the last few years after the subprime crisis, US automakers are now priced as if the industry has officially reached the top. Both Ford (NYSE:F) and its counterpart in GM are extremely cheap propositions if one thinks that these two companies will have a few years that will be anything but catastrophic. What is worrying investors is the fact that performance from these two companies has been fantastic, making it tough to repeat, and that subprime auto loans are reaching bubble levels.
Ford has tried to dispel these rumors, commenting during its last conference call that they felt like they were using lower credit and incentivized selling sparingly, in pockets, to simply keep auto sales moving. The investor disagrees, and Ford has been driven to what must seem like apocalyptic levels, almost 50% off it's a recent highs near $18 per share.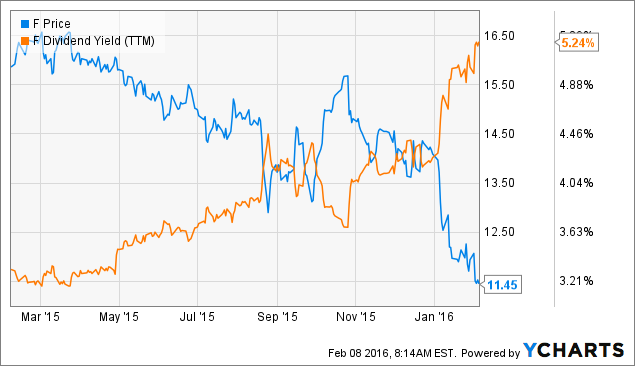 F data by YCharts
What we want to investigate is whether or not Ford is priced appropriately and all hell is breaking loose in the sector, or does this compressed price give long-term investors an opportunity to continue to accumulate stock that now pays a 5% dividend in a healthy manner.
Let's look at what has been working for Ford.
As we have discussed in several of our articles, American auto sales are the backbone for Ford's business. Our country continues to sell automobiles at a great clip and Ford's F-150 trucks and revamped Mustang have been the beneficiary of this. We all know by now that the company's gamble on moving to aluminum in its pickup trucks has paid off and Ford's CEO Mark Fields has done a fantastic job since coming on a couple years ago.
What we had always determined would be the "X" factor for the company would be how well it is able to expand itself internationally and how well its international segments performed. The company has been making sizable research and development investments in some of the larger countries overseas such as China and India, and the company's success in those international markets is going to directly impact their bottom line, even more so than US sales. Up until to this point, things have been going swimmingly overseas. European car registration data shows that the auto market continues to be in a boom, sales from China have exceeded expectations, and last quarter international sales drove Ford to a higher than expected profit.
One of the main concerns continues to be China. The country has seen its stock market nearly halved over the course of the last year. The market was once in an unbelievable bubble but has now settled down and is only "overvalued" as opposed to being "severely overvalued". The quick correction in the stock market has led to many to think that China is simply not doing well economically. While there may be some bubbles in areas like real estate, and there are definitely some uncertainties in areas like shadow banking, the middle-class consumer seems to remain healthy, as companies like Starbucks and Yum are showing positive feedback in this region in their last two quarterly reports.
This had us write an article a couple of weeks ago talking about why we were not nervous about Ford in China. China is going to represent such a substantial growth driver for the company that investors and analysts will likely have their eyes on it 24/7. But the weakness that the market is pricing in doesn't seem to be the case in China. For instance, here we are two or three months after the stock market has collapsed, and Ford has once again posted record sales in China,
Ford Motor Company started 2016 with record-breaking sales in China, with 130,832 Ford vehicles sold in January, up 36 percent compared to January 2015. Record sales of the Ford Escort, the new Ford Mondeo, and Ford's sport utility vehicle (SUV) lineup helped boost January sales.
"We are honored that customers are responding so positively to our vehicles," said John Lawler, chairman and CEO of Ford Motor China. "The combination of great performance and great value is clearly bringing more people into Ford showrooms."
Then the question becomes, "Are people over reacting?" We believe that people just may be doing that. Let's take a look at the company's valuation. At today's price of $11.32 Ford is,
5.5x forward earnings
0.32x sales
1.67x book value
EV/sales of 1.03
At multiples and levels like these, Ford is basically being written off as a company that is going to have a disastrous next few years and not be able to produce similar earnings as it has over the last fiscal year. We disagree with that, and think that Ford's international expansion is still just gaining ground, giving them many quarters of growth to continue to look forward to.
In the United States, we have an entirely different look on things. While investors are correct in worrying about the auto cycle being toppy here, especially given the amount of credit that has been extended, the average age of the vehicle on the street hasn't been higher.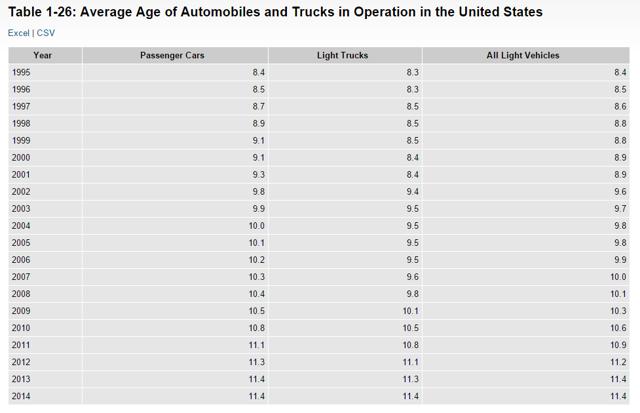 Click to enlarge
This leads us to believe that there could still be decent demand for automobiles domestically. This domestic backbone, from which we get our international jumping point, we think is steadily intact.
Management's commentary from the last earnings call, combined with recent comments that Mr. Fields made on CNBC, seem to dictate that the company believes it is full speed ahead. Handicapping for some risk, but not a total catastrophe, and we think Ford stock is still very cheap here. We also think the dividend is very safe and we think that Ford will continue to deploy capital to shareholders via means similar to its special dividend that it recently distributed. The CEOs comments on CNBC a couple of days ago support this idea, and he seems set on deploying capital to shareholders, especially if they continue to feel the equity is underpriced.
The valuation remains very compelling and both domestic and international growth prospects continue to be promising. We continue to think that Ford represents an attractive investment here, especially for those that have a long term multiyear outlook on their holding.
Disclosure: I am/we are long F, GM.
I wrote this article myself, and it expresses my own opinions. I am not receiving compensation for it (other than from Seeking Alpha). I have no business relationship with any company whose stock is mentioned in this article.