"Human behavior flows from three main sources: desire, emotion, and knowledge." - Plato
No asset class or investment seems to get people more riled up than Gold (NYSEARCA:GLD). On one extreme are the "Gold Bugs" who defend the role of Gold as the world's only true currency in a world full of central banks debasing their way out of deflation. On the other hand are those who argue Gold has no place in a portfolio, completely and utterly worthless when it comes to generating wealth.
Here is what we know about Gold factually:
Gold is perhaps the only truly consistent alternative asset given low correlation to pretty much anything
Gold can be viewed as an indicator of risk-off conditions as we show in our 3rd award winning paper (click here to download)
Gold, like every investment, has cycles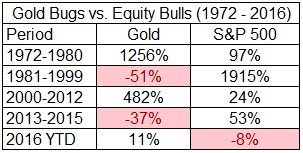 To deride or actively support any investment with emotion serves no purpose. Objectively, Gold does have a role in one's portfolio purely because continuous rebalancing can result in better risk-adjusted returns over the long-run. Sure - one can buy Gold purely because one wants to "short" central banks (an idea my friend Marc Faber popularized not too long ago). In reality though, Gold should be viewed not in isolation, but as an ingredient in a bigger recipe of how to manage the long-term and all of the uncertain paths that come with it.
This writing is for informational purposes only and does not constitute an offer to sell, a solicitation to buy, or a recommendation regarding any securities transaction, or as an offer to provide advisory or other services by Pension Partners, LLC in any jurisdiction in which such offer, solicitation, purchase or sale would be unlawful under the securities laws of such jurisdiction. The information contained in this writing should not be construed as financial or investment advice on any subject matter. Pension Partners, LLC expressly disclaims all liability in respect to actions taken based on any or all of the information on this writing.
Disclosure: I/we have no positions in any stocks mentioned, and no plans to initiate any positions within the next 72 hours.
I wrote this article myself, and it expresses my own opinions. I am not receiving compensation for it (other than from Seeking Alpha). I have no business relationship with any company whose stock is mentioned in this article.