In October of 2014, I launched an Income Centric Portfolio, with the dual purpose of providing high current income and preserving the capital. The primary goal of this portfolio was to provide roughly an 8% income while preserving or growing the capital slowly (please see full disclosure at the end of the article). You can see my previous update here.
To recap, a total amount of $100,000 was initially allocated to the portfolio, and an amount of $8,333 in cash was added to the portfolio every month for one year (a total of $100,000 over 12 months). No more fresh money to be added thereafter.
Cash added/contributed:
10/17/2014: $100,000 (Initial)
From Nov. 1st, 2014 until October 1st, 2015:
$100,000 ($8333 *11 + $8337)
-----------------------------------
Total cost basis: $200,000
Here is the current portfolio composition:
Fund Name

SYMBOL

Fund's composition

1

Duff & Phelps Select
Income (NYSE:DNP)

DNP

Utility (80%)

2

Kayne Anderson MLP (NYSE:KYN)

KYN

Energy MLP CEF fund
(MLP - Master Limited Partnership)

3

Guggenheim Strategic Opp Fund (NYSE:GOF)

GOF

Equity CEF fund

4

Columbia Seligman Premium Tech Growth (NYSE:STK)

STK

Equity CEF fund

5

Nuveen Muni High Inc Opp (NYSEMKT:NMZ)

NMZ

Muni Tax Free (Tax free yield)

6

PIMCO Dynamic Credit Income (NYSE:PCI)

PCI

Global Income, including corporate debt, mortgage-related and other asset-backed securities

7

PIMCO DYNAMIC INCOME FD (NYSE:PDI)

PDI

Debt obligations and other income-producing securities

8

ISHARES US PREFERRED STOCK ** ETF **

(NYSEARCA:PFF)

PFF

Preferreds 90% (This is an ETF, not CEF)

9

COHEN & STEERS TOTAL RETURN REALITY Fund (NYSE:RFI)

RFI

REIT (Real Estate) CEF

10

COHEN & STEERS REIT & Preferred Income fund (NYSE:RNP)

RNP

Preferred is 48%, 50% REIT

11

Cohen & Steers Infrastructure (NYSE:UTF)

UTF

Utility+Infrastructure (50% is International)

12

UBS ETRACS Monthly Pay 2xLeveraged ETN (NYSEARCA:CEFL)

CEFL

Exchange Traded Note (based on the index of CEF's)

13

Annaly Capital Management Inc (NYSE:NLY)

NLY

mREIT

14

Main Street Capital Corp (NYSE:MAIN)

MAIN

BDC (Business Development Co)
New Purchases:
Sale/Purchases made since Sept. 2015:
Though we have had plenty of cash waiting to be invested, but few opportunities exist to invest in this market. The market direction has been very fluid and we need to be cautious. We also want to keep some dry powder ready in case market corrects big time. Nevertheless, we need to deploy at least some of the cash that we have in the portfolio, albeit cautiously and gradually.
Here are our original buy rules:
Investment fund is down in excess of 15% (25% for 2x leveraged funds).
The discount for the CEF fund is more than its 12 month average.
Position sizing should not exceed 10-12% for CEF/funds, or 5% for any individual stock.
There are no red flags.
Note that these are only the basic rules to filter, but the final decision should be based on further research. The table (below) shows the funds in the portfolio in the order of performance as of 31st December, 2015 (from worst to best).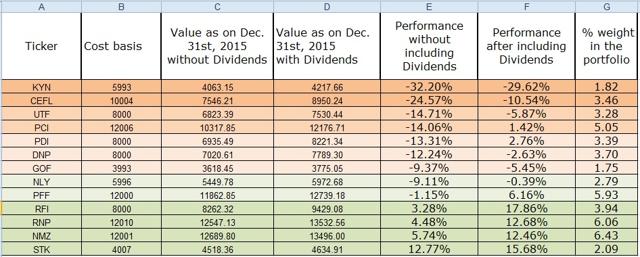 Click to enlarge
Our energy based MLP, 'KYN' has been down big time and had the worst performance of all, however, not because anything is wrong with the specific fund, but because of the ongoing problems with the oil prices. Since we are underweight in this fund, and oil prices are hovering around $30's, any additional buy at this point would be near the bottom. It does not mean that KYN can't go down further (more than likely it may), but it is very difficult to catch the absolute bottom. So, we added $4,000 to KYN on 01/11/2016.
CEFL: From the above table, it is obvious CEFL has disappointed. I personally don't expect much better from this fund going forward. Even though it may make sense to buy more at these prices to bring down our cost basis, but looking at the high risks involved with this fund, we will skip any additional buy at this time. However, we will hold our current position.
PCI and PDI have had reasonable performance, especially after counting dividends. Since we were fully weighted in PCI at this time, however, we could deploy some additional funds in PDI. Added $4,000 to PDI on 01/11/2016.
Other additions:
We also added $4000 to GOF on 01/20/2016, as it was underweight and considerably down during January (roughly 15%).
Main Street Capital Corp :
Post selling of MORL position, we had made an investment in NLY (Annaly Capital Management) in the mREIT sector. I wanted to diversify with an investment in BDC sector and add MAIN for some time, so as to balance quality, risks and the yield. Even though currently MAIN has yields slightly less than 8%, higher dividend from NLY should balance it out. Initiated a position in MAIN with $4000 as of 01/20/2016.
1

Sold during the period (Sept 2015 - Jan 2016)

None

2

New investments made during the period (Sept 2015 - Jan 2016)

$16,000

3

Net new money invested (2 -1)

$16,000

4

Net Cash deployed so far

$131,171

5

Dividends collected

(from Oct 17, 2014 until Feb 4th, 2016):

$12,889.23

6

Net Cash position (02/04/2016)

$81,718.12

7

Cost basis (02/04/2016)

$200,000.

8

Portfolio balance (as of 02/04/2016)

$199,227.14

9

Net profit/Loss (incl. dividends) (02/04/2016)

$-772.86

-0.39%

10

Net profit/loss (excl. dividends) (02/04/2016)

$-13,662.09

-6.83%
Dividends:
Total dividends earned during 2015: $9,729
Total dividends earned since portfolio inception: $12,889
On a forward-basis, we are looking at roughly 9.0% plus dividend yield on the funds that have already been deployed. This is comfortably above our target of 8%. If we were to include the undeployed cash, the dividend is close to 6.0%. However, this would resolve over the next 6-12 months.
Symbol

Dividend income in 2015

Dividend since portfolio inception.

Symbol

Dividend income in 2015

Dividend since portfolio inception.

CEFL

1226.45

1577.47

NLY

522.90

522.90

DNP

615.90

819.62

NMZ

707.22

875.98

DSE (sold)

492.12

647.01

PCI

959.29

1379.74

GOF

156.60

195.75

PDI

1300.25

1946.73

KYN

154.51

283.76

PFF

686.10

929.62

MAIN

(new)

0

0

RFI

858.56

1166.76

MORL (sold)

305.78

305.78

RNP

837.78

985.43

NFJ (sold)

214.54

429.08

STK

116.55

116.55

UTF

574.73

707.05

TOTAL in the year 2015 = $9729.28

TOTAL since inception = $12,889.23
Also, here is the current portfolio as of 02/04/2016: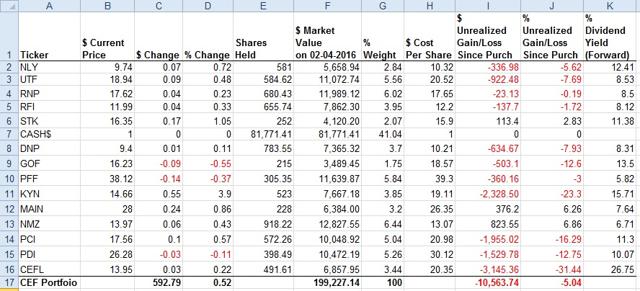 Click to enlarge
Performance:
I set forth a very simple set of goals for this portfolio:
1

Earn current income of 8%

Met

(on invested funds)

2

Provide a lower volatility

Met

3

Preserve capital and provide 2% capital appreciation over the long term.

Not Met
This portfolio is now over a year old (16 months to be precise). Cash contributions were made over the first 12 months. It is meeting its primary goal of dividend yield, but not the total return. However, market conditions in 2015 as well as in 2016 so far have been outright difficult to say the least. Thus far, the portfolio has held up pretty well and barely lost any money (after counting dividends). So, the portfolio performance should be seen in the overall market perspective. One big contributor of underperformance has been our investments in the Oil sector MLP's, initially in DSE, and later on in KYN. In retrospect, it was a wise decision to switch from DSE to KYN.
In a nutshell, here is how we have fared so far against our goals:
We earned an income of $9,729 during the last year and $12,889 since inception. The yield on the deployed funds exceeds 8% on the cost.
Capital preservation: Including dividends, the portfolio is down 0.3% (less than a half percent) as of 02/04/2016. However, if we were to exclude dividends, it has lost roughly 6%.
As we have done in the past, we will compare the performance of our Income Centric Portfolio with a traditional 60/40 stocks/bond allocation portfolio, assuming similar amounts were contributed on the same dates. I will compare our Income Centric Portfolio with a hypothetical stock/bond portfolio with 40/20/40 allocation to Vanguard Total Stock Market ETF (NYSEARCA:VTI), iShares MSCI EAFE - International (NYSEARCA:EFA), and (Vanguard Total Bond Market ETF (NYSEARCA:BND).

Click to enlarge
During this period, our Income Portfolio beats the stock/bond (60/40) portfolio on all three metrics, total return, income, and volatility. In terms of income, the Income Portfolio leads the stock/bond portfolio by a wide margin. The Income Portfolio generated an income of $12,889, compared to $5010 generated by the stock/bond portfolio (which is fully invested). As of 02/04/2016, the total value of the Income Portfolio stood at $199,227 compared to $196,289 for the stock/bond portfolio, dividends included.
Note that we are still maintaining a large amount of cash (roughly 40%) which we intend to bring down to 15-20% range over time, but at a slow and gradual pace, with a margin of safety. Though this is costing us some dividend income in the short run, but will serve us well in the long term. One last point I will like to remind (as a word of caution) that this portfolio should not be considered as a "core" portfolio. In my opinion, no more than 25-30% of the investible assets should be allocated to this kind of portfolio.
Other Portfolios:
Please see my other portfolios with unique goals and risk levels. For regular updates and to keep track of these strategies, please consider following me.
Full Disclaimer: The information presented in this article is for information purpose only and in no way should be construed as financial advice or recommendation to buy or sell any stock. Every effort has been made to present the data/information accurately, however the author does not claim for 100% accuracy. The portfolio or other investments presented here are for illustration purpose only. The dollar amounts in the model portfolio are hypothetical.
Disclosure: I am/we are long CEFL,GOF, KYN, MAIN, NLY, NMZ, PCI, PDI, PFF, RFI, RNP, UTF.
I wrote this article myself, and it expresses my own opinions. I am not receiving compensation for it (other than from Seeking Alpha). I have no business relationship with any company whose stock is mentioned in this article.