To me, Deere & Company (NYSE:DE) is one of the most interesting machinery companies. It has a diversified portfolio of products and operates around the world providing solutions for farmers, construction companies and consumers.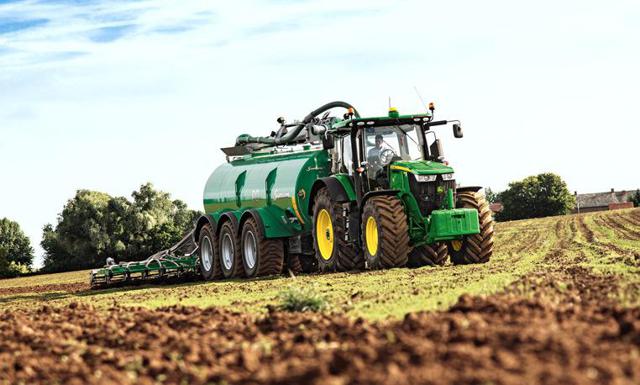 History
Founded in 1837, John Deere began as a small blacksmith in Grand Detour and started the first factory to produce his breakthrough invention: a self-scouring plow.
Nowadays, the company's headquarter is located in Moline, Illinois and oversees more than 57,000 employees. The company is worth over 23 billion USD and is currently number 323 on the Forbes Global 500 Companies list.
Quick Overview
About 68% of Deere's revenue comes from the agriculture & turf business. Construction and forestry is responsible for 21% of Deere's revenue. The remaining 11% are provided by Deere's financial services.
65% of Deere's sales are made in the US and Canada.
Most important is to note that Deere has a high correlation with agricultural products like wheat prices. This is not a surprise since Deere is the second largest producer of agricultural tractors. Number one on the list is Massey Ferguson, which is a part of the AGCO Corporation (NYSE:AGCO).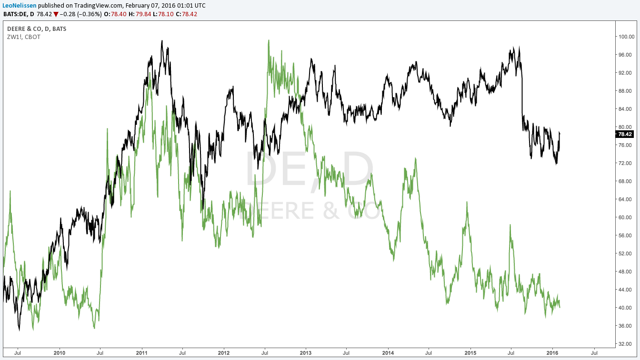 The picture below shows the correlation with an ETF that holds all agricultural commodities. The ProShares DB Agriculture Fund (NYSEARCA:DBA). The correlation is coming back rapidly since July of 2015.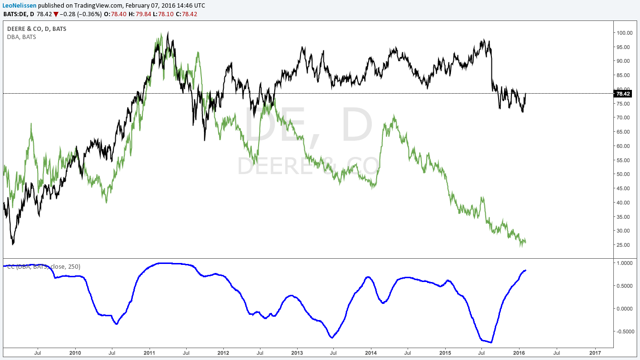 Although Deere has a high correlation with agriculture commodities, it is not the best indicator. Agriculture & turf is 68% of Deere's revenue stream. Without the turf business, the revenue stream from soft commodities is well below 50%. In other words, low agricultural prices put pressure on the stock but do not force the stock lower. A combination of low agriculture prices, consumer confidence (turf products) and building products (forestry) however will push the stock lower.
And that is exactly what we are seeing now. Consumer confidence and therefore retail sales are slowing while construction and building products are in contraction. This puts enormous pressure on Deere.
Past Performance
Excluding returns from dividends, Deere's stock is at 2010 levels. The last big rally was from the 2009 lows until 2011. The stock gained over 300% within these three years.
Revenues bottomed in 2010 and soared about 70% until the peak in 2014. Sales are down 24% since that peak and do not show any signs of a bottom.
Not only top line growth was weak, the bottom line also suffered. Although soaring 300% from the 2010 bottom, earnings began to decline in 2014 and are down almost 50% since then.
Despite the recent slowdown, Deere is the number one in the machinery industry when it comes to profitability and efficient use of equity. None of the peers have higher operating and profit margins and return on equity is almost double as high as Caterpillar's (NYSE:CAT) ROE.

Growth Outlook
Earnings growth does not look good for the future. Analysts expect a further decrease of almost 26% in 2016 and a 2% decline in 2017. First increase is expected in 2018 (6.3% expected growth).
Overall, the average growth for the coming 5 years is estimated to be 6%.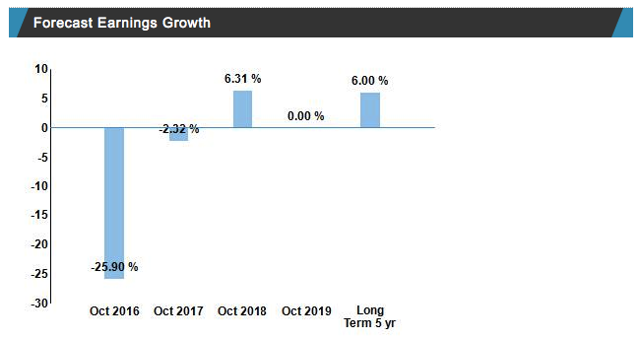 Forecasts might be revised as the economy worsens. However, this has not been the case. Deere received three up revisions. Two for the first quarter of 2016 and one for the fourth quarter of the same year.
Valuation
The industrial goods sector trades at 35.4 times earnings. The farm & construction industry trades at a discount versus the sector (P/E 14.6). Deere is close to the average peer with a P/E ratio of 13.6.
If you take future growth into account, the company trades at a PEG of 3.06.
In my opinion, too high, if you take macro risk into account.
Dividends
The average competitor of Deere pays about 2.60% in dividends. Deere pays about 46 basis points more and generates 3.06% dividend yield for investors at current price levels.
Furthermore, Deere has been raising dividends for decades.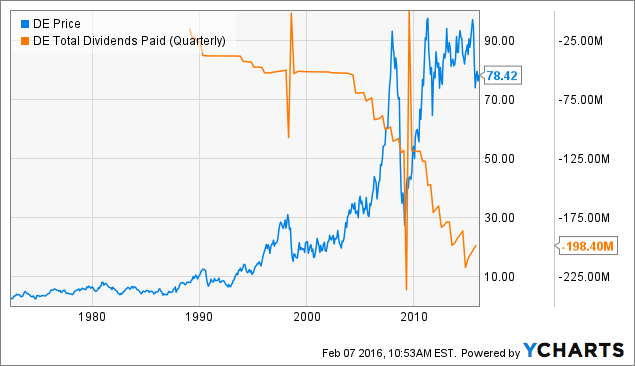 DE data by YCharts
The one thing that is most interesting to me when it comes to Deere's balance sheet is the huge amount of accounts receivables.
Accounts receivable are almost half of all assets and therefore putting the company at a tremendous risk when it comes to defaults of customers.
On the short term, however, Deere does not have any problems paying its bills or financing investments nor does it have problems due to too much long-term debt in the current environment.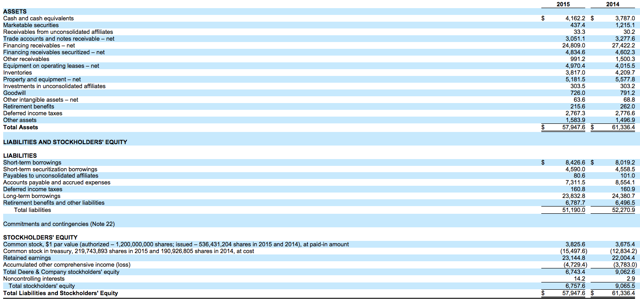 Source: SEC
Analysts' Stock Price Forecasts
When it comes to the price targets given by analysts, I always mention the fact that these expectations are totally useless when it comes to stock analysis. This should be one of the last things you do before putting a stock on the watchlist.
In Deere's case, the stock expectations meet the fundamentals I discussed in this article.
The average stock price target is -1% from the current price while the highest target is reached if Deere soars 21%. Lowest price target is minus 21%.
The average price target is in decline since the stock peaked in August of 2015.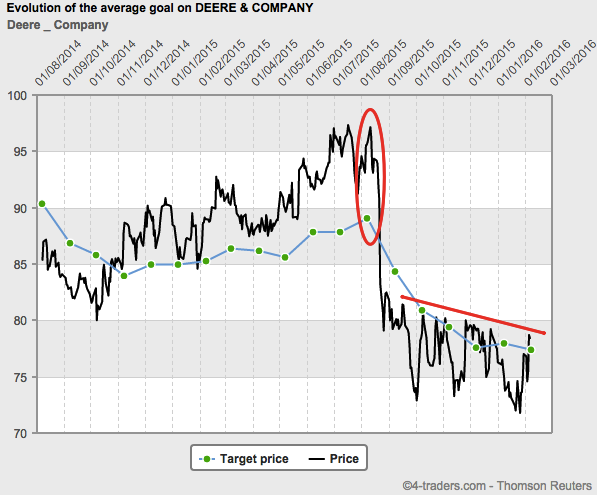 Summary
Deere is in a challenging environment facing headwinds from a slower construction business, low commodity prices (agricultural and lumber) and declining retail sales and consumer confidence.
All of these put a tremendous pressure on Deere's sales and outlook (since there is no bottom in sight for the economy at this point).
Forecasts for both future earnings and stock price are disappointing and pointing towards a lower stock price in the future.
As seen in the picture above, the stock is at a resistance point.
So to conclude this article, I do not recommend buying this stock. You might consider shorting it regarding the fundamental situation of the economy and the industry.
If you are a dividend trader and want to hold the stock as long as possible, wait and buy at lower prices. Deere has the potential to withstand severe economic times and is a great stock for the long-term trader. But for now, I recommend staying away or shorting it.
Disclosure: I/we have no positions in any stocks mentioned, and no plans to initiate any positions within the next 72 hours.
I wrote this article myself, and it expresses my own opinions. I am not receiving compensation for it (other than from Seeking Alpha). I have no business relationship with any company whose stock is mentioned in this article.
Additional disclosure: Although I recommend to short the stock, every trader needs to take care of his/her own risk management.