While long-term investors should not let earnings and cash flows from quarter to quarter be the sole reason to invest or avoid a stock, it is important to be aware of how companies (or potential investments) may perform over the near term. We believe that the main purpose for understanding how a business will perform in the short term is so that financial models can be more beneficial by accounting for estimated short-term financial performance. Many long-term investors would probably say that just because a company may perform poorly (from a financial perspective) for a finite time doesn't mean that the investment is necessarily bad. The main reason for this is that valuations may be too low. In other words, the "market" may be under-valuing the stock when considering the company's cash flows and discount rate (i.e. weighted average cost of capital). The company that we will look at in this article is Chemical & Mining Co. of Chile, Inc. (NYSE:SQM).
SQM Company Overview
SQM is a chemical and mining company with its headquarters in Santiago, Chile. It produces and distributes specialty plant nutrients, iodine and its derivatives, lithium and its derivatives, industrial chemicals, potassium, and other products and services. Although the company is headquartered in Chile, its functional and presentation currency is the U.S. dollar, because, per the 2014 annual report, this is the currency of SQM's main economic environment. Also, a majority of the company's sales are outside of Chile (sales outside of Chile are considered foreign sales). Per the 3Q consolidated financial statements, approximately 90.5% of total sales are foreign sales (year to date).

Click to enlarge
Looking at revenue by geographical area, one might notice the "Asia and others" area accounted for slightly more revenue than North America (and North America is not necessarily just the U.S.), so it's important to point out that "main economic environment" can include things like capital and debt markets that the company operates in and is not likely restricted to just sales by area. So this expanded definition would include issuing debt denominated in U.S. dollars or raising capital via equity in the U.S. marketplace.
Main Categories
The company has six product segments/categories. The categories are specialty plant nutrients (potassium nitrate is the most important product in specialty plant nutrients), potassium (potassium chloride and potassium sulfate), iodine and its derivatives, lithium and its derivatives, industrial chemicals (i.e. solar salts), and other products and services.
In the first nine months of 2015, revenues and gross margins were down compared to the same period in 2014. Note that full-year earnings have not been released yet. It's expected that SQM will publish 4Q 2015 results on March 1st after market close.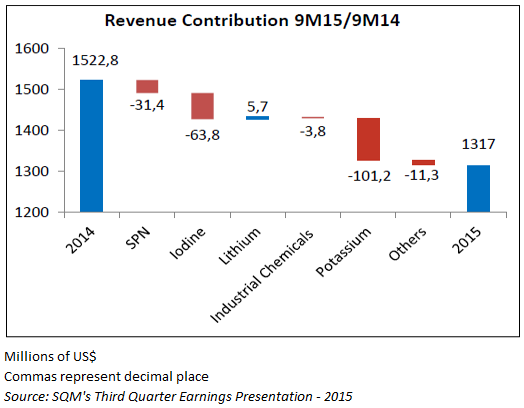 The chart above shows the total revenue for the first nine months in 2014 and 2015, as well as the increase or decrease in revenue per category period over period. It is in millions of U.S. dollars. Also note that sometimes South American countries use commas for decimals. In other words, 2014 revenue over the first nine months was $1.5228 billion and the potassium operating segment contributed $101.2 million less revenue in 2015 ytd than it contributed in 2014 ytd.
The two operating segments that (combined) account for the majority of total revenue are specialty plant nutrients and potassium at 38% and 25%, respectively.

Click to enlarge
2016 Market Outlook
Per SQM's 2016 Market Update press release, the company's potassium nitrate sales volume was about the same in 2015 as it was in 2014, but it expects higher volumes in 2016. According to SQM, potassium nitrate is the most important product in its specialty plant nutrients operating segment. For both the segment and potassium nitrate, prices were slightly lower in 2015 compared to 2014, and the company expects average prices to be even lower in 2016 (albeit, only slightly lower). As previously mentioned, specialty plant nutrients account for about 38% of consolidated revenue.
Potassium chloride prices fell throughout 2015, and it expects average prices to be lower in 2016 than they were in 2015. This may have a negative effect on revenue in its potassium segment. It is important to note that the company's specialty plant nutrients include potassium nitrate while the potassium operating segment includes potassium chloride and potassium sulfate, per SQM's 2014 annual report.
Although SQM saw demand growth in the iodine market in 2015 and expects to see further demand growth in 2016, prices are an area of concern in this market for the company and has had a major impact on margins in this business line. Gross margin contribution from the iodine segment decreased approximately $51 million in the first nine months of 2015 relative to the same period in 2014.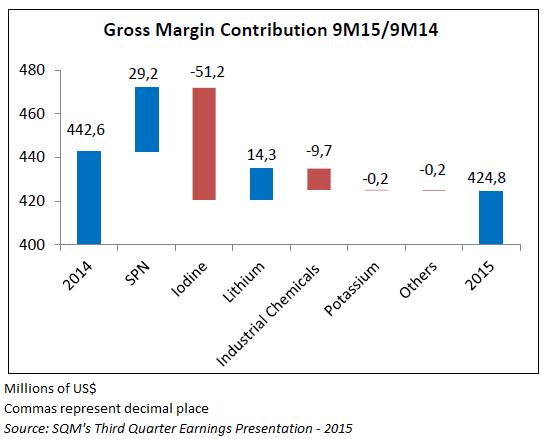 It also estimates that pricing pressure in the Iodine market will continue to have an effect on margins. In the fourth quarter of 2015, prices were around $26 per kilogram.
The lithium market has been having a positive gross margin contribution for the company. Prices trended upward in 2015, and some possible tightness in the market due to delays in lithium projects could cause significant price increases in 2016. SQM expects world demand to grow 5% in 2016 and its sales volumes to also increase in 2016.
Solar salt sales for 2015 may come in at less than 40,000 MT. Originally, SQM expected sales of about 75,000 MT in 2015, but some sales in the fourth quarter have been postponed from 2015 to 2016. It does expect sales of over 75,000 MT in 2016, but keep in mind the expected 2016 volume includes the stated postponed sales.
Notable Legal Proceedings
While SQM is dealing with multiple legal proceedings, the most important in our opinion is the arbitration proceedings in relation to the lease agreement for the Salar de Atacama. The dispute is with Corfo (Product Development Corporation), which is a national organization that is in charge of promoting manufacturing productivity and commercial development in Chile.
In summary, Corfo owns the rights to mining exploitation concessions in the Salar de Atacama and leases the rights to SQM Salar (subsidiary of SQM) in exchange for quarterly payments based on a specified percentage of the value of the products extracted from such concessions. Basically, Corfo is alleging that SQM Salar incorrectly applied the formulas for the lease payments and ultimately underpaid Corfo by at least $8.9 million, and that SQM Salar did not comply with its obligations to protect the mining rights of Corfo which is related to placing markers to delineate property lines, per SQM's 2014 annual report.
The potential direct cost is not the only concern for SQM. Also, it could possibly have the lease agreement terminated. The company has made multiple statements that it doesn't expect this unfavorable outcome, but it's still important to at least consider its possibility. Income from products originating from Atacama saltpeter deposit represented 37.48% of total comprehensive income, per SQM's 3Q consolidated financial statements. Salar de Atacama produces potassium chloride, lithium chloride, and boric acid potassium sulfate, so the potassium and lithium business lines could be negatively affected if the lease agreement was terminated and SQM lost access to the mineral rights that SQM currently has through the lease agreement. According to the 3Q earnings conference call, the arbitrator is expected to reach a decision or request an extension in the second half of 2016.
Cost Cutting and Balance Sheet
With the Corfo legal proceedings threatening approximately 37% of SQM's total comprehensive income and the expectations that many of its products may experience a decrease in selling prices in 2016, it's difficult to see many positive business dynamics in the short term. One positive is its focus on cost. In the company's 2016 Market Update, the CEO, Patricio de Solminihac, commented that it has decreased costs in a sustainable way. Patricio de Solminihac also pointed out the company's strong balance sheet and increased efficiencies. These things are usually good to focus on at any stage for a company, but it's even more important to focus on costs and efficiencies when operating in an unfavorable economic environment.
In Conclusion
The overall outlook for SQM in 2016 doesn't look all that great right now, and there are some meaningful risks that we have mentioned. In the short term, it may be difficult for the company to increase free cash flows due to pricing pressures, and the litigation resulting from Corfo's claims needs to be monitored closely as there is a risk that earnings could be adversely impacted by an unfavorable decision by the arbitrator. We would like to see one or more of the following happen before we would initiate an investment in SQM:
Valuations come down further
Selling prices in SQM's "main" operating segments increasing (or at least no longer decreasing)
Or a favorable decision by the arbitrator in regards to the lease agreement with Corfo
While valuations don't appear too rich right now, due to the risks mentioned in this article, we would require a larger margin of safety than we believe currently exists.
Disclosure: I/we have no positions in any stocks mentioned, and no plans to initiate any positions within the next 72 hours.
I wrote this article myself, and it expresses my own opinions. I am not receiving compensation for it (other than from Seeking Alpha). I have no business relationship with any company whose stock is mentioned in this article.
Additional disclosure: Information in this article represents the opinion of the author. Opinions expressed herein are not an investment recommendation and are not meant to be relied upon in investment decisions. The author is not acting in an investment, tax, legal or any other advisory capacity. The opinions expressed herein address only select aspects of potential investment in securities of the companies mentioned and cannot be a substitute for comprehensive investment analysis. Any analysis presented herein is illustrative in nature, limited in scope, based on an incomplete set of information, and has limitations to its accuracy. The author recommends that potential and existing investors conduct thorough investment research of their own, including detailed review of the companies' SEC filings. The information upon which this material is based was obtained from sources believed to be reliable, but has not been independently verified. Therefore, the author cannot guarantee its accuracy. Any opinions or estimates constitute the author's best judgment as of the date of publication, and are subject to change without notice. The author explicitly disclaims any liability that may arise from the use of this material.