The recent announcement out of Navios Maritime Partners L.P. (NYSE:NMM) to suspend the distribution has left investors feeling slighted for the second time in as many quarters. I too was among those who believed the CEO, Ms Frangou, when she assured investors that the distribution was safe through 2016, though I was not fooled a second time and expected a cut in the most recent quarter. However, I will say the absolute suspension of the distribution caught me by surprise.
I honestly was baffled for a little bit about why a company with a seemingly secure cash flow from the container shipping segment would choose to sacrifice credibility, risk lawsuits, and upset investors who ditched the stock resulting in a 80% drop since the initial distribution cut.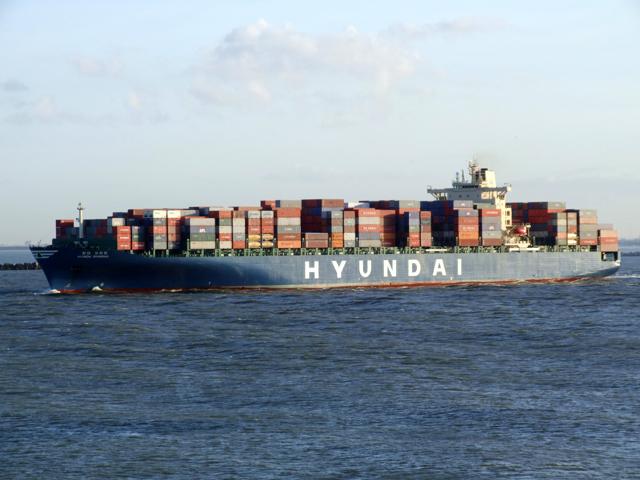 Click to enlarge
Source: Wikimedia Commons
But the answer was right there in my question. The container shipping segment may not be as secure as the CEO may have led investors to believe. In fact, I would not characterize the main charterer for the segment, Hyundai Merchant Marine Co., HMM, as "strong" in any way, shape, or form. This is especially concerning when in the 20-F they note that "currently, our major customers are Hyundai Merchant Marine Co., Ltd and Navios Corporation. For the year ended December 31, 2014, these charterers accounted for 24.4% and 11.0%, respectively, of total revenues." There is no doubt that percentage has grown since that report as dry bulk charter revenues have suffered while these long term charters remained constant.
According to that same 20-F, five out of the eight container ships that NMM owns are chartered out to HMM.

Those five are all of the 6,800 TEU class. Currently, the 6,800 TEU vessels command $30,119/day and are chartered through December of 2023. The rates they enjoy are far better than what could be fetched in the current market if they were forced to re-charter.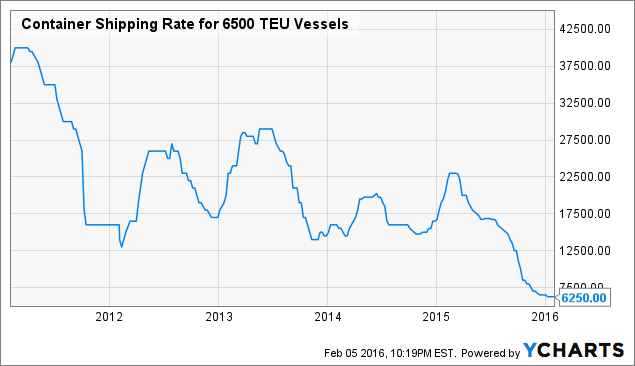 Source: Ycharts
The news is obviously distressing. If HMM isn't able to follow through on the charter contracts, NMM would be forced to re-charter at current rates which would mean these lucrative contracts would disappear and the new charters would barely be enough to cover OPEX.
So what makes me think that HMM might not be able to follow through on these contracts?
A recent Bloomberg article reported that "this year is going to be a brutal year for Hyundai Group," said Park Moo Hyun, an analyst at Hana Daetoo Securities Co. in Seoul. "
The reason behind the Hyundai Groups troubles can be traced largely to HMM. As Bloomberg points out, Hyundai Merchant Marine Co. is highly unprofitable and "has so much debt it amounts to 786 percent of its equity. The company has 2.2 trillion won of debt coming due by Sept. 30, and only 200 billion won of available cash. With the shipping market turning worse, analysts see no end in sight for Hyundai's struggles."
A local affiliate of Moody's Investors Service, Korea Investors Service, has placed the company's rating on negative watch, noting that its liquidity risk may increase further if there are no additional restructuring plans or financial aid from the government or creditors.
An acknowledgment of just how bad the situation is came this past Tuesday when it was announced that Hyundai Group is taking additional steps to improve the flagship's finances after discussions with creditors.
Bloomberg reported: Hyundai Merchant will sell its bulk ships that are tied to long-term contracts, as well as a stake in affiliate Pusan Newport Co., to raise funds as slowing trade and excess capacity weigh on shipping rates.

The unprofitable company will receive 100 billion won in emergency funding, its parent Hyundai Group said Tuesday. This includes 30 billion won from group chairwoman Hyun and 70 billion won from asset sales, including a stake in Hyundai Asan Corp., the operator of the group's tourism projects in North Korea.

In 2013, the Hyundai Group said it planned to sell Hyundai Securities, two other financial units and a hotel to raise as much as 1.3 trillion won. Hyundai Merchant also planned to raise about 1.5 trillion won selling stakes in container terminals and restructuring its bulk-cargo operations.

"Previous steps weren't enough to resolve its liquidity crisis because of the persistently sluggish shipping environment," the group said in Tuesday's statement.
This latest move was described by The Wall Street Journal as a last ditch attempt to "stave off bankruptcy".
Fortune took a similar view and stated that "it's one of the biggest signals so far of the severity of the problems facing the global shipping industry, and may be the last hope for Hyundai Merchant to avoid bankruptcy."
Conclusion
I hate to add bad news to an already bad situation. So I will simply let the 20-F do the talking: "The charterers in the containership sector consist of a limited number of liner companies. The five Container vessels acquired and delivered into our fleet in the fourth quarter of 2013, the two Container vessels acquired and delivered into our fleet in the third and fourth quarter of 2014, are respectively chartered out to the same counterparty on long-term charters, which have a significant impact on our revenues. The combination of any surplus of containership capacity and the expected increase in the size of the world containership fleet over the next few years may make it difficult to secure substitute employment for any of our containerships if our counterparty fail to perform their obligations under the currently arranged time charters, and any new charter arrangements we are able to secure may be at lower rates."
Sadly, this looks to be happening right now with HMM, placing 25% of NMM's revenue in jeopardy. It is also noteworthy that NMM isn't the only one facing this problem. Danaos Corporation (NYSE:DAC) reported that 28% of 2014 revenue was from HMM.
I welcome all questions/comments and invite you to follow me on Seeking Alpha as I continue to cover all aspects of maritime trade. Thank you for reading.
Disclosure: I/we have no positions in any stocks mentioned, and no plans to initiate any positions within the next 72 hours.
I wrote this article myself, and it expresses my own opinions. I am not receiving compensation for it (other than from Seeking Alpha). I have no business relationship with any company whose stock is mentioned in this article.