Stocks wrapped the trading week on wobbly footing as investors digested a decidedly mixed reading on the U.S. job market and a fleeting short-term recovery for oil prices tied to a weaker dollar.
Economic uncertainty and the pacing of a Federal Reserve response to hot-and-cold economic news will likely continue to drive market chatter in a new trading week, along with continued volatility for an oil market plagued by heavy supplies.
The S&P 500 (SPX), in figure 1, poked through the 1900 level after a report Friday revealed the U.S. economy added just 151,000 jobs in January. That was shy of the 180,000 consensus forecast from a survey of economists polled by MarketWatch. That news also sapped demand at least short-term for traditionally high-growth areas, including technology shares. The tech-heavy NASDAQ Composite (COMP) logged a 5% weekly loss.
However, Wall Street took heart in some of the job's report details that included stronger-than-expected growth in average hourly earnings, as well as a decline in the unemployment rate to an eight-year-low 4.9% from 5%. The jobless rate can be a bit of a fuzzy number as it can decline due to job growth but also when more people drop out of an active search for employment.
Perhaps the biggest readout was this detail: the average wage paid to U.S. workers jumped 0.5% in January to $25.39 an hour. Slow-growth wages have been one puzzling factor this deep into an economic recovery. This reading could up the pressure on this week's retail sales report to confirm that wages aren't stuffed under the mattress.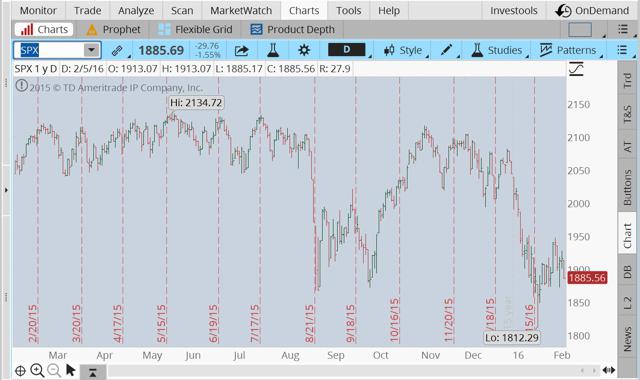 Click to enlarge
Figure 1: 1900 Compromised. The S&P 500 (SPX), plotted here through Friday midday on TD Ameritrade's thinkorswim platform, pierced the psychologically significant 1900 line in Friday's session. That area had drawn congestion that optimists hoped was establishing a base. Data source: Standard & Poor's. For illustrative purposes only. Past performance does not guarantee future results.
But Will They Spend It? Retail sales data is the likely highlight in a fairly slim economic release calendar this week (figure 2). The mixed January jobs report out Friday left optimists hopeful that hiring is strong enough-bolstered by a wage increase-to translate into spending on new homes, cars, tech upgrades, clothes, and more. The report could matter to the Federal Reserve, which wants to see hiring fuel stronger and broader economic growth. Retail spending has been spotty and Friday's jobs report followed other evidence of slowing growth, including in the U.S. service sector.
What About the Fed? In fact, the market's Fed watch takes on a new slant following commentary last week. New York Fed President William Dudley signaled a desire to wait and see whether the stock market's backpedal makes a dent in the economy. Fed Vice Chairman Stanley Fischer also sounded more cautious, saying he was unsure how many times the Fed will raise interest rates this year. The Fed hiked ultra-low interest rates for the first time in nine years in December and sketched out the probability for four more hikes in 2016. The market isn't buying it. Short-term Fed funds futures markets have priced in the strongest odds for the next potential rate hike in July, but only at a 39% chance.
Can Earnings Fill in Some Gaps? The consumer may feature in next week's dwindling earnings report schedule as the latest reporting round nears its end. Among those due to report are tourist and entertainment concerns MGM Resorts International (NYSE:MGM) and Disney (NYSE:DIS). DIS in particular could be of interest as the quarter will include the impact from the blockbuster Star Wars: The Force Awakens release and any related toy and clothing licensing. DIS earnings in recent quarters have left investors focused on its ESPN property, which industry analysts say has lost traction due to so-called "cord cutting" away from cable in favor of on-demand streaming.

Click to enlarge
Figure 2: Economic Agenda. This week's U.S. economic report calendar. Source: Briefing.com.
TD Ameritrade, Inc., member FINRA/SIPC. TD Ameritrade is a trademark jointly owned by TD Ameritrade IP Company, Inc. and The Toronto-Dominion Bank. Commentary provided for educational purposes only. Past performance is no guarantee of future results or investment success.
Disclosure: I/we have no positions in any stocks mentioned, and no plans to initiate any positions within the next 72 hours.
I wrote this article myself, and it expresses my own opinions. I am not receiving compensation for it. I have no business relationship with any company whose stock is mentioned in this article.