The Lunar New Year is upon us and over a billion people will soon be celebrating the start of the year of the monkey. If you have ever done business with a company in a country observing the festival you will be quite aware that everything comes to a grinding halt. The Chinese stock market will be closed all week, as will most business activities, and over in Hong Kong things are shut now and will reopen on Thursday.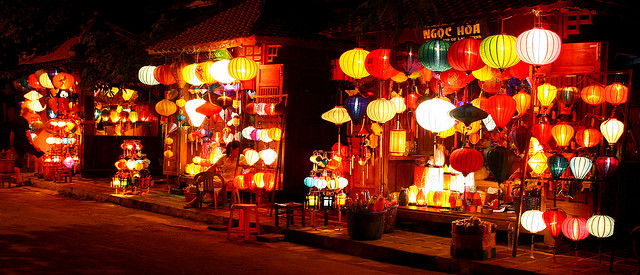 In our experience this time off work may be used for celebrating, relaxing, and perhaps a touch of reflection. For many a new year is a great time for a fresh start. Maybe they will start a new hobby, a weight loss plan, or consider a new job. If you love your job you'll probably look forward to returning to it, but not many people are that lucky. Often time off, especially after a New Year celebration, can make people realize how much they really do not enjoy what they're doing and kick themselves for spending another year doing it.
This is where ManpowerGroup Inc. (NYSE:MAN) comes in. Manpower is a leading company in the employment services industry, which primarily provides permanent, temporary, and contract recruitment services. But it also provides assessment and selection services, training, and outsourcing services. A one-stop shop for employment services.

In September last year Manpower formed a strategic partnership with a leading investment firm in China by the name of CITICPE, as part of a plan to expand its services into mainland China. This complements the Chinese language job search website it has. So, it has really begun stepping up its game in the region and saw revenues increase 11% in constant currency in the Asia-Pacific Middle East (APME) segment. Management explained that this was fuelled by double-digit growth in the China, Taiwan, Korea, and India markets. We think the growth in India is especially pleasing, also.
As per the company's recent filings, at $2.239 billion the APME segment accounts for 11.5% of total revenue. On a constant currency basis it would have been $2.510 billion, but unfortunately the headwinds from the strength of U.S. dollar proved to be strong. We see a lot of growth in the segment and believe it won't be that long until it closes in on the United States segment that contributed $3.005 billion of revenue. Bottom line growth could get a boost if the company can bring the segment's operating margin in line with the rest of the company. At present the U.S. segment operates on a 4.8% margin, Southern Europe on a 5% margin, and APME at just 3.5%. By boosting it up to 5% the company would have reported an additional $32.65 million operating profit.
The Southern Europe segment, which France makes up two-thirds of, accounts for almost 38% of revenue. When France's President Hollande says France in state of economic emergency, it does sound worrying. But it appears to not have affected Manpower. Although segment revenue was down 9.2% year over year, this was due to currency headwinds, without which it would have been up 8.1%. We find this very promising. It is worth noting that we don't see the currency headwinds going any time soon. But at least fiscal 2016 will be able to be judged upon a year with similar headwinds, making for fairer comparison. As shown below, revenue has been heading sideways for a number of years. We feel the Chinese growth and adjustment to the strong U.S. dollar will see this start to trend upwards next year.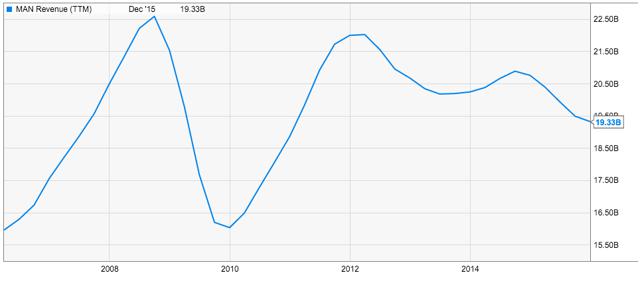 Click to enlarge
(Source: Ycharts)
The company generates robust levels of free cash flow. At the end of the most recent quarter it had free cash flow of $459 million. Its balance sheet is strong also. It's debt to equity is a low 0.32, it has a current ratio of 1.476, and an interest coverage ratio of 28.35. Definitely a well-run company in our eyes.
We feel the company is cheap right now. Trading at 13.51 times earnings is lower than competitors such as Robert Half (NYSE:RHI) and Randstad (OTCPK:RANJF) which trade at 14.75 and 20.70 times earnings, respectively. It is also lower than the level it would normally trade at. In recent times it would trade at 17 times earnings on average. With the currency headwinds we're going to be conservative and call 14 times earnings as fair. Considering the strength of its balance sheet, the free cash flow generation, and its constant currency growth, it would be fair to value it higher. But being conservative is best in our view as it allows a greater margin of safety.
Management offered first quarter guidance of "$0.87 to $0.95 with a negative impact from currency of $0.04." Fuelled in part by growth coming out of China we think they will achieve 92 cents earnings per share for the quarter, which is an increase from 83 cents a year earlier. For the full year we expect a similar level of growth and believe Manpower will report earnings per share of $5.82. At 14 times earnings this gives us a one-year price target of $81.48, which is an 11.6% return from the last close price of $73.36.
It looks like a great new year for Manpower investors!
Disclosure: I/we have no positions in any stocks mentioned, but may initiate a long position in MAN over the next 72 hours.
I wrote this article myself, and it expresses my own opinions. I am not receiving compensation for it (other than from Seeking Alpha). I have no business relationship with any company whose stock is mentioned in this article.