Click to enlarge
Important Note: This article is not an investment recommendation and should not to be relied upon when making investment decisions - investors should conduct their own comprehensive research. Please read the disclaimer at the end of this article.
Investor reaction to the dividend cut by ConocoPhillips (NYSE:COP) was predictably negative, with the stock trading down more than 15% in just two market sessions.
Predictably, Conoco's move caused significant controversy.
One observation may be worth noting in this regard: the stock price move and opinions expressed by some sell-side analysts reveal misconceptions that are apparently ingrained in the market's psychology much deeper than one might suspect.
Some of these misconceptions defy the most basic, textbook-level financial concepts.
Conoco's situation highlights the risk of distorted valuation and the elevated event risk associated with stocks bearing high dividends.
Misconception #1: Conoco's Dividend Cut Changed The Stock's Value
It is obvious that the dividend cut by Conoco was a disappointment to many investors.
I would argue, however, that from a value perspective, the dividend cut per se was a non-event and was certainly not worth the $7 billion drop in the company's market capitalization (which, by the way, is equal to almost three years of the forfeited "dividend entitlement.")
Many finance textbooks explain that dividends per se do not create shareholder value.
Indeed, can one create value by simply moving cash from one bank account - co-owned by a shareholder at the company level - to another bank account - this time directly owned by the shareholder?
If one could create value by moving cash from the left pocket to the right, the world would be an effort-free and very affluent place.
Another argument along the same lines is that shareholders do not depend on the company's decision to pay dividends. Any investor at any time can award herself a "dividend distribution."
Indeed, imagine an investor has purchased shares of a successful company that, regrettably, pays no dividends and reinvests all the earnings back in the business. Let's also assume, for illustration, that the underlying value of the business increases 10% every year, by way of retained earnings.
What if the investor craves cash dividends - 5% per year, to be specific?
To emulate dividends, the investor can pursue a simple strategy - sell 5% of her shares every year. Given that the shares grow in value at a faster pace, the value of the "nest egg" will continue to increase, in spite of the annual 5% attrition in the number of shares owned. (Of course, the implicit assumption here is that the share price will reflect the value of the underlying business more or less adequately over time.)
In other words, the importance that some investors and some analysts attribute to Conoco's decision to retain cash at the company appears blown far out of proportion.
Misconception #2: Dividends Reflect Financial Discipline
It was quite surprising to hear comments on the conference call that Conoco's high dividend had provided confidence in the company's "financial discipline."
The logic of that premise is somewhat puzzling. It appears that financial discipline is when a company invests capital if the financial or strategic return is expected to be attractive and does not invest capital if the return is expected to be poor.
One could argue that starving the company of capital by paying high dividends at the time when strong returns can be captured is just as financially undisciplined as continuing to spend cash when returns are poor.
It is not at all obvious that a company that has elected to pay high dividends is a better allocator of capital or has a better ability to "time the cycle" than any of its peers.
Misconception #3: Dividend Is A "Value Proposition"
It is quite remarkable how many times the phrase "value proposition" (and variations on the theme) - in reference to Conoco's strategy to balance production growth with dividends - was mentioned during the conference call.
The moniker appears to have been designed by Conoco to appeal to dividend-seeking investors as well as to help to justify the company's lagging growth metrics.
One may debate if this marketing slogan has been effective or appropriate as an investor relations tool. However, from a finance perspective, it appears to lack intrinsic logic.
I would argue that in the oil business value is created by drilling prolific wells at low cost and by capturing reserves. Therefore, it appears that a constructive way for an oil and gas operator to demonstrate that it can offer a differentiated "value proposition" would be to present detailed operating metrics that prove the company's competitive position and peer-leading operational performance. On the other hand, a stated intent to pay a regular dividend has little relevance to value.
What is surprising, however, that this dividend-centered discussion framework had been readily picked up and propagated by the sell-side community and still remains the center of focus.
On Conoco's conference call, the dividend issue received a tremendous amount of attention. On the other hand, few questions were related to the company's operational results.
For example, no questions were asked with regard to Conoco's weak reserve replacement in 2015. Before the effect of commodity prices and asset dispositions, the company replaced only 86% of its production, despite significant cash outspending. (As one can see from the slide below, the company's capex for the year ended up at $10.1 billion versus discretionary cash flow of $7.6 billion, a $2.5 billion outspend.)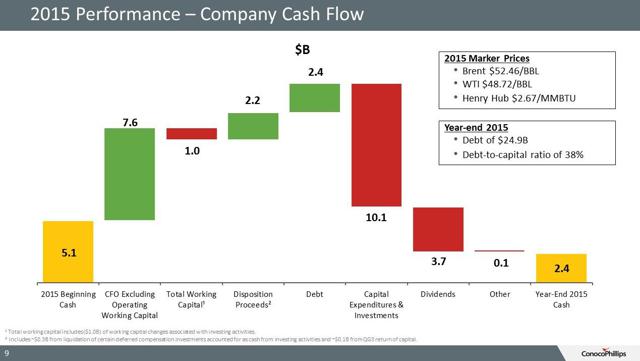 Click to enlarge
(Source: ConocoPhillips, February 2016)
Conoco's new projection that it can achieve a dramatically lower level of sustaining capital was discussed to some degree but not nearly as closely as the dividend issue. However, this metric is a lot more relevant to value, in my opinion, and deserves a much closer scrutiny and discussion than the dividend decision for 2016.
The company guided that it can generate meaningful free cash flow, above the capital required to sustain production, at $45 per barrel oil. If Conoco could indeed deliver on this target, this would be a paradigm change for the stock.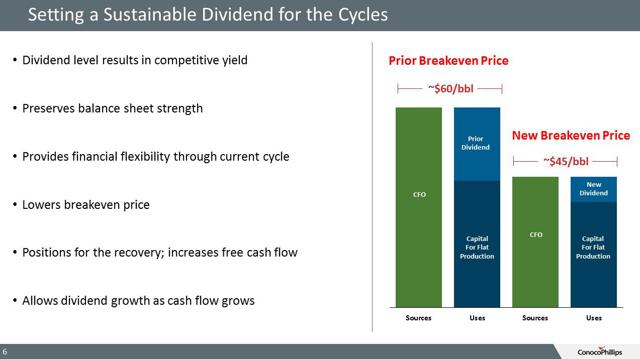 Click to enlarge
(Source: ConocoPhillips, February 2016)
Was Conoco's Dividend Cut Justified?
On its conference call, the company laid out several strong reasons why the dividend cut was necessary. All of the company's arguments are valid, in my opinion.
After a full year of oil trading in the ~$50 per barrel range, petroleum inventories are still growing. The inflection point in supply and demand balance for oil is still to be achieved.
Natural gas supply fundamentals, both in the U.S. and internationally, have also been weak and remain uncertain.
Given that Conoco is unhedged going into 2016, the company's discretionary cash flow may contract sharply year on year from the $7.6 billion in 2015.
In this context, Conoco's net debt, which is expected to approach $25 billion towards the end of this year, is uncomfortably high, even taking into consideration the company's asset-rich asset portfolio.
Assuming strip pricing, the company's Debt/EBITDAX ratio may exceed 4x towards the end of 2016, a metric more typical of a high-yield credit.
I would argue, therefore, that continuing to borrow to pay high dividend was simply not an option for Conoco.
I would go even further and argue that not suspending the dividend in its entirety is a risky decision, given the negative credit momentum: one dividend cut would be better than two.
Let's not forget that Conoco has for a long time enjoyed a very favorable cost of debt capital. This may change if the company loses control of its credit metrics. If anything, issuing equity - in addition to fully suspending dividend - appears to be a more relevant agenda item.
In Conclusion…
In some ways, Conoco's dividend cut is liberating. While the price decline is painful for existing shareholders, it should help to eliminate the artificial premium that investors have been paying for the illusion of "safe dividend" in what remains a highly fragmented and cyclical industry.
The oil price shock should accelerate the process of the company overcoming its legacy of a "mini-major" and attaining efficiencies and competitiveness that one would expected of a leading E&P Independent.
Signs of this process are certainly visible. The company's decision to exit the Deepwater is a meaningful element of its self-transformation. Given the large investments that Conoco has made over years in this business, exiting the Deepwater will mean write offs and organizational sacrifices.
It appears that significant additional steps may be required, however. A future ConocoPhillips will hopefully have a substantially reduced geographic footprint, rationalized cost structure and lower financial leverage.
As a starting point, the company has a formidable asset portfolio, including several low-decline mega-projects (LNG, oil sands), mature assets also characterized by low declines, and growth assets with significant future development potential.
Thanks to the strong existing production volumes, the stock's leverage to a possible recovery in commodity prices is also significant and should not be overlooked.
As is the case with the majority of E&P equities, the assessment of the stock's risk/reward at this point is critically dependent on the assumed trajectory of commodity prices.
For more in-depth data and analysis of commodity fundamentals, please consider subscribing to Zeits OIL ANALYTICS that provides in-depth analysis of global and North American crude oil market.
Disclaimer: Opinions expressed herein by the author are not an investment recommendation and are not meant to be relied upon in investment decisions. The author is not acting in an investment, tax, legal or any other advisory capacity. This is not an investment research report. The author's opinions expressed herein address only select aspects of potential investment in securities of the companies mentioned and cannot be a substitute for comprehensive investment analysis. Any analysis presented herein is illustrative in nature, limited in scope, based on an incomplete set of information, and has limitations to its accuracy. The author recommends that potential and existing investors conduct thorough investment research of their own, including detailed review of the companies' SEC filings, and consult a qualified investment advisor. The information upon which this material is based was obtained from sources believed to be reliable, but has not been independently verified. Therefore, the author cannot guarantee its accuracy. Any opinions or estimates constitute the author's best judgment as of the date of publication, and are subject to change without notice. The author explicitly disclaims any liability that may arise from the use of this material.
Disclosure: I/we have no positions in any stocks mentioned, and no plans to initiate any positions within the next 72 hours.
I wrote this article myself, and it expresses my own opinions. I am not receiving compensation for it (other than from Seeking Alpha). I have no business relationship with any company whose stock is mentioned in this article.