Franklin Resources, Inc. (NYSE:BEN), best known for the Franklin Templeton funds, reported net income of $447.8 million or $0.74 per diluted share for the quarter ended December 31, 2015, which compared to $358.2 million or $0.59 per diluted share for the previous quarter and $566.4 million or $0.91 per diluted share for the quarter ended December 31, 2014. CEO and Chairman Greg Johnson commented:
Market volatility continued this quarter, but we are confident that we have the talent, discipline and foresight to continue driving our long-term success, We have a long history of weathering periods like this, and emerging stronger as a firm - well positioned to benefit from long-term trends driving global markets.
Just like other asset management firms that suffer from the trend towards passively managed funds, Franklin Resources is suffering from outflows. This is exacerbated because Franklin Resources has greater than average exposure to emerging markets and these have recently experienced a lot of volatility and commensurate redemptions.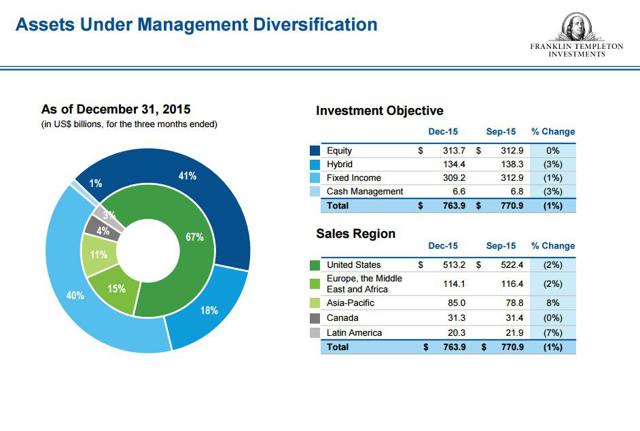 Click to enlarge
Source: company presentation
However the firm still musters $653 million in operating income which translates into a annual run-rate of approximately $2600. If you compare that to BEN's $12 billion Enterprise Value that's impressive. At only 4.6x Operating Income / Enterprise Value or 4x Enterprise Value / Ebitda it is very cheap in my book. You could also value an asset manager based on AUM, assets under management. Generally asset managers are worth somewhere between 2-8% of AUM. Capital that's invested in higher fee products is worth more. So think AUM which is actively managed, mostly in equities and higher risk; emerging markets for example, being worth more.
BEN has over $760 billion of assets under management. If you'd value it at 2% (which is a very hostile valuation) it should be worth $14 billion. Meaning, there is 16% upside. If you value it at 4% (not unreasonable) you are looking at an upside in excess of 100%.
There is an argument to be made that outflows are likely to continue at BEN and we should take that trend into consideration. I'll admit that's possible but investors are also prone to naively extrapolating a current trend.
What if emerging markets rebound? Plenty of great investors have said they don't have the slightest illusion they can predict market directions. So can you predict a slump to continue? No, probably not. If emerging markets come back, BEN comes back. If oil comes back, BEN comes back. If passively managed ETF's and robo-advisers get wrecked, like Horizon Kinetics expects, BEN comes back. There are plenty of "scenarios" where the AUM trend will reverse. Let me cite one paragraph from Horizon Kinetics latest market commentary to give you an idea how bearish the firm is on the ETF boom:
A natural question relates to the ETF flow of funds into the largest and most liquid companies: why shouldn't that continue? Here, we get back to the business of Wall Street. This entire phenomenon is built upon a continued flow of funds into index products. Any cessation and the history unwinds: overpriced shares stop moving up, the relative return and volatility statistics weaken, and the very same index rules that required their purchase will require their sale (as we saw in last quarter's example of the iShares Biotechnology Index). That will be helped along by proprietary traders and hedge funds, who will know which stocks to sell short, since the ETF rulesets for dropping a stock are fully disclosed. The daily trading volumes even of a plain vanilla fund like the iShares Core S&P 500 ETF are 35x greater than the trading volumes of the S&P 500 companies themselves. The exit door is very narrow. Still, what causes a cessation of demand?
There could very well be an ETF bust somewhere in the near future or it could go for another few years. Meanwhile, you are picking up a nice dividend (2% annually). Buy into a cash rich firm with high insider ownership that has existed for years and a brand that is known to every investing American. Did I mention the firm has been buying back shares at an accelerated pace over the past two quarters?
Disclosure: I am/we are long BEN.
I wrote this article myself, and it expresses my own opinions. I am not receiving compensation for it (other than from Seeking Alpha). I have no business relationship with any company whose stock is mentioned in this article.