Barely after completing its acquisition of Alcatel-Lucent (NYSE:ALU), shares of Nokia Corporation (NYSE:NOK) plunged. The stock is now at 52-week lows. Investors reacted despondently after Nokia disclosed a patent arbitration that would lower the expected recurring revenue run rate by 11 percent. Is the pullback in Nokia's stock justified? Shares closed below $6, but the market may believe the stock is relatively expensive. Competitor Ericsson (NASDAQ:ERIC) fell 8.8 percent in 2016 and is valued at one times sales. Nokia is valued at 2.4 times sales.
As an Alcatel-Lucent shareholder, I expect minor integration issues ahead with Nokia. In its last quarterly conference call on October 31, 2015, the company forecast a billion dollars (EUR 900 million) in operating cost synergies by 2019. Management achieved an even faster rate of cost cutting that Nokia will meet this target in 2018, one year earlier.
Since the last quarter, global economic conditions worsened, particularly in China. The country spent billions defending its weakening currency. Foreign exchange reserves fell another $100 billion in January, the lowest since May 2012. The accelerating decline in China's economy is bad luck for Nokia. Its joint venture agreement with China Huaxin, which includes Alcatel-Lucent, may not lead to higher sales in the immediate quarters. Telecom companies in the region will likely delay capital expenditure spending that was scheduled for this year.
Other projects
When the company reports quarterly results on February 11, Nokia Networks will take centre stage. Slowing global economic activity may mean the division will disappoint shareholders. Despite that, Nokia still has innovative projects that may bear fruit. OZO, a professional virtual reality camera, is $60,000 and is scheduled for availability in the first quarter of this year.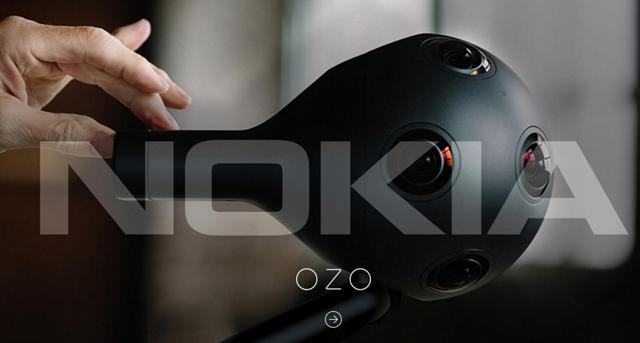 Click to enlarge
Source: Nokia
The camera complements drones. Its durability and high quality image capture would fit on drones that fly in hard to reach places or are used at sports events.
Unfortunately, investors now lack interest in "fad" stocks, and consider companies like GoPro (NASDAQ:GPRO) unable to sell action cameras. They also believe the company will fail in delivering another killer product this year:
Similarly, OZO targets a high-end market and has not proven itself as a marketable product.
Nokia Technologies
Nokia's N1 Android tablet keeps the company involved in handheld devices. Again, this initiative may have limited growth. Tablet sales are declining, with Apple (NASDAQ:AAPL) and Samsung (OTC:SSNLF) suffering the most. Sales of Apple iPads fell to 16.1 million units, down from 21.4 million last year. In Apple's defense, iPad sales may be due to competition with the company's own iPhone 6S Plus.
Samsung issued a downbeat outlook for 2016. Weak sales of tablets are one of the reasons the company is not optimistic.
Relative valuation
Nokia trades at a premium to Ericsson based on a price to sales ratio: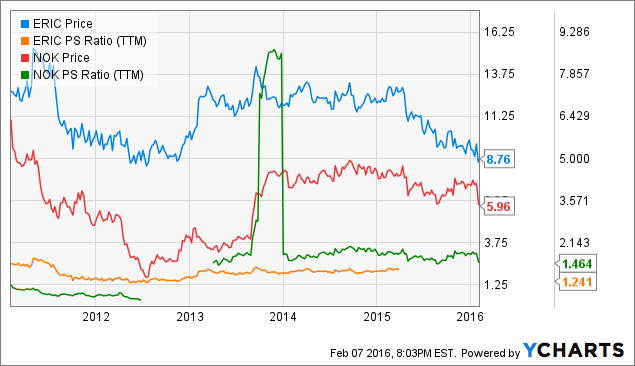 Still a long-term hold
Nokia's sharp drop last week (down 17 percent) creates yet another entry point for investors looking for a fairly valued, global networking giant. It success depends on macroeconomic conditions improving in China. Guessing on when this will happen will prove impossible for investors. In the meantime, the company will integrate Alcatel-Lucent in its operations, cut costs, and execute on higher profitability in the long-term. Investors looking for an entry point should wait until after the quarterly earnings report this week before committing to a trade.
Additional disclosure: In addition to holding shares, Nokia is represented in a model portfolio for value stocks, in the premium subscription. This is due to the completion of the Alcatel-Lucent share conversion.
Disclosure: I am/we are long NOK.
I wrote this article myself, and it expresses my own opinions. I am not receiving compensation for it (other than from Seeking Alpha). I have no business relationship with any company whose stock is mentioned in this article.
Editor's Note: This article discusses one or more securities that do not trade on a major U.S. exchange. Please be aware of the risks associated with these stocks.