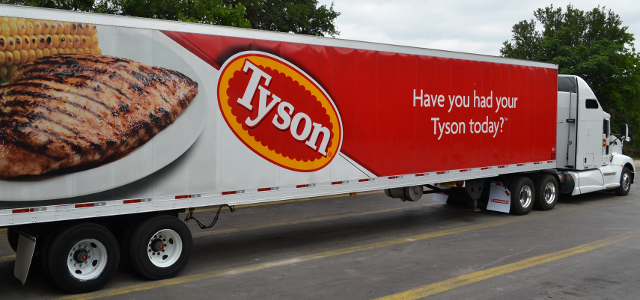 I only very recently reviewed Tyson Foods (NYSE:TSN) as part of my "Food Fight" series.
Then I was impressed by the significant transformation they were undertaking in their business as they moved from what their chief commercial officer, Tom Hayes, described as "a commodity portfolio to one that is a portfolio of high-value brands." This move was accelerated by the acquisition of Hillshire Brands in 2014.
Since then they have released their Q1 2016 results which resulted in a 10% jump in their share price. So what was contained in those that results and was that jump justified? Let's take a look.
Revenue Down
First of all, the less great news. Tyson did see their revenues drop across their segments: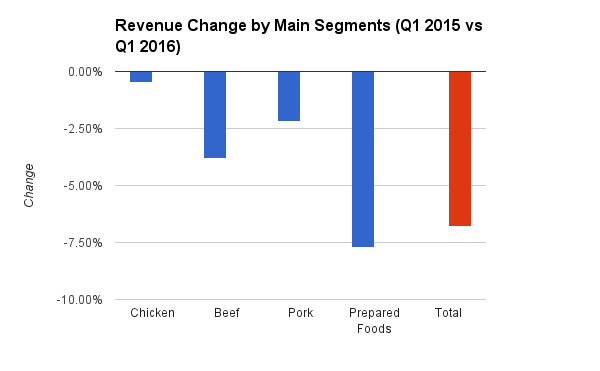 All told this meant that sales were 6.8% lower in Q1 2016 than they were the same time the year before. This is slightly steeper than the estimated revenue decline full the full-year. Analysts predicted here a decline of around 3.4%.
However, as the company noted, this 6.8% decline also reflected the divestiture of chicken operations in Brazil and Mexico and their Heinold Hog Markets business. Excluding these, sales were down 1.1% instead of 6.8%. In light of this, revenue performance seems pretty good compared to analyst estimates. So far, so good.
Operating Profit Jump
What really got investors interested in the results, though, was the hefty leap in operating income to $776 million. That was a 38% boost to Q1 2015's operating income. With it came revised guidance of earnings of between $3.85 to $3.95 per share for the full 2016 year.
Exciting, certainly. But I think the real excitement can be found elsewhere in the results. Let's take a look at what I mean.
Focusing on Main Brands
Tyson also showed that, despite top-line revenue shrinkage, growth was being found in their "Core 9" brands which are made up of the nine retail brands under the Tyson, Jimmy Dean, Hillshire farm, Ball Park, State Fair and Aidells brands. The company's CEO, Donnie Smith, wrote that:
Our on-going efforts to invest in and grow our Core 9 product lines are paying off as sales volume for the most recent four week period was up 4%. The Core 9 product lines represent our strongest brands, greatest pricing power and best category growth opportunities and are major contributors to volume and profitability in the retail channel.
This is great news from my perspective. The growing move into the branded, prepared food segment was what really attracted me to look at the business again.
Synergy Savings Looking Good
More good news was also coming from the recent Hillshire Brands acquisition.
I noted in my last article that the company expected to see synergies of around $500 million by FY 2017 coming from the acquisition.
At Q1 2016, the company suggested that they were already acting well on this target. They had already, they claimed, "captured $121 million in total synergies for the quarter, with $61 million incremental to fiscal first quarter 2015."
This suggests they have already captured about a quarter of their planned synergy savings. This still leaves a decent 75% of potential synergies left to bring in. There is, therefore, still seemingly plenty of savings left to be introduced. Great progress combined with great scope left for further progress to be made is fantastic to see.
Cash Flow Up
Where the results really start to stagger me is with regards to cash flow. In what Smith referred to as "record cash flows" they generated massively more impressive FCF in that period:
| | | | |
| --- | --- | --- | --- |
| | OCF | CapEx | FCF |
| 2014 (FY) | $1,178 | $632 | $546 |
| 2015 (Q1) | $812 | $231 | $581 |
| 2015 (FY) | $2,570 | $854 | $1,716 |
| 2016 (Q1) | $1,095 | $188 | $907 |
This is an impressive result. Operational cash flow (that is, OCF) was up significantly and CapEx was running below 2015 levels.
2015's cash flow performance suggested that the company was running on a FCF yield (even after the recent share price appreciation) above 8%: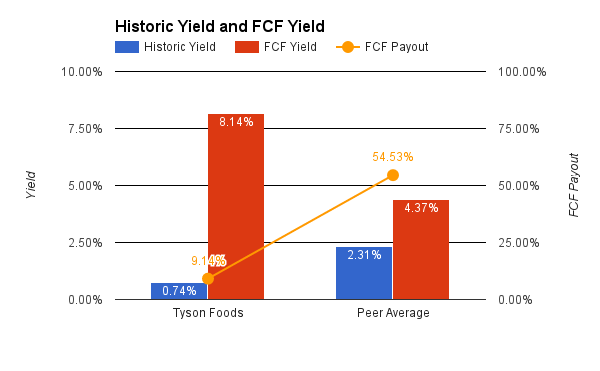 The improving cash flow generation seen at Q1 time looks set to push this even higher. With a low payout and being below its peer average I strongly suspect that we should see dividends grow at a significant pace in coming years.
Great news for investors. Growing cash flow and plenty of scope for dividend growth and other shareholder friendly actions going forward.
Improving Cash Generation Efficiency
What also impresses for me is the growing efficiency in their cash generation. One of the key metrics in my analysis of a company is the CROIC (cash return on invested capital). In essence, this is the FCF equivalent of the ROIC. A CROIC of 10% means that for every $100 invested in the company (that is, debt and equity) they produce $10 in FCF.
The 10% mark is what I consider my investing sweet spot. In 2015 Tyson had crossed that figure after a number of years of improving upon its efficiency.
At Q1 time, it looks as though that improvement was set to continue.
When results from Q1 2015 were released the company was sitting at a CROIC of 3.54% already. However, this time round at Q1 2016 it was significantly ahead of this already at 5.5%.
What this means is that it is not unrealistic to imagine that Tyson may be able to produce a CROIC in for FY2016 above 16%. This would be a significant jump ahead of FY2015's 10.45%. This is precisely what I wanted to be seeing. However, it is running well ahead of what I had been expecting at this point.
Margins Improving
The company also announced that they were seeing their operating margins improving.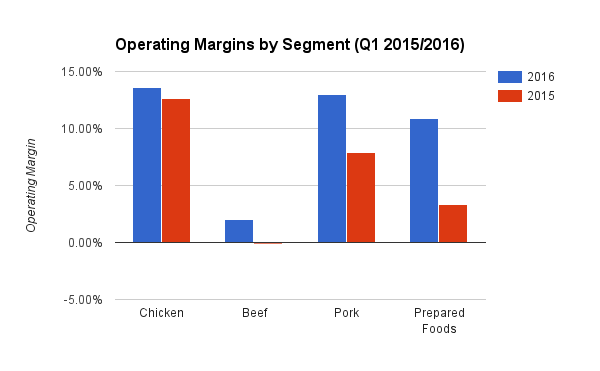 This is fantastic to see. Across the board Tyson is proving itself able to pull out improving margins including in its beef segment which has, for some time, struggled to make any meaningful progress in this regard.
Can more improvement be captured? I think so, and certainly things are looking bright.
Share Repurchases Accelerate
As noted above, with cash flows looking even better there is plenty of scope for greater shareholder-friendly activity in coming years. However, Tyson has already been fairly generous with its share repurchases over the last few years:
| | |
| --- | --- |
| | Net Shares Purchased/(Issued) |
| 2011 | $207 |
| 2012 | $264 |
| 2013 | $491 |
| 2014 | -$645 |
| 2015 | $411 |
| 2016 (Q1) | $387 |
Up to FY2015 they had returned a net $728 million through share repurchases. With cash flows looking even stronger this is set to continue apace.
At Q1 2016 they had already pushed a further $387 million to this purpose. This is the equivalent of a buyback yield on the price (as of 31 December 2015) of 2.23%.
But there is more to come, Smith explained that:
Record cash flows of $1.1 billion allowed for $300 million of share repurchases in the quarter. We've repurchased $550 million of our shares in the past two quarters, plus an additional $200 million to date in the second quarter of fiscal 2016. Given the pace of our stock buy backs, our board of directors increased our repurchase authorization by 50 million shares.
In other words, they have already added an additional $200 million to the $387 million listed in the results. This suggests that investors should see a very hefty buyback yield come the end of the year.
What is more, assuming a static share price at $57 this additional 50 million shares authorization is worth around $2.85 billion. Very generous indeed.
Debt Reduction Slow Down
One thing I would note is that the deleveraging that the company pushed through in FY2015 has slowed noticeably so far this year. Whereas in Q1 2015 they had paid down $668 million in debt, at the same time in 2016 they had only paid down an additional $20 million.
I would like to see this shrink a bit further and would, perhaps, like to see some of the growing cash flows used for this purpose.
Nonetheless, this is more a personal preference than a worry. At FY2015 time their debt was 25% covered by their FCF with it covered 8.64% at Q1 time that year.
I like to see companies with FCF/Debt ratios of 25% or more. This suggests that they could repay their debt in its entirety just from FCF in four years or less. Tyson achieved this at the end of last year.
As a result, the fact that at Q1 2016 this FCF/Debt ratio had improved further to 13.53% suggests to me that we should see very generous FCF coverage at FY2016 even if they choose not to pay it down any further. We will have to see.
Still Time to Buy?
So has my fair value price changed in light of the Q1 results and the significant share price jump in response?
As noted previously, I work out my fair value by taking the historical PE over the last five years and multiplying this by the average from the EPS predictions over the next two years.
Tyson's five year PE average has been 14.3 and using the new lowest guidance for FY2016 provided by the company ($3.85 per share) and that predicted by analysts for 2017 ($4) I come out with a:
Basic fair value price of $56.36
I then adjust this for the amount of cash held on their books which, at Q1 2016 time, was $1.187 billion. doing so provides us with a:
Cash-adjusted fair value of $60.02
However, as noted in my previous article I do think that--in light of the changes occurring at Tyson--they deserve a slightly higher valuation than they have historically received. In the last two years (during which the transformation has occurred) they have had an average PE of 17.5.
This remains for me a fairer reflection of both the risks and opportunities that Tyson have ahead of them. Doing so provides a new set of fair values:
Basic fair value of $66.73
Cash-adjusted fair value of $70.38
Conclusion
I maintain that Tyson remains a company with a compelling story going forward. Its actions in transforming itself more into a brand-led prepared foods business are exciting. The Q1 2016 results were, for me, better than expected and suggest that my fair value calculations needed to be revised.
Doing so suggests that--despite the 10% jump in its share price--it remains fairly valued when compared to its historic valuation. What is more, if it does come to attract the higher valuation I expect over time, it looks noticeably undervalued.
All in all, Tyson's results were very good reading indeed. The positive investment story emerging from this transforming business has emerged, in my eyes, stronger from these results. It will be interesting to see whether this continues throughout the rest of 2016.
So was the 10% share price jump justified? Yes, I think it was. I also expect there is likely to be more to come.
Strengthening underlying cash flow performance underpins the accelerating share repurchase program and dividend growth in recent years. A stable business with growing pricing power and an increasingly generous shareholder return will surely only become more attractive over time?
Notes
Unless otherwise stated, all graphs and tables and the calculations contained within them were created by the author. Creative Commons image reproduced from Flickr user austinfoodbank.
Disclosure: I/we have no positions in any stocks mentioned, and no plans to initiate any positions within the next 72 hours.
I wrote this article myself, and it expresses my own opinions. I am not receiving compensation for it (other than from Seeking Alpha). I have no business relationship with any company whose stock is mentioned in this article.