The Large-Cap-Growth invest­ment style ranks third out of the 12 invest­ment styles. It gets my Neu­tral rat­ing, which is based on aggre­gation of fund rat­ings of all 771 funds in the style.
Fig­ure 1 shows the alarm­ing fact that over 99% of all Large-Cap-Growth funds are not worth buy­ing because they get my Neutral-or-worse rat­ing. Dig­ging deeper into the 1,051 stocks held by all Large-Cap-Growth funds reveals that 75% of those stocks (57% of the value) earn my Neutral-or-worse rat­ing. The take­away is that fund managers are allo­cat­ing too much cap­i­tal to low-quality stocks.
Investors seek­ing expo­sure to large-cap-growth stocks should pur­chase a bas­ket of Attractive-or-better rated stocks and avoid pay­ing fund man­agers fees they do not deserve.
As detailed in "Cheap Funds Dupe Investors," the fund indus­try offers many cheap funds but very few funds with high-quality stocks, or with what I call good port­fo­lio manage­ment. Over 95% of all style funds get low port­fo­lio man­age­ment rat­ings and do not jus­tify their costs.
Fig­ure 1: Large Cap Growth Style Land­scape For Funds & Stocks


Charts Source: New Con­structs, LLC and com­pany filings
The 771 Large-Cap-Growth funds are all very dif­fer­ent. Per Fig­ure 2, the num­ber of hold­ing varies widely (from 11 to 588), which cre­ates dras­ti­cally dif­fer­ent invest­ment impli­ca­tions and rat­ings. Review my full list of rat­ings and free reports on all 771 funds.
How do investors pick the right fund out of the sea of choices that will deliver the best returns?
Fig­ure 2: Funds with Most & Least Hold­ings - Top 5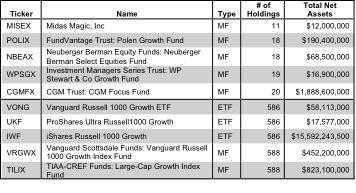 To iden­tify the best funds within a given cat­e­gory, investors need a pre­dic­tive rat­ing based on analy­sis of the under­ly­ing qual­ity of stocks in each fund. See Fig­ure 3.
My pre­dic­tive fund rat­ings are based on aggre­gat­ing our stock rat­ings on each of the fund's hold­ings and all of the fund's expenses. Investors should not rely on backward-looking research of past per­for­mance for invest­ment decisions.
Fig­ure 3 shows the five best and worst-rated funds for the style. The four Attrac­tive funds hold qual­ity stocks, i.e. get an Attrac­tive port­fo­lio man­age­ment rat­ing, and have low total annual costs while the three Very Dan­ger­ous funds charge investors for poor port­fo­lio man­age­ment.
Fig­ure 3: Funds with the Best & Worst Rat­ings - Top 5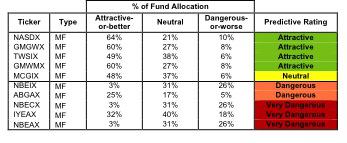 * MF des­ig­nates Mutual Funds and ETF des­ig­nates Exchange-Traded Funds
My top-rated Large-Cap-Growth fund is Shel­ton Funds: Nasdaq-100 Index Fund (MUTF:NASDX), which gets my Attrac­tive rat­ing. One of its largest hold­ings and part of the 64% it allo­cates to Attractive-or-better stocks is Ora­cle (NASDAQ:ORCL), which gets my Very Attrac­tive rat­ing. I am bull­ish on the tech sec­tor and ORCL is one of the best stocks in that sec­tor. Like my other favorites stocks in the sec­tor, ORCL boasts a top-quintile ROIC (28%). Despite its dis­ap­point­ing 3Q11 earn­ings, the com­pany main­tains a very strong com­pet­i­tive posi­tion. Adept lead­er­ship has never been a prob­lem as the company's ROIC has stayed well above its cost of cap­i­tal since at least 1998. With over $28 bil­lion (about 20% of its mar­ket cap) in excess cash, Larry Elli­son has the dry pow­der he needs to remain a leader in the soft­ware business.
But that is not what the stock mar­ket thinks. The cur­rent val­u­a­tion of the stock (~$29/share) implies the company's after-tax cash flow will grow no more than 8% over its remain­ing cor­po­rate life. I think the mar­ket is under­es­ti­mat­ing Mr. Elli­son and his man­age­ment team.
My worst-rated fund is Neu­berger Berman Equity Funds: Neu­berger Berman Select Equi­ties Fund (MUTF:NBEAX). One of its largest hold­ings and part of the 26% it allo­cates to Dangerous-or-worse stocks is El Paso Corp (EP), which gets my Very Dan­ger­ous rating.
El Paso is a clas­sic value destroyer despite show­ing pos­i­tive and ris­ing account­ing earn­ings. EP's man­age­ment has done a good job of hid­ing its value-destroying track record in the foot­notes to its finan­cial state­ments. Review­ing the company's finan­cial fine print reveals that man­age­ment allo­cated nearly $16 bil­lion (equal to ~70% of the company's net assets) to unrecorded good­will by employ­ing the now-defunct accounting loop­hole called the pool­ing method of account­ing for acqui­si­tions. In addi­tion, since 1998, man­age­ment has writ­ten off $6.7 bil­lion in assets (after-tax), equal to ~30% of net assets. This sug­gests that man­age­ment loses 30 cents on every dol­lar of equity in the busi­ness. Putting this hid­den value back on EP's bal­ance sheet reduces its already low ROIC of 6% to 3%. Not so good.
The market's val­u­a­tion of the stock sug­gests that investors may not be aware of the unrecorded good­will or his­tory of write-downs at EP. The cur­rent stock price (~$27) implies the com­pany will grow its after-tax cash flow (NOPAT) at 15% com­pounded annu­ally for almost 10 years. Clear­ing that hur­dle would require not only a major turn­around of the prof­itabil­ity of the busi­ness but also sus­tained growth at lev­els far higher than any­thing the com­pany has achieved in recent history.
Investors need to tread care­fully when con­sid­er­ing these funds, as 99% are not worth buy­ing. Only 4 of the 771 funds for the style allo­cate enough value to Attractive-or-better-rated stocks to earn an Attrac­tive rat­ing. Fig­ure 3 shows the rat­ing land­scape of all ETFs and mutual funds in the Large Cap Growth style.
Our style roadmap report ranks all styles and high­lights those that offer the best investments.
Fig­ure 4: Sep­a­rat­ing the Best Funds From the Worst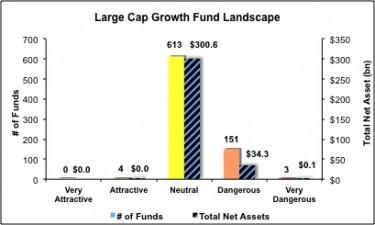 Fig­ure 5 lists our Pre­dic­tive Fund Rat­ing for the 5 largest and most pop­u­lar Large-Cap-Growth funds.
Fig­ure 5: Five Largest Large Cap Growth Funds


* MF des­ig­nates Mutual Funds and ETF des­ig­nates Exchange-Traded Funds
* Analy­sis uses the top-ranked class for each fund
Disclosure: I am long ORCL.