The stock market is in a really depressed state right now. Investors are filled with fears over a potential recession and plunging oil prices. All of this has led to a sharp market correction of nearly 10%, in the first few weeks of 2016. I think investors are being way too fearful and pessimistic right now, and I believe shorts are getting way too complacent. This type of fear and negative market sentiment is typically seen at market bottoms, so it makes sense to be buying bargains, before a powerful rebound. The "Fear & Greed Index" is now at just 17 out of 100, which indicates extreme fear. I think two things are going to drive the next big market rally, perhaps even a sudden "rip your face off rally," especially for shorts that have overplayed their hand in the oil sector and in many small cap stocks that have become incredibly cheap. The first one is the realization that the Federal Reserve is not going to raise rates much, if at all, in 2016. The second, and most important driver of the next big market rally, will be caused by a rebound in the price of oil. Let's take a look at where things stand now: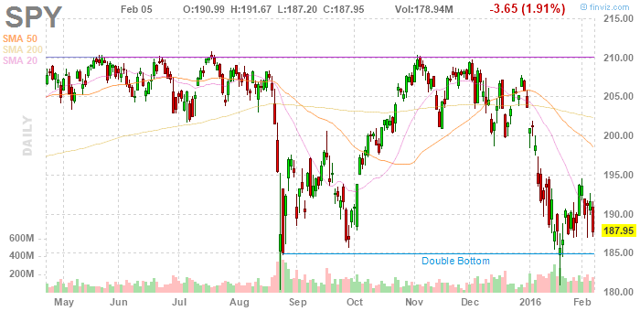 Click to enlarge
As the chart above shows, the S&P 500 Index (NYSEARCA:SPY) has now tested the same level it reached during the August "Flash Crash". It has held these levels and even bounced back a bit. This is why a bullish "double bottom" now appears in the chart. It is very significant that the market has held these levels and it could mean that the potential downside is limited now.
Another potentially positive indicator is that oil appears to be finding support at around the $30 per barrel level (give or take a couple bucks). An even more encouraging point is the fact that major oil stocks like Chevron (NYSE:CVX) and Exxon (NYSE:XOM) already show signs of having bottomed out and have even started to trend significantly higher. This could be a leading indicator that oil is at or near the bottom now, and that oil is poised to rebound later this year as production declines. Take a look at the charts below: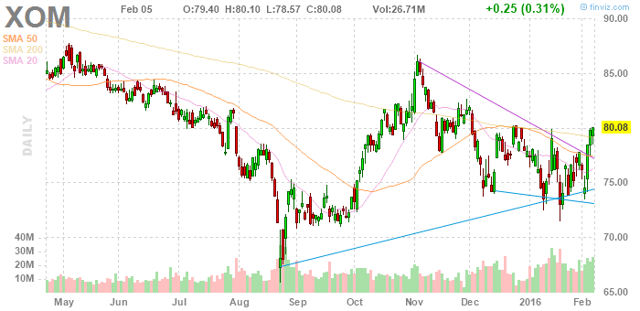 Click to enlarge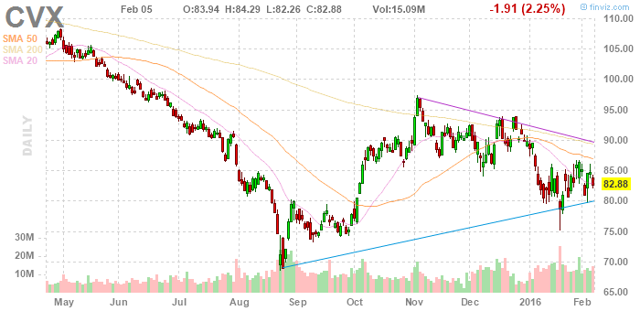 Click to enlarge
For the past few months, this market has been at the mercy of oil prices and computerized trading (algorithms). The market correlation to the price of oil has been setting the tone for trading almost everyday. The computers see oil is down and immediately start shorting S&P 500 Index Futures. That correlation is extreme right now and while it has been driving this market lower for months, a rebound in oil could be in the cards, and also be just what this market needs for a major rally.
It has been easy money for the shorts in the oil trade, but it has become so one-sided that there is now a huge imbalance that could fuel a major short squeeze. There is a record level of short interest with oil and oil stocks now, the type that could be setting the stage for a massive short squeeze. A Valuewalk.com article points this out and states:
"We are probably looking at a $10 plus short squeeze that is going to rip the heads off of the shorts in the oil market. This short squeeze is literally going to be one of the most violent price swing, stop destroying, explosive moves that we have seen in a while. "
The main driver for higher oil prices will be the realization that the current price of oil is not high enough to support the global demand for oil on a sustained basis. Oil prices are likely to climb higher because of significant production cuts that will really start to be felt by the market later this year. Remember, the markets typically look forward 6 months or so and therefore we could begin to see oil stocks and the market rally as well as oil prices, well before significant production cuts kick-in. Some analysts are already seeing higher prices for oil, as a recent Bloomberg article states:
"Analysts are projecting prices will climb more than $15 by the end of 2016. New York crude will reach $46 a barrel during the fourth quarter, while Brent in London will trade at $48 in the same period, the median of 17 estimates compiled by Bloomberg this year show. A global surplus that fueled oil's decline to a 12-year low will shift to deficit as U.S. shale output falls, according to Goldman Sachs Group Inc. (NYSE:GS)"
Finally, the threat of 3 to 5 interest rate hikes by the Federal Reserve is going to fade, especially with all the risks it could present to the market. The Federal Reserve knows that credit conditions have tightened, and that raising rates will cause the U.S. dollar to rise and put more pressure on oil and commodities and on emerging market countries who have borrowed in U.S. dollars. When the dollar is too strong, it also lowers profits for U.S. exporters. When the Federal Reserve backs off any tough talk, it will help fuel a major market rebound.
For all these reasons, I think the stock market and oil prices are now like compressed springs that are ready to rebound much higher. That is why I believe the next 1,000 points is going to be higher, so it makes sense to be buying stocks now. I am focusing heavily on small cap stocks that have endured the biggest beatings in this market correction. I think most stocks (not just oil stocks) could see sharp rebounds. For this reason, it makes sense to consider oil stocks as well as other small cap bargains like Genworth (NYSE:GNW) which Jonathan Laird recently wrote about in this Seeking Alpha PRO article or Supervalu (NYSE:SVU) which is my top small cap pick at below $5 per share.
Data is sourced from Yahoo Finance. No guarantees or representations
are made. Hawkinvest is not a registered investment advisor and does
not provide specific investment advice. The information is for
informational purposes only. You should always consult a financial
advisor.
Disclosure: I am/we are long SPY, SVU, GNW.
I wrote this article myself, and it expresses my own opinions. I am not receiving compensation for it (other than from Seeking Alpha). I have no business relationship with any company whose stock is mentioned in this article.