The healthcare sector will experience much growth in the future as the population grows and more people get old, but also due to increasing obesity, the spread of disease, and other health factors. It is estimated that the United States spent $3.83 trillion on healthcare in 2014, up from $3.65 trillion in 2013, an increase of 4.9%. U.S. healthcare spending was projected to reach $4.01 trillion in 2015, an increase of 4.7%. In 2012, it was estimated that global spending on health-related issues was $6.45 trillion and is growing rapidly. Thus, the healthcare sector should see continued growth.
But recently, industries within the healthcare sector have been beaten down, namely the biotech and drug industries. Drug pricing was questioned after reviewing the practices of biotech company Valeant Pharmaceuticals (NYSE:VRX). The debate gained political traction after Martin Shkreli's Turing Pharmaceuticals bought the rights of Daraprim from Impax Laboratories (NASDAQ:IPXL) and raised the price from $13.50 to $750 per pill overnight. Last year, Gilead Sciences (NASDAQ:GILD) came under fire after raising the price of a hepatitis C treatment to $1,000 per pill, a price the Veterans Affairs could not afford to save the lives of many veterans who need it. The treatment was invented by a doctor in the Department of Veterans Affairs who was also the founder of Pharmasset. It only costs 2% of the retail price to make and was acquired by Gilead when Pharmasset was bought for $11 billion. Both Democratic Presidential candidates Hillary Clinton and Bernie Sanders have said they will crack down on drug price gauging.
The biotech industry has one of the highest net profit margins within the healthcare sector. It has an average net profit margin of 19.70%. The drug (biotechnology) industry has a 5-year average growth of 20.30% for revenue and 10.04% for net income. Growth is expected to continue at 18.36% over the next five years. Could profit margins and growth rate shrink? It could. Should investors start buying into some beaten down biotech names? I would choose wisely.
| | |
| --- | --- |
| Net profit margin | 19.70% |
| Average net income growth over the last five years | 10.04% |
| Average revenue growth over the last five years | 20.30% |
| Expected 5-year growth rate | 18.36% |
| Expected growth in EBIT (Earnings before interest and taxes) | 34.71% |
Stock Screening
Four filters were inputted into Finviz Financial Visualization screener. The first two filters were under the "Descriptive" tab, while the last two filters were under the "Fundamental" tab.
Sector: Healthcare
Industry: Biotechnology
EPS growth next year: High (>25%)
EPS growth next 5 years: High (>25%)

Click to enlarge
Source: Finviz
Above is the screen output. Out of the 11 biotech stocks listed, only three had positive forward PE ratios: Enzymotec (NASDAQ:ENZY), Medivation (NASDAQ:MDVN), and Vertex Pharmaceuticals (NASDAQ:VRTX). Out of those three, Vertex had the cheapest forward PE (15.49) and the highest EPS growth for next year (140.47%). Its EPS growth for the next 5 years came in second at 43.95% behind Medivation at 66.05%. Thus, Vertex looks the best investment from this list.
The company also has a high gross margin, which measures the profitability of the company, of 88.50%. Current ratio is good at 3.00. Beta is low at 0.68. While the beta is just the measure of how well a stock correlates to the market, a recent study by Andrea Frazzini and Lasse Heje Pedersen of New York University has shown that low beta stocks tend to outperform the market.
Investment Thesis
Vertex is a specialty pharmaceutical company in the biotechnology and pharmaceutical industry that focuses of treatment for cystic fibrosis. The Boston, Massachusetts biotech firm was founded in 1989 and went public on July 24, 1991, issuing 3 million shares at a spit-adjusted price of $4.50 per share. Shares reached a high of $93 in the tech boom, and then crashed down to $9 by 2003 before climbing to $44 in March of 2006. The stock then oscillated between $44 and $21 until November 2010. It fell to $18 during the Credit Crisis, but quickly recovered. Then beginning in the end of 2011, it started soaring and outpacing the market due to a promising pipeline. The stock reached a peak of $137 in August 2015 before crashing down to $86.61 as of Friday, February 5.

Click to enlarge
Source: Google Finance
Interestingly, the stock is now about the same price as its 2013 peak. Could it have hit bottom?
In the mid-1990s, the company started researching hepatitis C, AIDS, and cystic fibrosis drugs. U.S. and European regulators approved its hepatitis C drug Incivek in 2011. Incivek, the company's first drug, enjoyed high success with sales quickly reaching $1 billion, but the introduction of rival treatments, particularly Gilead Sciences' (GILD) Sovaldi in 2013, later caused sales to plunge. In 2014, the company discontinued sales of Incivek and concentrated on its portfolio of treatments for cystic fibrosis.
The company's key drug on the market till recently was Kalydeco, which made up 95% of 2014 revenue. Kalydeco (also known as ivacaftor) was approved in 2012 in the United States and European Union for cystic fibrosis patients six and older with the particular type of mutation on the CFTR gene. But only 4% of approximately 75,000 people in North America, Europe, and Australia with cystic fibrosis have such a mutation. Thus, it is important to expand the drug's use as much as possible. Kalydeco costs $300,000 a year and generated $212.6 million in sales in the first half of 2014.
In 2014, the treatment was increased to include eight additional mutations on the CFTR gene. However, the company's recent supplemental New Drug Application (sNDA) for additional expanded use for Kalydeco was rejected on Friday, February 5.
The sNDA was based on:
Preclinical data for Kalydeco in the 23 residual function mutations
Established clinical profile of Kalydeco
Previous reported data from an exploratory Phase 2a study in 24 patients with residual function mutations. In 19 of the 24 patients (79.2%), 8 of the 23 proposed mutations were represented.
Despite its recent setback, Kalydeco revenue is expected see a see a gradual rise over the years, while Incivek revenue is expected to reach zero.
Source: Company annual revenue
The company's new cystic fibrosis treatment Orkambi had fourth quarter 2015 sales of $220 million, surpassing Kalydeco's $181 million for the same quarter. Orkambi gained FDA approval in July 2015. Thus, adding Orkambi's future potential 2016 revenue (assuming $220 million per quarter) to the bar graph above shows that the company could make over $1.5 billion in 2016.
The company's pipeline shown below contains nine other drugs in development. VX-661 is in phase 3 trials with an estimated study completion date in April 2016. VX-661 is a treatment to be used in combination with Kalydeco for cystic fibrosis. VX-787 is a treatment of influenza and was licensed to Janssen Pharmaceuticals. Under the license agreement, Vertex will receive commercial milestone payments as well as royalties on future product sales. VX-787 is also in phase 3 trials with an estimated study completion date in May 2016.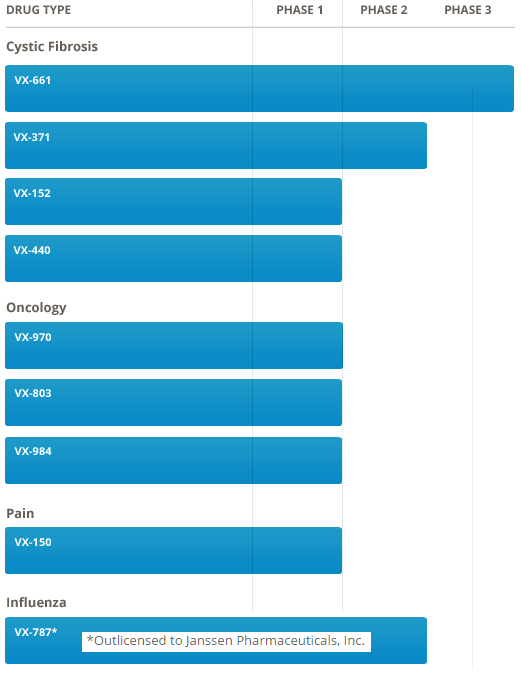 Source: Company website
As table below shows, analysts have a 1-year price target on the stock of $136.19. The company has had strong growth, and it is expected to also have strong growth in the future.

Click to enlarge
Source: Finviz
Conclusion: With its existing drugs, strong growth numbers, and a strong pipeline with two drugs possibly having FDA approvals in the near future, I think Vertex Pharmaceuticals is a buy.
Disclosure: I/we have no positions in any stocks mentioned, but may initiate a long position in VRTX over the next 72 hours.
I wrote this article myself, and it expresses my own opinions. I am not receiving compensation for it (other than from Seeking Alpha). I have no business relationship with any company whose stock is mentioned in this article.