General Electric Company (NYSE:GE) was by far the most exciting conglomerate story in 2015. But General Electric is not the only conglomerate that investors might want to keep a close eye on. Honeywell International, Inc. (NYSE:HON) may not offer as compelling a transformation story as General Electric, but the company continues to grow its business at a good clip, but without much headlines. Honeywell's margin expansion trend in particular is worthy of attention and acknowledgement, even though General Electric has been stealing the spotlight from the company so far.
Business as usual for Honeywell
Honeywell's management could hold its head up high when it released Q4-15 earnings two weeks ago.
Honeywell said it pulled in Q4-15 revenues of $10.0 billion compared against $10.3 billion in the year ago quarter. That may have been a decline of ~3% Y/Y but Honeywell's core organic revenues remained flat Y/Y. Besides a slight dent in Q4 revenues, Honeywell had a good quarter in terms of earnings (despite missing the consensus estimate), margin expansion and free cash flow.
At the end of the day Honeywell raked in $1.58/share in adjusted profits as compared to $1.43/share in the year ago quarter. Analysts shot for adjusted earnings per share of $1.59.
While Honeywell may have missed the consensus EPS estimate narrowly, there were more than enough reasons to like Honeywell's earnings and cash flow picture.
For instance, Honeywell's free cash flows climbed 17% Y/Y from ~$1.3 billion to ~$1.6 billion, and the company continued to expand its margins which has been a main value driver for Honeywell in 2015.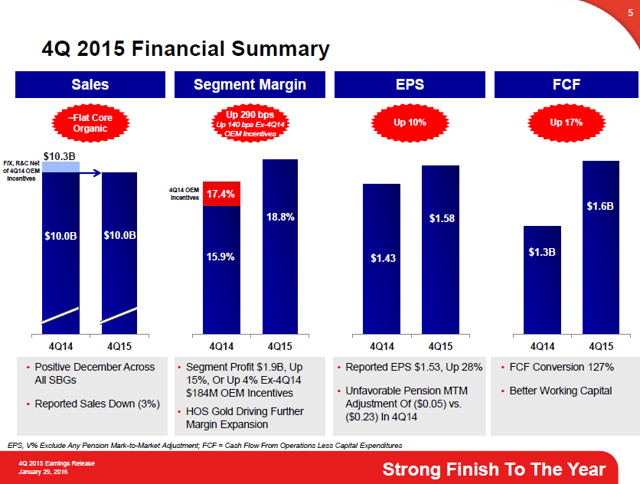 Source: Honeywell
Margin growth story intact
The big takeaway from Honeywell's Q4 earnings, therefore, relates to its segment margin growth.
In all its three business segments that separately report operating results, Honeywell saw strong Y/Y margin growth:
Aerospace's segment margin expanded 420 bps Y/Y to 21.5%;
Automation and Control Solutions saw its SM improve 70 bps to 16.6%;
Performance Materials and Technologies' segment margin was up 380 bps to 20.3%.
In total, Honeywell's segment margin expanded a whopping 290 bps Y/Y to 18.8% on the back of a successful restructuring and productivity gains. In an earlier piece on Honeywell I contended that the theme of margin expansion would be a dominating theme in 2015 and beyond. That is still true today.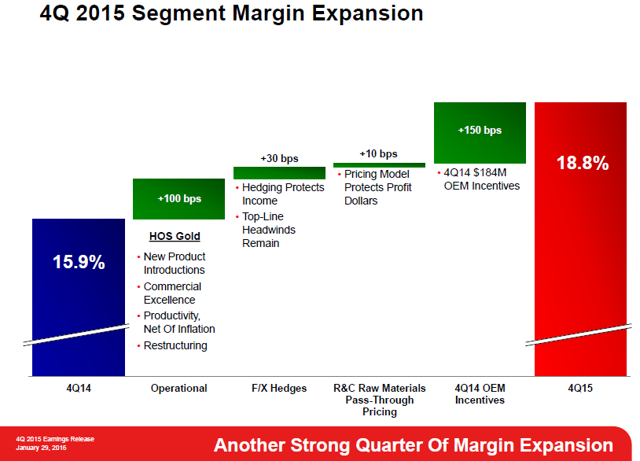 Click to enlarge
Source: Honeywell
Guidance calls for Y/Y margin gains and FCF growth, stock is not overpriced yet
Honeywell's guidance for 2016 says that the company expects its total segment margin to expand 10-50 bps in 2016 and settle in somewhere between 18.0-18.4%. Honeywell's 2016 guidance is shown in this image: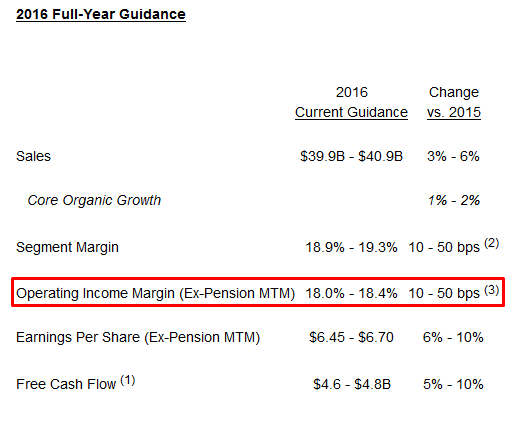 Source: Honeywell Earnings Release
Based on Honeywell's EPS and free cash flow guidance, which was part of its fourth quarter earnings release, Honeywell is not too expensive yet: HON sells for ~15.5x 2016e profits and for a ~6% FCF yield.
Your Takeaway
Honeywell may not be as exciting a transformation story as General Electric, but the company has had its fair share of successes in 2015. Honeywell's management is carefully controlling costs, which has contributed to robust Y/Y margin growth in its operating segments. Honeywell's 2016 guidance calls for 6-10% Y/Y profit growth and 5-10% Y/Y FCF growth while the company's stock is not too expensive yet on either an earnings or FCF basis. Buy for income and capital growth.
Disclosure: I am/we are long GE.
I wrote this article myself, and it expresses my own opinions. I am not receiving compensation for it (other than from Seeking Alpha). I have no business relationship with any company whose stock is mentioned in this article.