Introduction
With markets taking a turn for the worse, investors are no doubt wondering, where are good places to hide?
Judging by past history, the sectors that have the greatest sensitivity to equity market movements are Technology, Basic Materials, and Industrials. They also experience the highest drawdowns in a bear market. Meanwhile, Consumer Staples and Utilities are the most defensive of the lot.
| | | |
| --- | --- | --- |
| Sector | Standard Deviation | Beta vs. S&P 500 |
| Technology (NYSEARCA:IYW) | 23.7 | 1.37 |
| Basic Materials (NYSEARCA:IYM) | 23.0 | 1.31 |
| Industrials (NYSEARCA:IYJ) | 18.7 | 1.19 |
| Financials (NYSEARCA:IYF) | 20.0 | 1.18 |
| Consumer Disc (NYSEARCA:IYC) | 16.7 | 1.03 |
| Telecoms (NYSEARCA:IYZ) | 20.8 | 1.02 |
| Energy (NYSEARCA:IYE) | 21.0 | 0.94 |
| Healthcare (NYSEARCA:IYH) | 13.3 | 0.71 |
| Consumer Staples (NYSEARCA:IYK) | 12.1 | 0.68 |
| Utilities (NYSEARCA:IDU) | 14.4 | 0.54 |
Consumer Staples - Our Picks
With Consumer Staples likely to be the flavor in a tumbling market, we take a look at some of the names in the sector, which is home to a host of global companies with strong brands and pricing power.
A look at the iShares Consumer Goods ETF shows the following names:
| | |
| --- | --- |
| | Weight % / 3Yr Return |
| Proctor & Gamble | 11% / 5.5% |
| Coca-Cola | 8% / 6.5% |
| Pepsico | 7% / 12.8% |
| Philip Morris | 7% / 4.7% |
| Altria Group | 6% / 24.4% |
| Nike | 4% / 29.6% |
| Mondelez | 3% / 12.1% |
| Colgate-Palmolive | 3% / 8.8% |
| Kraft Heinz | 2% / N/A |
| General Motors | 2% / 2.9% |
The sector is not without its troubles. More globally-exposed companies have been grappling with weakness in emerging markets, which have persisted for some time. In addition, the recent strength of the dollar is another added headwind, which have eroded revenues.
We take a look at some of the names in this sector, and why they deserve a look during this rocky market.
Mondelez (NASDAQ:MDLZ)
Mondelez is a top position of two well-known activist hedge funds, Nelson Peltz's Trian and Bill Ackman's Pershing Square. Their sizable stakes means both managers are Top 10 shareholders in the company. Peltz also has a seat on the Board.
Shares in Mondelz are off a whopping 22% since its 52-week high reached late last year. The root cause? A disappointing earnings report that highlighted continued troubles in emerging markets where it derives much of its revenues, and strong currency headwinds. Will this continue indefinitely? Unlikely. The trade-weighted dollar is currently sitting on multi-year highs, which means further gains will likely be more nuanced. We also expect activists to continue piling pressure on Mondelez management to shrink costs and improve margins.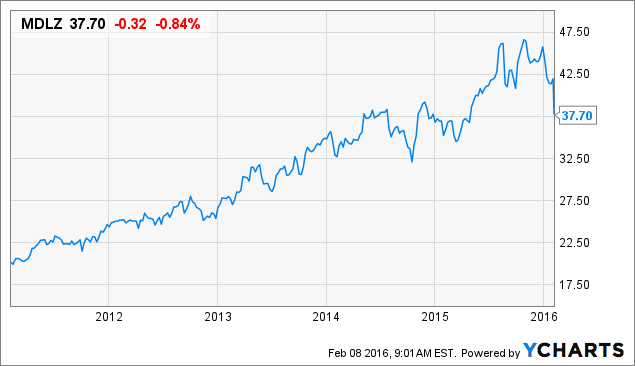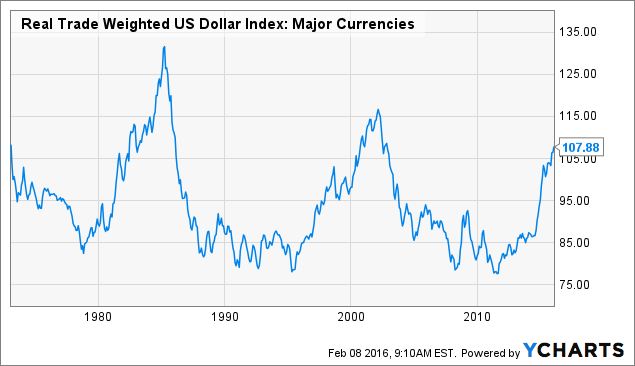 Real Trade Weighted US Dollar Index: Major Currencies data by YCharts
Kraft Heinz (NASDAQ:KHC)
Unlike Mondelez, this company is a case of more "self-help" with minimal emerging market and currency worries. There is a dream team at the helm of this newly formed company. The Board of Directors includes Warren Buffet himself and 3G Capital, a private equity firm known for driving operational improvements, most recently at Heinz and Anheuser Busch Inbev. Their work is still in the early stages, which means there is significant scope for financial and operational improvements. There is also the likelihood of further accretive M&A.
Shares in KHC has traded side-ways over the past year.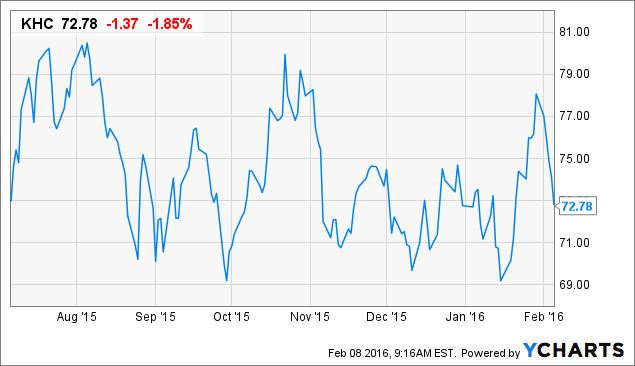 General Motors (NYSE:GM)
It's easy to see why Greenlight is parked in GM: low valuations and aggressive capital return. Shares in GM currently trade at a P/E of 5x and at 9% free cash flow yield. The company recently upped its dividend 6% to a yield of 5%, and boosting its buyback programme to $9bn through 2017. This means in addition to the $3.5bn in buybacks completed last year, it still has $5.5bn in its war chest. That's equivalent to 13% of market cap at current prices. Additionally, the company has a solid balance sheet, with $23.4bn of cash, half of its market cap.
With various cost reduction and efficiency improvements under way, the company has reported good results in the latest quarter, though shares have not responded accordingly as investors remained fixated on recession worries.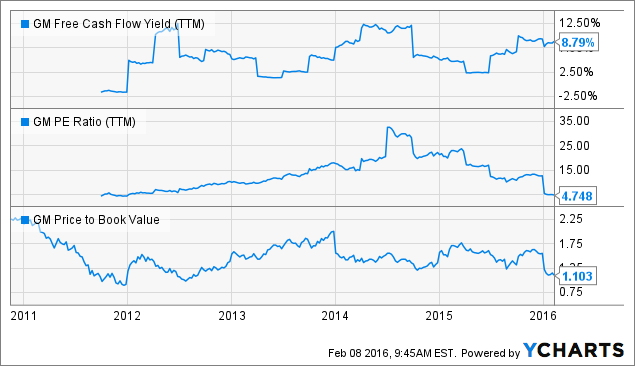 Shares in GM are back to 2013 levels: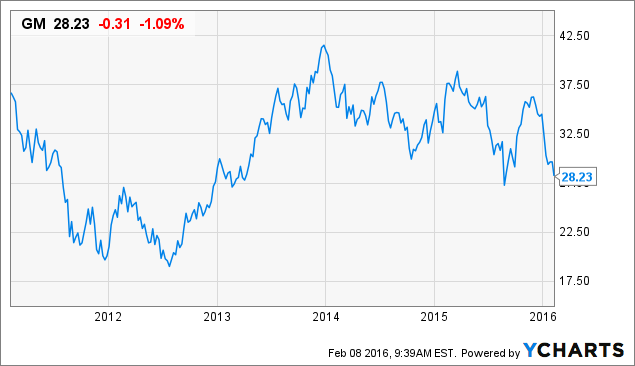 Disclosure: I am/we are long GM.
I wrote this article myself, and it expresses my own opinions. I am not receiving compensation for it (other than from Seeking Alpha). I have no business relationship with any company whose stock is mentioned in this article.