Just over a year ago, I had made the argument that Texas Instruments (NYSE:TXN) was too expensive given a P/E ratio of 23.4x and a price of $52. However, in one year the dynamics of this company's valuation have changed. Namely, the P/E ratio has decreased significantly to 17.69x, and dividends and earnings per share have grown at a faster pace then expected. In other words, this stock has become a bargain.
Previously, I had argued that assuming an average of 10% growth in dividends and earnings, the stock would yield a five-year target price of $57 assuming a terminal P/E ratio of 18.43x.


Source: Author's calculations
However, note how I also forecasted that - given the same rate of growth in dividends and earnings - a terminal P/E ratio of 24x would yield an eventual target price of $72.

10-year P/E ratio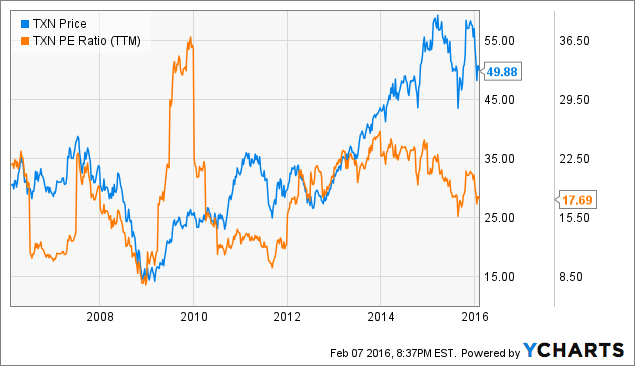 Over a 10-year period, we have seen that the P/E ratio has risen as high as 35, and has kept above the 20 level at certain periods of growth. More interestingly, observe the recent divergence between price and the P/E ratio. Price has been going higher while the ratio has been going lower.
Moreover, DPS and EPS beat my prior expectations for this year, coming in at $1.40 and $2.82 respectively. In this regard, I am expecting that should current growth trends continue, then it is quite likely that we could see a P/E ratio rise again to the 23-25 level and the current discount could mark an attractive buying opportunity.
Additionally, 2015 marked a year of certain financial milestones for the company. For instance, the company managed to achieve a record of 58.5 percent gross margin for Q4 2015, thanks in part to higher than expected performance from the company's Analog and Embedded Processing division; comprising 87 percent of revenue in the fourth quarter. This was driven in large part due to lower operating costs.
Following on from this, free cash flow had increased by 6 percent to $3.7 billion from the previous year, which represents 28.6 percent of revenue and is in line with the company's targeted 20-30 percent range of FCF to revenue. In this context, I am optimistic that the company can achieve (if not beat) my prior forecasts for dividend increases.
In conclusion, I initially thought that Texas Instruments was too expensive. Now, I think it is too cheap. The company is producing healthy earnings and free cash flow, but its P/E ratio remains on the lower end of its historical average, indicating a potentially attractive buying opportunity.
Disclosure: I/we have no positions in any stocks mentioned, and no plans to initiate any positions within the next 72 hours.
I wrote this article myself, and it expresses my own opinions. I am not receiving compensation for it (other than from Seeking Alpha). I have no business relationship with any company whose stock is mentioned in this article.