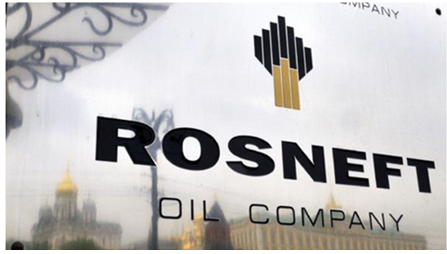 Putin's Proposals
The recent meeting held by Putin to privatize dozens of Russian state controlled industries is a breathtaking desperate move amid Russia's economic turmoil.
As he previously did in 2015, Putin seeks to raise as much as $13 billion by selling state held shares in government companies. On Tuesday, he assured the public that he intends to insure that state assets will not be sold at bargain prices as previously happened.
Decimated Russian Economy
The culprit behind privatization is Russia's dependency on oil for running its government. Lack of economic diversity has decimated the Russian economy. The following effects only exacerbate the current situation Russia faces:
The importance of the very recent lifting of the U.S. ban is that it breaks Russia's monopoly on energy pricing power which makes the U.S. a competitive exporter.
Privatizing Rosneft
In 1997, Russia attempted privatizing Rosneft (OTC:RNFTF), however, that auction closed without receiving a single bid.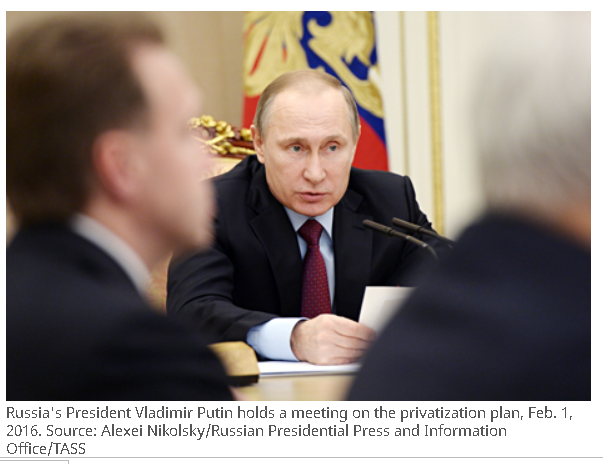 Rosneft Stake Sale
The Russian government is looking to privatize a 19.5% stake in the state oil giant. Finance Minister Anton Siluanov indicated this action is intended to raise capital to ease the current budget crunch and its negative economic effects on his country. The fall in oil prices has produced a $38.6 billion short fall in the Russian budget. The sharp decline in the Ruble which has fallen 50 percent below the U.S. dollar only exacerbates the situation. This action is intended to help bring Russia's budget in line with the low price of oil.
Rosneft Stock Price Decline

The Kremlin announced that foreign investors are welcome to participate in the privatization, but there is fear that western sanctions may keep foreign investors out. This would result in lower valuations as cronies would become the only buyers. The news announcement for RNFTF saw valuations fall from near $4 to $3 per share.
There is also fear of a repeat of what happened in the 1990's when the politically connected used state funds to purchase newly privatized industries at bargain basement prices. The public were cheated out of their state-issued vouchers to purchase stock. The cheaters became oligarchs who stripped companies of assets and sold them stashing immense wealth abroad. The effects were: a draining of the treasury, a bond default, a severe ruble devaluation and a shattering of the Russian belief in free markets.
Gutsy Move
Successful privatization may provide some fiscal sustainability and help Russia to diversify some of its economy from oil by enlisting the talents of its highly educated population to non-state enterprises.
Without question, the most important stakeholders in Russian privatization are the public. The key to success is that Russia must give something to the people for it to succeed. Correspondingly, this has always had the potential to become a threat to the state. Russia's history with privatization was a messy unprincipled process. It will be interesting if the exigencies of the present and the lessons of the past can produce a much needed success this time around.
Disclosure: I/we have no positions in any stocks mentioned, and no plans to initiate any positions within the next 72 hours.
I wrote this article myself, and it expresses my own opinions. I am not receiving compensation for it (other than from Seeking Alpha). I have no business relationship with any company whose stock is mentioned in this article.
Editor's Note: This article discusses one or more securities that do not trade on a major U.S. exchange. Please be aware of the risks associated with these stocks.